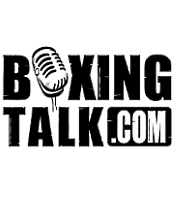 British welterweight Matthew "Magic" Hatton defends his Central Area title from the man he took it from, Rob Burton, on tomorrow night's big Sports Network card from the Northbridge Leisure Centre in Halifax, England. Topping the bill will be the British Welterweight Championship contest between beltholder David Barnes and former WBF and Commonwealth king James Hare. Rounding out the card are Thomas McDonagh, Tony Doherty, Matthew Hall and Martin Conception. Sky Sports broadcasts the action live in the UK on SS1, commencing at 10PM GMT. Boxingtalk.com had the good fortune to speak with the up and coming Matthew and his conditioning coach Bobby Rimmer as the Manchester duo from trainer Billy Graham's renowned Phoenix Camp counted down the hours to this exciting rematch. Read on for a closer look at this important British welter clash and the career of Matthew Hatton, younger brother of one of the world's top rated light welterweights, Ricky Hatton.
Matthew "Magic" Hatton was not the celebrated amateur that his brother, longtime WBU Light Welter supremo Ricky was, having turned pro in 2000 after only twenty unpaid contests. Since that time however, the younger of the fighting Hatton's has compiled a 21-2-1 record, with 8 wins coming inside the distance. In May of this year Matthew stepped from the long shadow of his brother and won his first title. In a hard fought scrap Hatton wrested the British Central Area belt from a very tough Sheffield area fighter by the name of Rob Burton. After two non title defenses, Hatton now must face the Barnsley man once again.
The first contest between the two took place on Burton's home ground, in the Barnesley Metrodome, which just happened to be packed with Burton's rabid local following. Despite the uphill conditions on hostile ground, Hatton was declared the victor at the end of eight pounding rounds to take the Central Area belt. Since that time the Manchester man has engaged in battles with Lee Armstrong and Matt Scriven only to find himself back in with the rugged Rob Burton. "I know I can do a better job this time, so there's no problem with taking this fight," said Hatton. "My training's gone very well and I'm just look forward to getting in the ring now."
The architect of Hatton's training is the celebrated Billy "The Preacher" Graham. Graham runs The Phoenix Camp, a stable of some of Britain's top champion's such as Ricky Hatton and Michael Gomez as well as the promising prospects Steven Bell, Matthew Hatton, Matthew Macklin, Patrick J Maxwell and Paul Smith. Assisting Graham in the preparation of the boxers are strength coach and dietician Kerry Kayes and conditioning coach Bobby Rimmer. Like Graham, Rimmer is a former boxer himself and has the unenviable task of wearing the body belt, essentially a punching bag that the trainer wears on his torso while doing pad work with fighter in the ring. "I just did twelve rounds with Matthew on the body belt and I can tell you that he's in the best shape of his life," remarked the trainer. "He's really sharp, really strong and really solid."
Not only is Burton, 10-7-2 (6), the former Central Area Welterweight titlist but he is also that region's current light middleweight champ as well. A hardened, brawling fighter, Burton has shared the ring with such domestic notables as Scott Dixon, David Walker and John Humphrey. Most recently Burton faced veteran Lee Murtaugh, winning the Central Area 154lb title by way of a third round knockout. While it's only been six months since the first Hatton - Burton encounter, coach Rimmer sees this contest as an opportunity for his fighter to display the considerable improvements he's made in the gym. "Matthew's punching power has come on, his stamina is better, and in short, everything is better," he said. "The training camp has gone like a dream and without counting my chickens before they hatch, I think he's going to do a better job on Rob Burton this time. He did a real good job on him in the first fight but Matthew's had a great year and I think this will cap it off with his best performance yet."
A matchup that will certainly hold Hatton's interest happens tomorrow night in the same ring as the twenty three year old's scheduled scrap. David Barnes will be attempting to win the coveted Lonsdale belt with his third consecutive defense of the British Welterweight crown as he meets formidable challenger James Hare. Hatton, who has designs on the British title himself, plans on paying close attention to the outcome. "It should be a close fight that I wouldn't like to have the pick the winner of, but if I had to call it I'd have to slightly favor David Barnes, who is a friend of mine," he said. "James Hare is a good fighter however and it's going to be a close fight."
Matthew Hatton's large fan base in the northwest of England holds high hopes for the Manchester based fighter and he has no plans on letting them down. Whether it's a British title opportunity that comes along or a chance to contend for the recently created English belt, Hatton is fully prepared to take the next step towards his goals in both sport and life. "I'm improving all the time and after this one I'll have had twenty five fights behind me so I don't think I'm too far off a British title fight whatsoever," stated Hatton. "It's only been five weeks since I last fought and I'm still fit. The way I boxed Rob last time worked quite well but we've been working on different moves and different ways of getting things done, little moves that we can put in on this fight. I'm not looking past Friday night but I don't think I'm too far away from the big fights I've been working so hard for."
Boxingtalk.com would like to thank Matthew Hatton, Billy Graham, Bobby Rimmer and Richard Maynard for making this article possible.
CLICK HERE FOR MORE OF THIS EXCLUSIVE
Send questions and comments to: thomaspointrd@aol.com