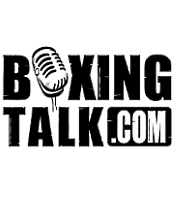 British Central Area Welterweight titlist Matthew "Magic" Hatton faces opponent Lee Armstrong on the undercard of big brother Ricky's IBF title eliminator against Mike "No Joke" Stewart at Manchester England's MEN Arena on Friday, October 1st. Also on the Sports Network promoted bill are British Super Featherweight Champion Michael Gomez, who will be appearing along with Thomas McDonagh, Michael Jennings, Steve Foster Jr., Steven Bell, Paul Smith, Andy Morris, Tony Quigley and Matthew Hall. Sky Sports will be televising the action live in Britain on channel SS1, starting at 10PM local time. Boxingtalk.com caught up with Matthew during a break in his rigorous preparation and you won't want to miss what this exciting welterweight had to say about his burgeoning career and bright future, as Boxingtalk.com continues to cover the world of boxing as no other media source can.
Matthew "Magic" Hatton, 20-2-1 (8), will be looking to improve on his recent run of impressive wins as he faces Yorkshire man Lee Armstrong next Friday night in an eight round non title bout. 2004 has been a good year for the twenty three year old Hatton, having won all three of his fights and picking up the Central Area belt in the process. Armstrong, 22-9-2 (3), will be making a return to the welterweight ranks after a campaign of mixed success at light middleweight. "Armstrong comes from Huddersfield and a good stable of fighters," he said. "His trainer Chris Aston also works with Dale Robinson and James Hare. Armstrong himself is rated very well and is ranked just ahead of me in the British rankings, so this is a step up and one I'm looking forward to."
As having voluntarily relinquished a regional title from a higher weight class to return to the welter division, Armstrong may hold a strength advantage over Hatton, something the Hatton's training team of, Billy Graham, Bobby Rimmer and Kerry Kayes have taken into account. "Lee held the Central Area Light Middle belt and we know he's a good fighter," said Hatton. "I've watched a tape of him and Billy has it at the moment, so we've been working on a few things. I don't expect this to be an easy one but it's a fight I'm confident of winning."
Hatton's career moved into a higher gear with his belt winning victory over a very game Rob Burton this past May and the Mancunian is looking to capitalize on that success. "Obviously, even though it's an area belt and I'll go on to bigger and better things, it's always nice to win your first title and be able to call yourself a champion," stated Hatton. "Since the Burton fight I've improved massively and getting a ten rounder under my belt was very helpful. Now that I've won the Central Area title, it's made me even hungrier to win more belts."
Most recently Hatton, managed by Frank Warren, faced another former regional beltholder, Matt Scriven, and produced an impressive stoppage inside the distance. "Winning the Rob Burton fight, that gave me a lot more confidence and I felt me last performance was another good one," said Matthew. "Stopping a fighter like Matt Scriven, who is a tough guy and has been in there with good fighters like David Walker, is what I need to be doing. Matt was the Area Champion at light middleweight and he was also a big guy so stopping him in four rounds was a good result for me and it just shows how much I'm improving."
A new title belt was created recently by the British Board of Boxing Control, known as the English Title, in order to give fighters in that country something to strive for as they attempt to negotiate the distance between the Area titles and the British title. Since the English title's creation, the younger of the fighting Hatton brothers has had his eye on the welter version of that crown and hopes to get a closer look at a couple of likely opponents for his hoped for title bid. "My promoter Frank Warren has told me that I was going to be boxing Chris Saunders, who holds the English title right now at welterweight, for that belt but Chris is actually defending against Michael Jennings on the same bill as my fight with Lee Armstrong," said Matthew. "So, if I can win my fight, I don't think I'll be too far off from fighting the winner of Saunders - Jennings, whoever it might be."
One of those fighters, Michael Jennings, has gone undefeated in 23 bouts and currently holds the WBU International Welterweight title. Jennings also has also built a strong fan base fighting out of his hometown of Chorley, only an hour's drive from Hatton's hometown of Manchester. "I think Jennings is a good fighter who is getting towards his peak at the minute," said Hatton. "He's twenty seven years old and unbeaten, looking really good of late, particularly against Brett James earlier this year. Michael did whatever he liked in that fight and even though Brett James is a decent fighter in his own right, Michael proved to be a cut above fighters like that. I think that's the fight for me in the near future. We're both local lads at a similar kind of level in our careers and we both obviously want to move onto bigger and better thing. If Michael was to win the English belt against Chris Saunders, I think I'd have him in my sights. That's a fight, after I get a few more good experience building matches under my belt, that I'd be confident of winning and that would be a great matchup between two local lads. Put that on in a local venue and you'd get a good crowd turning up to see that fight."
Before Matthew Hatton can dream about future matches for future titles, he knows he must impose his version of reality on his opponent at the MEN Arena on October 1st. "First and foremost, I'm going into the ring against Lee Armstrong obviously to win more than anything else," he said. "A knockout or a stoppage win is always nice, and with the rate I'm improving, I think I've got a really good chance of stopping Lee Armstrong, but if that doesn't come and I beat him on points, I'll be very pleased with that. I'm looking to continue my run of good showings in the ring because I felt before the beginning of this year that I was boxing a little bit within myself. Since I've realized that, I think I've been making massive improvements with each fight and training has gone better than ever this time. I can't wait as I definitely feel as I'm improving all the time now."
Boxingtalk.com would like to thank Matthew Hatton and Billy Graham for making this article possible.
Send questions and comments to: thomaspointrd@aol.com