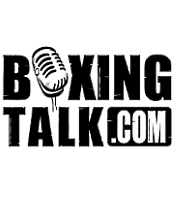 On May 7, 2005, Juan Manuel Marquez will step into the ring in the bout prior to the Diego Corrales-Jose Luis Castillo lightweight world championship bout. Marquez, Boxingtalk's #1 rated featherweight and holder of the WBA super championship and IBF
title, will be making the fifth world title defense of his career. This time Marquez, (43-2-1, 33 KOs)  will take on the always tough and durable Victor Polo, Boxingtalk # 10. Marquez is coming into this defense following a unanimous decision win over Orlando Salido and, before that a spectacular fight with Manny Pacquiao that ended in a draw after Marquez was down three times in the opening round. Polo is coming off a majority draw with Scott Harrison in Scotland which to many was viewed as a hometown decision for the WBO titlist. This will Polo's fifth challenge for a world title and at 34, the clock is running out for the Colombian fighter. A win for Marquez could set up more lucrative bouts in the
future with Marco Antonio Barrera, Erik Morales or a rematch with Manny Pacquiao. Boxingtalk took part in a teleconference for the media to promote the upcoming fight, which will be broadcast on Showtime. 
Polo, 34-4-3 24 KOs, is a unquestionably a tough southpaw but Marquez doesn't think facing the lefty will be a big problem saying, "I think that fact that I have faced so many left-handers now my experience has taken over... the thing with Pacquiao is that I've learned not to be overconfident."
Polo's world championship resume is a heartbreaking one.  Besides the 2005 draw with Harrison, he lost by split decision to Julio Pablo Chacon and Derrick Gainer in 2001 and by split technical decision to Manuel Medina in 1999. When asked about having so many tough breaks in championship bouts Polo said, "I've had a lot of controversial results in my career. I hope the referees (judges) are able to do their jobs like I always do". At one point, Polo said, "I am the champion without a crown. That's just how this sport is."
Marquez didn't see things that way.  "It's going to take an awful lot to take my titles away", he said with confidence. When asked about potentially moving up to super featherweight to chase Barrera, Morales and Pacquiao, Marquez didn't want to speculate. "Right now all I am focused on is May 7th...but as far as my career is concerned I have no problem defending my titles, staying here at 126 or going up to 130 if the opportunity is really good".
On May 7, when these two fighters step into the ring for what could easily be a headline bout, we will see if Victor Polo can win the championship that has seems to have slipped through his fingers in the past or, if Polo will simply be a stay-busy fight for Juan Manuel Marquez as looks to the future for super fights with
Erik Morales, Marco Antonio Barrera and Manny Pacqiuao.