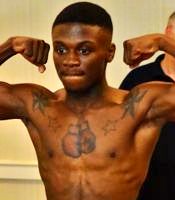 Greg Leon: Congrats on your victory over Jesse Angel Hernandez [12-3] this weekend [TKO3]. Can you give us some thoughts on your performance? Marcus Bates: "It's like I told you before the fight, I was going to go out there looking to use my skills, not looking for the knockout. I was able to find a home for my left hand, but I got a lot of stuff to work on. I did a lot I wasn't pleased with, but overall I did good. I was able to get him out of there in the third round, but I'm going to be right back in the gym and work on what needs improvement."
GL: How satisfying is this for you? You're coming into this fight off of a long layoff and get a win like this on a card like that with the Showtime people in the building. It'll be crazy if you're not part of a Shobox telecast in the near future.
MB: "It would be. What's crazy is that I hurt my right arm a couple of days before the fight. It's nothing serious it was just a little sore from sparring, but I felt great in there. I was focused, I told myself that I needed the win and I went out there and I got it."
GL: When might your next fight take place?
MB: "I've got to talk my team and my promoter and then we'll figure out when I'll go again. I'm back in the gym on Tuesday and we're going to keep working until we get the next call. I need to be active that's very important for me to stay active right now."
GL: Is there anybody out there that you would like to get on a Shobox card?
MB: "Yes, I want to fight the guy they gave the decision to against me, Raeese Aleem, that's who I want. I want that rematch, but if he refuses to fight me I'll fight whoever they put in front of me it doesn't matter. I would love that fight with Aleem on Shobox, he said he'd give me a rematch in the ring after the fight happened and I hope he's a man of his word."
GL: I assume you're looking to get back in the ring sometime over the summer, maybe July...
MB: (cutting in) "June would be great. I'm going to be ready to go and I want to go as soon as posible. Early June works for me. I'm back in the gym right away and I'm going to continue to get better and better with each performance."
GL: Closing thoughts.
MB: "I want to thank everybody who came out to support the fight on Saturday night. I want to thank my promoter Marshall Kauffman (King's Promotions) keep on supporting me because I fight for y'all."
Send questions and comments to: Boxingtalkg@Yahoo.com