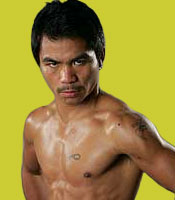 GARY SHAW:
   I would like to welcome everybody to the conference call.  As I said about some of the other fights, this fight will be no different than last time other than the outcome.  You have two great fighters; two great warriors that you all know will go toe to toe for all 12 rounds.  Manny has not used any excuses but all the outside distractions that were there in '04, in '05 will not be there in '06, that we guarantee you.  Manny has been training hard.  
FREDDIE ROACH:  Training has been going very well.  Manny is very focused.  He is much more focused than the last time around.  And you know this guy beat us last time and we want revenge in the worst way.  And he is training very hard.  We have some great sparring partners for this fight and everything is going real well.  Everything is right on schedule and I can't wait for this fight to happen.   
SHELLY FINKEL:  Just that from everything that we have seen and everything that Joe has been telling me that Manny is the most relaxed he has been.  He hasn't got distractions.  If he can't win this fight it is only because Morales is better.  
WILLIAM TRILLO, BOXING 2006:  Good morning gentlemen.  Thanks so much for your time.  Freddie, with Morales coming off his loss to Raheem, there is one or two strategies people have is either "A" he is prime pickings for Manny right now or on the complete opposite end "B" you know he has a whole heck of a lot to prove and he is going to come out like gang busters.  Which Erik are you preparing for?  
FREDDIE ROACH:  The best one of course, we would be fools not to.  The last time we fought Morales he was coming off a loss to Barrera and everyone thought he was all done and just taking another tough fight.  And we are not going to make the mistake we made last time and we are focusing on him and we expect him to be at his best.  Like Manny, he has his whole country behind him, Filipinos and Mexicans.   Manny and Erik are going at it.  So I don't know, we would be fools not to expect him to be at his best.   
WILLIAM TRILLO:  The last fight you had with him you know there was that talk I don't want to say it was in fun.  But you were talking about the secret weapon and 'Manila Ice' and what have you.  And this time I have noticed that the camp has been pretty quiet.  Apparently you guys are taking a different approach for this fight.   
FREDDIE ROACH:  Yes well Manila Ice was more of a media thing and it was just a light hearted thing but we are all business this time and Manny is really looking good in sparring and he is very focused and he wants this fight badly.  So I am very anxious for it to start.   
WILLIAM TRILLO:  And the last question, Mr. Shaw, just even at the press conference here in LA the Filipino contingency was fantastic again.  Manny is like a hero over there and I am sure you are expecting that same type of following coming over to Las Vegas for this one too?  
GARY SHAW:  Yes, absolutely.  We know it is the same following.  Manny is an idol over in his home country.  He feels that he has the weight of the country on his shoulders especially going into this fight after losing to Morales the first time.  And I think Manny would tell you that.  But nevertheless, he is going to do his best.  We will have everybody there.  And we will have a huge Filipino contingent.   
FRANK MCNEIL, STAR-LEDGER:  This question is for Freddie.  I have two of them actually.  The first one is the preparation for this fight any different than that of the first meeting with.  
FREDDIE ROACH:  Yes you know I don't think we fought that great a fight the first time out.  It was a tough fight.  Manny was getting a little anxious.  He was getting inpatient in there.  We have been watching the tape and so forth.  There are definitely some adjustments we are going to make in this fight and I think we can fight a much better fight than we did last time.   
FRANK MCNEIL:  OK and the second question is did you see anything in the Morales-Raheem fight that could be helpful to your preparation?  
FREDDIE ROACH:  I think so, yes.  You know we are studying that tape also and you know it see Morales had trouble with Raheem and Manny does have that kind of speed.  So we are going to take a little bit from that fight also.  And we are watching that tape also and seen the mistakes he made in that fight and we plan to take advantage of them if we can.   
DAN RAFAEL, ESPN.COM:  My question maybe Freddie could address it.  And maybe we could get some thoughts from Manny about this.  I just would like to know about all the stuff with the gloves from the first fight.  I wondered was that more of a physical thing or was it more mental.  Was it just something that bothered Manny because it was taking away something that he was used to?  I know fighters sometimes can be you know they like to stick with the same routine.  So maybe Freddie you can address the glove situation and then Manny talk about just his feelings on now being able to fight in whatever kind of gloves he chooses.  
FREDDIE ROACH:  I think it was both.  A little bit mentally and you know the thing is that the Winning gloves, they are like pillows.  They are not puncher's gloves so they definitely have some effect on the punching power.  And you know I think we will be much more comfortable going in to the fight with the gloves we choose and you know it will be one less distraction.   
DAN RAFAEL:  Yes Manny, I would like to know your thought about the situation about the gloves from the first fight.  This time you will be able to fight in whatever gloves you choose.  And I am wondering in the first fight was it more of a physical thing not being able to have the gloves you wanted.  Or was it more that it just bothered you from a mental point of view and served as a distraction?  
MANNY PACQUIAO:  Both, it was a distraction and it my first time using Winning Gloves.  
DAN RAFAEL:  And is Manny satisfied that this time he can fight in I presume the Reyes gloves he wants to fight in.  
MANNY PACQUIAO:  Yes I am very happy right now I can use Reyes.  
DAN RAFAEL:  Manny do you think it is going to be able to allow you to score a knock out in this fight?    
MANNY PACQUIAO:  I will try.  I will try that.  But I am not going to promise.   
DAN RAFAEL:  Let me ask, Gary maybe you could answer this or maybe Freddie or, the report out of the Morales camp is that he is actually training in Reyes gloves.  Do you find that a little bit ironic given all the controversy what happened the first time?  
GARY SHAW:  Yes, I do and I have heard the same thing that he is training in Reyes gloves.  That is what he plans on fighting in.  But, you know, I don't get it because of the controversy last time though I don't know what he used, to be honest with you Dan, against Raheem .  I don't know which gloves he used in that fight.   
DAN RAPHAEL:  He used the Winning against Raheem.  
GARY SHAW:  Well that is maybe why he is looking to change now.  I mean it is just a guess, obviously I don't know why.   
DAN RAFAEL:  Were you surprised when you heard that?  
GARY SHAW:  I heard the same thing.  But was I?  No.  I think he may be the only Mexican fighter that I know that wears Winning gloves.   
MICHAEL KATZ, MAXBOXING.COM:  Happy New Year guys.  I love the idea of Fred Sternburg translating for Dan Rafael.  Manny and Freddie you can answer this afterwards but first I want Manny.  How much did that cut in the fifth round bother you either physically or mentally?  
MANNY PACQUIAO:  It was a big distraction to me.  Every time Erik moved to his right, I couldn't see him
And also at one point the doctor came in and was speaking Spanish to me which was also a problem.  
MICHAEL KATZ:  Freddie what do you think about that?   
FREDDIE ROACH:  It was a bad cut and it definitely didn't help us at all and it did take him a couple of rounds to get back into the fight because the eye was bothering him and it took him about four rounds until he really got back into focus of the fight.  And he came in; he came on bravely in the end.  It was a little too late by then.  But hopefully that won't happen this time.  But you know when both fighters are punchers, you do have that problem of them going right at each other.  So hopefully it won't happen this time.   
TRAE THOMPSON, FT. WORTH STAR-TELEGRAM:  Yes, this is either for Gary or Shelly.  Right before this fight was made did you have an arrangement that regardless of what happened with Manny or Erik's fight in Los Angeles that they were going to fight each other regardless of  the result?  
GARY SHAW:  No, Shelly and I had a discussion that night.  Shelly you can answer it.   
SHELLY FINKEL:  It was up in the air at that moment but we felt it was the best thing for Manny to avenge the loss and then hopefully he does that and we can go on to either a third match or a Barrera fight or whoever else.   
TRAE THOMPSON:  Manny, Freddie said earlier that you will watch tapes of Erik's fight with Raheem.  What did you see from those tapes that you think can help you?  
MANNY PACQUIAO:  In his fight against Raheem, I have seen Erik's mistakes.   I need to use my jab more when we fight again.  I need speed, more movement and more body attacks.   
JAY HEATER, CONTRA COSTA TIMES:  Yes Freddie.  I wondered if you could just say whether Morales showed you guys anything in the first fight that you didn't expect?  Did he change anything up on you or was he the guy standing in front of you that you expected?   
FREDDIE ROACH:  No.  I think he fought a great fight.  He fought one of the best ones I have seen him.  He used his jab very effectively and so forth.  We didn't expect him to do as well as he did. 
And he backed Manny up when he put Manny on the ropes where he didn't need to be.  So, he fought a good fight but not exactly what we expected.  But we expect it this time.     
ROBERTO RAIJAR, SPORTS MEDIA:   This is for Shelly Finkel.  What is different now with Gary Shaw as Manny's promoter than it was during the first promotion?  It seems to me like you guys having a great camp.   
SHELLY FINKEL:  The camp last time was filled with a lot of distractions and our goal  -- the whole team's -- has been to let Manny be the best Manny he could be and we believe that is what is going to happen in this fight.  He is going to be able to enter the ring as the best Manny possible.  And he is training that way.  Freddie has told us there have been no distractions.  And everything seems on board.   
ROBERTO RAIJAR:  Did you watch the Morales' fight against Raheem or were you too busy taking care of Manny at the time?   
FREDDIE ROACH:  I didn't see it live but I watched the tape of the fight and you know the thing is Morales had problems with the side to side movement and so forth.  We are going to take a little bit from that fight and a little bit from the last fight against Manny and again I think we can fight a much better fight and we just can't back up in a straight line like we did last time.   
ROBERTO RAIJAR:  You also said that you have been sparring with some great sparring partners.  Can you give me some names?  
FREDDIE ROACH:  Yes, I am sorry I don't have all the names but we used Santa Cruz again and now we just brought in a kid from Russia who is a 135-pounder.  He fights at 135 but he weighs about 145 right now so he is a stronger guy and someone that Manny can let loose with and let his hands go with this guy.  Manny because hurts him after awhile in each session.   
So we have him and then we got a six foot, 130-pounder from Sweden.  I don't have his name off hand but he has been doing very good work for us.  He has a great jab like Morales and Manny is handling it very well and we are just preparing.  We have had great work and they boxed ten hard rounds yesterday and today will be a four day and we will spar back up tomorrow.   
ROBERTO RAIJAR:  How much does he weigh right now?  
FREDDIE ROACH:  Manny he is about 132 pounds after his workout.   
ROBERTO RAIJAR:  Manny, who is the toughest fighter(s) in the division?   
MANNY PACQUIAO:  The hardest one I have fought is Morales.   
DIEGO MARTINEZ, REFORMA NEWSPAPER:  Manny, do you have more incentive in the rematch and will you change the style?  The second question is do you have any other fights lined up this year?  
MANNY PACQUIAO:  I want nothing more than to beat Morales.  Maybe we will do a Barrera fight.  But right now, I am only focusing on the Morales fight.   
MARK ABRAMS, 15ROUNDS.COM:  I have a couple of questions for Freddie.  The first fight there were a bunch of strong exchanges and this fight you got the gloves you wanted.  Is there something you maybe wanted to do a little bit more of or are we going to see a little bit more boxing as you mentioned you have seen from the Raheem  tapes?  
FREDDIE ROACH:  Yes but you know the exchanges are going to definitely happen because that is in Manny's character and you know people are giving advice to Manny, they want to change him into this or that but you can't change a person.  It's his personality, he likes to fight.  He likes to engage in a fight.  And the exchanges will happen.  There is no doubt about that.   
MARK ABRAMS:  How cognizant are you guys?  It would seem that Morales has been down and out two times before, after the first Barrera fight, after the second Barrera fight only to come back and just arise to the occasion again.  
FREDDIE ROACH:  He definitely has that capability.  He has proved it to us before so that is why you know we are training so hard for this fight.  We expect him to be better than he was last time.   
EDDIE GOLDMAN, TAP-OUT MAGAZINE:  The first question I want to ask directly to Manny is how is he training differently.  Because I know he wants to win this fight.  And I know he believes he can win this fight.  But how is this training going to be different this time than to the first fight?  
MANNY PACQUIAO:  There is less distractions now than before and this time I am more focused for the fight.  None of the distractions from the last fight over rooms, tickets and gloves.  I can train in peace knowing my team is looking out for me..  
MARK ABRAMS:  I got a question also about the weight for this fight.  This is going to be at the super featherweight, 130.  I know a lot of Manny's fights before at been at featherweight.  And Morales in his last fight went up to lightweight to fight Raheem .  Of course Raheem won.  A lot of people thought that Manny was at a disadvantage going up to 130.  How do you see it now in the second fight?  Do you think Morales might have trouble getting back to 130?  Manny better adjusted to 130.  Maybe both Manny and Freddie can comment on that.   
FREDDIE ROACH:  You know we had this discussion, me and Shelly and  Nick and Keith and Gary and we all know I think Manny's best fighting weight is 126.  And we all agree on that.  But the thing is the fight for Manny right now that he wants is 130.  So that is where we are going to be.  And I think Manny will make the weight pretty good.  And Morales has always had trouble making weight.  And we expect him to have trouble again making weight.  But you know he will get there.   
And we will, he is a little bit bigger person and so forth but I think that we have to make some adjustments to compensate on that and Manny is doing it very well in the gym right now.  And I am very pleased where he is at right now.  So Morales is a little bit bigger yes.  But I think Manny is a little quicker.  And we can use that, his speed to his advantage.   
MARK ABRAMS:  Do you think is there any training he could do to increase his power a little bit because both guys are great fighters and it was a close fight the first time and just a little bit, something done a little bit differently could make the difference in the outcome.   
FREDDIE ROACH:  You know we did some strength training with Manny and the thing is I don't think we are going to make him any stronger.  He is a great puncher anyway.  And I do believe the gloves will make a difference.  We won't be wearing pillows this time, we'll be wearing  Reyes.  You know I hear that Morales is going to wear them also.  So it should be exciting.   
MARK ABRAMS:  It was also commented at the beginning about a lot of the promotional conflicts that were in the camp about a year ago seem to be resolved.  How much of that has been a factor that he doesn't have to worry about some of that stuff and also having you know in earlier fights you would have like a huge entourage of people around.  How much has that changed in this fight?  
FREDDIE ROACH:  It, you know everything is taken care of, Shelly, Nick and Keith… Gary taking care of all the business stuff.  And all Manny has to do is worry about the fight.  And as Shelly said earlier if we don't win this time it is because Morales is a better fighter because we have no excuses, no distractions and we are going into the fight happy and in great shape.  So everything is taken care of.  Again, Manny is in a good place right now.  He is very focused and I think he is going to fight his best fight yet.   
MARK ABRAMS:  All right, so you guys want to make any predictions for the fight?  
FREDDIE ROACH:  Myself, I just plan on winning the fight however it goes.  You now the thing is it is going to be a very tough fight.  Morales is a game guy and it is going to be great for the fans and we just plan on winning. 
I wouldn't be surprised if Manny knocked out Morales..  If he sticks to the game plan and does what he has to do in the fight I think, I could see him knocking this guy out.  You know the guy is a very game guy and a very tough guy and I don't know if he has ever been knocked out but there is always a first time.   
MIKE KATZ:  Shelly and Gary this is for you guys.  Shelly you said after Morales lost to Raheem there was a moment where this fight was up in the air.  Was there any thought of pulling this off that table and going after Barrera or someone else?   
SHELLY FINKEL:  No we felt that they may not want it on the other side and that they may want to take an easier fight.  So we were you know looking at other options if that went.  But they wanted it and we wanted it.   
MIKE KATZ:  what other options were you looking at?  
SHELLY FINKEL:  It happened too quick.  It wasn't anything.  That night we agreed to go, so if not we would have looked at the regular guys whether it be you know a rematch with Barrera, a rematch with Marquez, who ever.   
MIKE KATZ:  Gary the  loss by Morales to Raheem.  How much will that affect the pay per view or the live gate?   
GARY SHAW:  For sure it would have been better if Morales won and both guys won.  I don't think it will affect the pay per view because the first fight was so great that I think the fans know they are going to get the same fight right back again.  Obviously we hope with a different result.  But truthfully Mike I don't think it is going to affect it much.