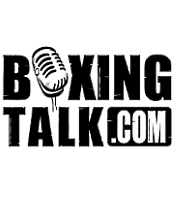 PRESS RELEASE: While reports that Matt Skelton has split with longtime manager Eugene Maloney are true, rumors that the British Heavyweight Champion has let Maloney ago are totally false. The respected fixture of the London boxing scene chose to drop his commitment to Skelton on a matter of principle. It may be the first time that a manager has let go of a heavyweight champion but it's the second time that Maloney has chosen to walk away from a highly successful situation.  
In 1994, as the head of Lennox Lewis' security detail, the passionate, larger than life Eugene voluntarily left the employ of the champion on a matter of principle. Ironically, later that same day, Lewis was knocked out by Oliver McCall. There aren't many people in the sport of boxing who will put their principles before money but Eugene Maloney is just such an individual. To this day the brother of Frank Maloney has never spoken publicly of his split with Lewis but the London man has no problems going on record on the Skelton situation. 
"A deal was agreed upon for Matt Skelton to fight Kevin McBride, but on the morning of the press conference, Skelton tried to claim that no deal had been agreed to, even though he was in the room when the deal was struck," recalled Maloney. "This is the issue that caused me concern as it was obvious that Skelton had no respect for the promoter or for me."  
Skelton had been scheduled to defend his British Heavyweight title against Danny Williams over the summer until Williams pulled out at the last minute. A few months later a verbal agreement was made for the two to meet in a rescheduled bout but that fell apart when Skelton, who apparently was not asked whether he would take the fight or not before the bout was announced to the public, refused to face Williams.  
Contrary to the rumors that are flying around, it was not Eugene Maloney who told Frank Warren that Skelton would fight Danny Williams. While Eugene had strongly advised Skelton to take the fight at a purse of £100,000, which would have been one of the all time top paydays for a British Heavyweight Championship fight, Maloney had nothing to do with the debacle that ensued. "The person who informed me that Matt would fight Williams is now acting as Skelton's manager and trainer," said Maloney. "I have guided Skelton's career from day one up until the recent fall out, even promoting him and investing my own money into him when no one else was interested for his first seven fights."  
The brash, outspoken former boxer was well known for his vigorous campaign to gain Skelton respect and have the rough skilled former martial artist taken seriously by the British boxing industry. It will be interesting to see just how Skelton will fare without "Mr. Motivator" in his corner. 
"A lot of people in boxing are only interested in money, but with me, I believe that principals are important, especially in this game, and if you stick to your principles, things will turn out in the end," stated Maloney. "What many people don't realize is that boxers come and go, but managers and trainers are in the sport much longer. One thing I've learned in this business is to remember the people you double crossed on the way up, because you might meet them on the way down."