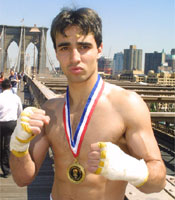 "Mike Arnaoutis is scared of the Magic Man"
RC: What's going on Paulie?

PM: Nothing much just chilling getting ready for Donald Camarena on February 10th. I am sharp, and I am really looking forward to looking good in my comeback.
RC: Your buddy Mike Arnaoutis just fought tonight, why don't you give us your thoughts on his performance?
PM: Mike Arnaoutis did what he had to do with what he had in front of him. It is fine with me; he had a first round Knock out over some chump (Marc Thompson 14-1(12)). You know he is doing what he has to do, but I just want to put something out there and make things clear on Mike Arnaoutis, he had a lot of things to say about me, he and his manager about a year or so ago, they were putting out press releases and doing interviews just dogging me. And the reason why the fight never happened back then is because I was hurting my hands, and what have I had two fights since then? You know what I mean? So the fight could never materialize. They were testing me and testing me, and now this week we had the opportunity to make the fight.
RC: (Cutting) Wait… explain to everyone what you mean when you say they had the opportunity to have the fight made?
PM: Well the plan was once I dispose of Donald Camarena on the 10th. HBO boxing after dark wants to make me against Mike Arnaoutis. I was in the office when they called Mike Michael, and I was right there when they made the offer. So if he is going to try and say nobody made him an offer he is lying because I was sitting right there when they called him and made the offer.
RC: So how did that phone call go?
PM: They were supposed to get back to us, and I left the office.  So as far as I know they made the offer and they had talked already. Mike Michael was basically trying to downplay me saying Might Mike was number two in the WBO and he doesn't really need me right now. You see what he is trying to do from a business perspective, in my opinion, is he is trying to not take chances because he is going to be the mandatory, and of course Paul Malignaggi is a chance. PAUL MALIGNAGGI is a BIG CHANCE! You know what I mean? You **explicit** with the Magic Man when you are the number two fighter in the world, and you disappear from the ratings…  You know what I mean? They don't need that in their life, not with Miguel Cotto on the horizon.
If this garbage wasn't talked so much in the past about me, I wouldn't mind because I would understand from a business perspective what they are trying to do. But because all of the things they said about me in the past made this into a really personal thing and put it on a personal level. Now you cant turn down a fight with Paul Malignaggi, because if you turn down a fight with the Magic Man, you are a chump and you are punking out on your own words.
I can quote this punk on his own words. I was bringing up all of the old interviews he did on me. I am going to read it; it is a press release from about a year and a half ago. It says "Upon being questioned about Malignaggi, Mighty Mike simply smiles and shakes his head and says "I will fight him tomorrow, no kidding! Put the contract in front of me and I will fight him anytime he wants to fight. I don't think he wants to fight me. I don't think I am not the kind of fighter he is looking to fight"" So he said put the contract in front of him and he would fight me anytime he wants to fight. So I am telling Mike Arnaoutis right now, I want you in June Homey, on HBO boxing after dark. Alright Punk? Don't say the money aint worth it, because it is an HBO fight. Don't say it is the exposure because it is an HBO fight. The kid doesn't have any excuses. His only excuse is that he is scared; he is scared of the Magic Man, plan and simple. In lament terms, Mike Arnaoutis is scared of the Magic Man. I am back in full affect; I am back in full force. A year and a half ago this kid was a nobody, and I was amongst the Jr. Welterweight elite prospects, now that I haven't fought, he figures he is on top, he figures he can avoid me now. But you can't avoid me now those were his own words. You can't run from your own words, he tried to punk me back and I am putting him to the test now. Man up!
RC: I'm sure many people would love to see a fight between the two of you, but first thing first on February 10th, you will have a very legitimate opponent in front of you in WBC Continental Americas Champion Donald Camarena. Can all this Arnaoutis talk be a distraction or a mistake with you looking past your next fight?

PM: (In a calm tone) Nah Nah, I am not looking past Camarena, I am just riled up because I saw this chump knock somebody out in the first round tonight, and he is a going to get press for nothing. So I am kind of riled up after seeing that, but nah I am not looking past Donald Camarena, who he and his manager have also been talking, so they are going to pay. I am going to make an example out of Camarena. Camarena will be made an example out of for anybody else who has a big mouth in the Jr. Welterweight division about the Magic Man. What I do to Camarena is going to be a pre curse to what I am going to do to everybody in this weight class. On the 10th tune in, and watch the bludgeoning I give Donald Camarena.
RC: You mentioned that you are back in full affect and you are going to abuse Camarena, but exactly what can we expect from Paul Malignaggi, I mean the whole thing is everyone is going to say "With Paul Malignaggi we have heard it all before." And this time around you are saying just wait and see about the whole hand issue, I mean what's the deal with hands?
PM: Exactly, everyone has heard it all before, which is why a lot of people are not going to like this interview Ray…
RC: (laughing)
PM: (Cutting back in) But you know what? They don't like any of my interviews anyway. But I know for sure that my hands are good this time. So all of the talking, everybody can say "Ooh man this chump is going top hurt his hand again" alright you know what? I know for sure because I know the way it feels in the gym. I am 100% confident in my hand and you are going to see for yourself on the 10th. I basically got to let the performance speak for itself. A lot of talk has been said, but I have to let the performance speak for itself, and on February 10th Donald Camarena is going to be the victim to who my hand is used and tested on. Pretty much I am going to make an example out of him.
RC: In all honesty, when was the last time your hand has felt as good as it does right now?
PM: Years man. Really it has been years. I honestly cannot lie; it has been years since my hand has felt like this. You are going to see a whole different Paul Malignaggi. It is really going to be how much Donald Camarena wants to win the fight that determines how much of a beating he takes.  If he comes and takes his beating and then figures you know what "let me just get through this night" he is going to cover up and take a beating. If he comes and tries to win this fight, he is going to get stopped. I promise you Donald Camarena aint making it ten rounds if he tries to come and win this fight. If he gets gun shy, and he starts to get defensive and try to survive the fight he might go the distance because he is a chump and that is how he fights, he fights like a punk. So if he fights like a punk once he gets hit, and he doesn't throw any punches, then well… you know what he will go the distance ands take a beating like a … not even like a man like a girl. But if he tries to come and win the fight, he is going to take his beating like a man and go to sleep.
RC: Now I know it is not good practice to look past, but since we are on the subject of a possible HBO date with Arnaoutis. Is that boxing after dark your date? And are they looking for someone else that might be suitable if all goes well against Camarena?

PM: Yes I am going to end up on that show sometime in June. We tried Juan Urango but he had surgery on his hand last week so I can't knock him for that. Being through injuries myself, I know what he is going through so like I said I can't knock him for that. But Might Mike, I have to knock the kid because of the things he talked about. If you are going to talk like that you have to back yourself up. I talked like that and I got hurt, that is the reason I couldn't back myself up. I am coming to back myself up now. I am putting my money where my mouth is. Basically I am coming to take everybody on, this whole weight class…. I got the scope on this whole weight class. So whoever wants to step up… then put up! I want anybody that has the balls and the guts to step up to it. Step up to the plate; I just don't want any no-names. This isn't a call out the whole division where all of the chumps are going to come up and say "Hey I want to fight Paul Malignaggi" I want realistic name fighters that HBO is going to accept. I want guys with credibility coming to the table and challenging the Magic Man. We got a chump in Mike Arnaoutis that didn't take the fight, so we need a real man that is going to take the fight.
RC: Basically who ever accepts your challenge, they have to have an "O" or it's a no go?
PM: Well…. I don't want to say that because their might be some good fighters that have maybe one o two losses, so I am not going to knock the losses but they gotta have credibility is what I am trying to say.  People have to be excited about them; they got to have that spark to their name when people talk about them. You see like Donald Camarena, why are we fighting on ESPN is because he doesn't have that spark. The kid has one loss, but who is Donald Camarena? He is a nobody, and you make sure you put that in quotes. I want him to know that I know he is a nobody, and his manager… I want him to know that he is a nobody too. That whole team is a bunch of nobodies, and on February 10th I am going to beat them like the bunch of nobodies that they are. Even worse because they talk, I mean these guys feel that because I talk a lot of trash that they gotta come and talk more trash than me, and they gotta out talk me, then they get me all riled up and I gotta punk them, I gotta make them look stupid. So now I have to beat Donald Camarena and embarrass him on national T.V. It is a shame because you take a beating like that and you get embarrassed like that with my clowning and my showboating on top of me throwing you a beating, you are never seen from again. No networks are going to ever want to put him on T.V. again.
RC: Is there anything else you would like to add in closing?
PM: Nah I pretty much said it all, February 10th, ESPN2 Friday night fights the main event; The Magic Man makes his long awaited return to the national stage. Tune in, and if you don't like me have a box of tissues next to you because you will be crying at the end of the night.
Send questions and comments to: BksCam@gmail.com