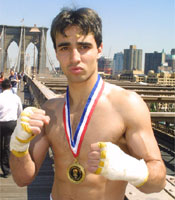 DeMarcus Corley or Lovemore N'dou Next for Malignaggi?
RC: Paulie, give us your thoughts on your unanimous decision victory over WBC Continental Americas Light Welterweight title holder Donald Camarena?
PM: I was really pleased with my performance over Donald Camarena. I thought I had to make a statement in that fight, and I felt that I did make a statement. Camarena came in with a good reputation, he is a good fighter and I dominated the fight like I said I would. And that is not to take anything away from Donald Cameron because like I said he is a good fighter, it is just that I am on a world-class level and I wanted everyone to understand and realize that. The faster people understand it, the less stupid they are going to look when I win the world title.
RC: You used them well in the fight, but how did the hands feel after the fight?
PM: My hands felt great, my hands felt great the whole entire fight. I didn't feel pain at any point during the fight and I felt great even after the fight. So I am real happy that I am healthy man. I give the credit to Dr. Margles. He saved my career pretty much because now I can go ahead and do what I got to do.
RC:  There was a lot of smack talk between the two of you leading up to the fight, and I noticed that after the fight you two spoke briefly and he even lifted you up in victory. What did he say to you after the fight?

PM: He said, "You got it" telling me that I won the fight. He is not a bad dude at all. He didn't say anything bad at all, he basically told me that I had the fight. Obviously the trash talk has got to be done before the fight, we are both competitors and we are both looking to move up to the next level. So things get kind of heated leading up to the fight. But after the fight he was a real good sport and I appreciate that.
RC: How does it feel to come back off a hand injury, to be constantly questioned about your hand going into the fight, and end up just going in there and showing everyone how good your hand felt this time around after your surgery?
PM: It felt great man, like I said people got to see the real Paul Malignaggi. Donald Camarena came in excellent shape is he wasn't  I probably would have been able to stop him. This is a fighter that alto of guys avoided. Herman Ngoudjo 12-0(8) (WBC #10)  avoided him, Mike Arnaoutis avoided him, because he is a tricky guy, and he has a good record. But right now I just want to fight any and everybody.
RC: How soon can we expect to see you back in action?

PM: Show me the money man! I want the big money fights, and I want the big name fighters. If they give me a big name fighter, and come with the right money… I am going to be ready. Including Miguel Cotto man. I want all of those guys, I will fight Miguel Cotto tomorrow and that is not a joke, and I will take him to school tomorrow if we fight.
RC: Has there been any possible names being thrown around as a possible opponent for your next bout?
PM: They are talking about Lovemore N'dou and DeMarcus Corley. If the money is right and we can get it on the right network, I will definitely take that fight in a heartbeat. Either fighter, they are both good fighters and they are both good step-ups, they both have proven their metal in this game and they would both be a good fight for me.
RC: Prior to this bout you made it known here on Boxingtalk.com that Mike Arnaoutis turned down a match to face you on HBO boxing after dark in June. Chances are if they were interested in an Arnaoutis fight, they would certainly be interested in a fight between you and either of the above menti…
PM: (Cutting in) Ooh without a doubt. If they are interested in a Mike Arnaoutis fight, they will definitely be interested in a DeMarcus Corley, Lovemore N'dou fight because those guys have been in there with world class fighters. Their losses have only been to world-class fighters and they have been competitive in all of their losses pretty much. So either on HBO or Showtime they can definitely make one of those fights. I would mention "Frighty" Mike Arnaoutis name too, but it's clear the gyro chump don't want to fight, so we will take care of him later.
RC: What are the actual chances of a fight with you and either N'dou or Corley taking place in you next bout on HBO or Showtime?
PM: I think there is no reason why it shouldn't happen. Show me the money and there is no reason why it shouldn't happen. And I am not saying show me the money like I am pricing myself out, because I am not pricing myself out, you just got to pay me. It is just time to step up and take on a world-class fighter, which both of those guys are, and it is time to make that money.
RC: I recently spoke to two other top prospects in the Jr. Welterweight division in Dmitriy Salita 24-(14) and Kendal Holt 20-1(12), and they were both extremely impressed with your performance. How does that make you feel that your spoke very highly of you after many have tried to criticize you and label you as a loud mouth with brittle hands?
PM: Well those are the opinions that count to most to me, my peers opinion mean the most to me because they go through the same things that I go through. They may not have had the injuries like I have had, but we are all fighters. When you can be respected by your fellow fighters, because they know what you go through, it makes you feel good. All of the other critics and people, I can care less. Then can kiss my **explicit**. But when my friends like Kendall and Dmitriy call me up and wish me luck and congratulate me, both Dmitriy and Kendall, I consider the both of them friends…when they call me up and support me it makes me feel good knowing that they go through the same things that I go through, and knowing that they are winners just like I am, That feels good.
RC: Anything else you would like to say in closing?
PM: All comers. We are taking on all comers. If you think you are on a world-class level, step up to the plate man.
Send questions and comments to: BksCam@gmail.com