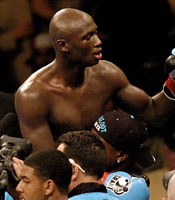 World light heavyweight champion Antonio "Magic Man" Tarver has become a household name. With an impressive amateur career and a bronze medal in the 1996 Olympics, Tarver made his professional debut at 28. Now 37, he has defeated 24 opponents and climbed his way to the top to become the true champion of the 175-pound division, no matter what the sanctioning bodies say. On June 10, 2006 in Atlantic City, the "Magic Man" will take on seasoned pro Bernard "The Executioner" Hopkins. Both competitors are getting older. Both have career losses. Both like to talk. But both vow to win. On a conference call last week, the "Magic Man" answered questions about how he plans to brush the chip off his shoulder and beat Hopkins, the former world middleweight champion who will be coming up in weight from 160 to 175 pounds. 
In an unusual start to a conference call, Gwen Tarver – Antonio's mother – asked the first question about her son's mental clarity leading up to the fight. Tarver said that he was very relaxed and ready to take care of business. His mother concluded by saying, "You speak from the heart. Your confidence is very high. I love you. I'm very, very proud to say that you are my son. I just want to thank you for all that you've done for me to make my life better." Tarver issued his own mother a "you're welcome, baby," before taking the next question.
The first reporter asked if Hopkins has said anything offensive for Tarver to use as ammunition. "He's said some things in the past," Tarver began. "This is the third or fourth time going down this verbal warfare. Those are just words. When we get to this level, we know it's man versus man. We know what we have to go through to make that happen. This is a sport. Whatever Bernard says really don't mean a hill of beans to me. I know what I'm coming to do. I know how hard I've worked and I know what my goals and dreams are. Bernard, at any stage in his career – to think he can come and take anything away from me – is absurd. What he saw in me that he feels would be different is beyond me. People look at me and would never guess that I was 37 years old. You've seen me fight different styles. Styles make fights. I'm able to adapt at a drop of a dime. I'm not no face first fighter. I don't know why people think boxers can't be intelligent and use our minds – the greatest gift that God gave us is our minds – and we use it in the ring. I want to take boxing to a new height. We are intelligent human beings. We don't have to use our face to be considered a great fighter. We don't have to get our face cut up, with those smashed noses and cauliflower ears, to be considered a great fighter. You have to use your mind. When you look at sports, it's second only to chess. We should get credit for that. People want to see blood and fighting but that's not what it's about. The reason I've had longevity is because I use my mind. You're going to have to beat me physically then beat me mentally to take me out of my game and I just don't see it happening."
Tarver paused for a moment before continuing, his voice rising with every sentence. "The public wants to look at all the negatives in my opponent, but they don't want to see the positives in me! Oh, he's [Hopkins] over the hill. He's coming with all his legendary status and that Philadelphia reputation he has. They're going to have to compare our fight to all the other fights you've seen – I promise you'll never see what you see on June 10th in Bernard Hopkins' career."
Another reporter addressed the very public "chip" Tarver seems to carry on his shoulder by inquiring as to why he feels the public doesn't embrace or respect him. "I don't know, man. I'm cut from a different cloth, I guess. My whole thing now is it's not about respect. You can't educate everybody. They'll look back and understand. As long as I keep piling up these victories," he said, taking a terse tone with the reporter, "the people who matter will respect my ability. That's why people are called critics – because they're out there to criticize. As long as my opponents respect me at the end of the day is all that matters." Tarver erupted into high pitched laughter at this statement, before addressing the next question about having to lose weight after his recent role in Rocky VI.
"It's part of my job, man. We all lose weight. It's not a problem. Only people like Roy Jones Jr. make excuses. I'm lean, mean. I wish the fight was this weekend. They want an excuse – I don't have a problem. I have a sparring partner. I'm fighting 10 rounds and not even breathing hard. I'm ready to fight and get this shit over with. I'm ready. I'm focused. I know what's in front of me. I'm comfortable where I'm at. I like it up here and I don't plan on coming down. Truth be told, I should be in the top 3 pound-for-pound. That's number 1, 2, and 3. That's really how I feel in my heart. When you look at my gamesmanship, my craftsmanship, my general ringship power – it's incredible. Guys don't get to where I'm at. I beat them all. I beat them all until there's no one left. I'm going to continue to be successful. Look back at the 1996 Olympic team. Where are they now? I should be number 1, 2, and 3," he reiterated, laughing cockily. He went on to explain his training regimen. "I train three times a day," he said. "I'm in great shape. Unbelievable condition. The thing that people fail to realize is I've been training since the middle of October. You think I was out there eating donuts with Sylvester Stallone? I was training out there with Gunnar Peterson. We worked out. We lifted weights – which I've never really done in my life – it's made a difference. I ate right. I had to train differently twice. I was building up and then I had to bring it down. I'm stronger now. I'm quicker now. I'm going to put up a hell of a display on June 10th. I'm ready to unleash."
One reporter asked about Bernard's move up in weight and if Tarver saw it as a problem. "My whole thing is," began Tarver, "that he's not used to carrying that weight around. When I go to the body, dig to the body, he's going to have to move around and carry that weight. I mean I don't know. I don't know what Bernard is going to do. What's Bernard going to do when he gets smashed? He's never felt anything like that before. What we will find out early on is how bad he wants it and what he'll do to get it. The only way you can survive in this sport is to be a star. And I'm going to perform. He comes to fight like he talks. If he does that you can expect another Hagler/Hearns. If I don't knock him out, I don't knock him out. I'm still a pro. That's the challenge for me. That's the sweet taste in my mouth. It makes me work harder in the gym. It keeps me focused in case anyone thinks I'm taking this guy lightly. The pressure's on for me to step up and take a step above the rest. I don't want to be on anybody else's level. I want to be a step above. You can either say that Antonio Tarver is the best out there today or you can say that guys like Bernard and Roy are over the hill. At the same time, they underrate me. I'm going to go in there and show these people what I'm made of."
One reporter said that Tarver has often been known to fade in later rounds. Tarver laughed and then waxed poetic about how people have no idea what they are talking about. "I think those are people that are so called 'experts' that don't know what they're watching. I don't know what fight they're watching." He referred to the first Roy Jones fight, saying, "I had to chase him all night long – if I got a little faded, it's understandable! The only thing saving him was the ropes. Sometimes when you look relaxed, you look winded. I finished strong. I don't have a problem finishing a fight. I don't know what these people are talking about. I'll continue to be the champion. We've all had great accomplishments," he said, referring to the broad arsenal of great fighters out there. "I see fighters. I see what they do. And I see what I do. The bottom line is they go the distance with champions and legends. I knock legends out. That's the difference."
Tarver explained his greatest achievement was winning the light heavyweight championship. "I still have a lot more accomplishments," he said. "I wish we had the weight division that was full of talent. Unfortunately I knocked those guys out along the way. I don't think any guy out there in any division is ranked up here with me – I fought all these guys when I didn't have a title. I wiped Jones out. I wish we had a pool of stellar talent in the light heavyweight division." Tarver spoke briefly about the Rocky movie. "The sky is the limit. I believe in the movie. It could do wonders for my career. It's kind of sad that I have to go to another arena in order to get the popularity and the love that I respect."
If Tarver wins this fight, he said, "It should enhance my legacy as the legend killer. I'm trying to punish these guys, not go the distance. I trust in my defense. If I get hit, I get hit. I can take it. Bernard can't hurt me. I'm going to another dimension. That's what I want to show. Put it on display. I'm age 37, and there ain't a scratch on my face. God has preserved me for something beautiful. I'm getting rid of Bernard Hopkins. I'm going to cure HBO of their two worst germs: Bernard Hopkins and Roy Jones. Boxing's beautiful, man," he continued. "I want to take boxing on a historical ride. I ain't running from nobody and I accept all challenges. If a heavyweight calls me out, I'm coming up there if it makes sense. A whole lot of sense," he said, laughing. "I want to continue to work as long as I can do it."
On June 10, in Atlantic City, people will get to see if the cocky "Magic Man" can, in fact, execute "The Executioner." Tune in to HBO PPV to find out who will come out ahead in this "Fight to the Finish."