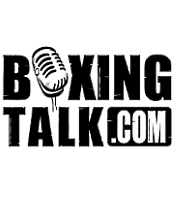 Enzo Macarrinelli puts his WBU Cruiserweight title on the line for the fifth time as he meets Danish challenger Jesper Kristiansen at the Newport Sports Centre tonight in Newport, Wales. Macarrinelli headlines the Sports Network card, which also features popular Welsh middleweight Gary Lockett in a rematch against the rugged Michael Monaghan. Rounding out the bill are Gavin Rees, Bradley Pryce, Jamie Arthur, Tony Doherty and Barrie Jones. Sky Sports broadcasts live in the UK on channel SS1 starting at 10PM BST. Boxingtalk.com spoke with the power punching Enzo and his trainer Charlie Pearson as they prepared to attend the final press conference and you won't want to miss what they had to say as we take a closer look at the red hot British cruiserweight division and one of its leading lights.
On the world level, the cruiserweight class has long been maligned as one of boxing's least glamorous weight divisions. Aside from Evander Holyfield's early career at 190lbs, there hasn't been a lot to get excited about. While we should see a unified champion come out of the upcoming Braithwaite - Mormeck battle, the cruiserweights aren't ready to compete for public attention as a weight class with, say, the light welterweights or the featherweight division.
In the UK, however, a long simmering war of words is ready to erupt into actual conflict, something British fight fans have hotly anticipated. The five leading figures in the cruiserweight division have been kept apart by a combination of differing promotional companies and the relative youth of a few of the participants. Two of the division's young guns, WBU beltholder Enzo Macarrinelli and English titlist David Haye, will soon have the opportunity they've been clamoring for; a chance to unseat the old guard as represented by longtime WBO champion Johnny Nelson and a former owner of that belt, Carl Thompson, the current IBO king.
Twenty three year old Haye will face forty year old Thompson next weekend and Macarrinelli has been promised Nelson if the pair get past their opponents this weekend. The fifth player on the scene, British and Commonwealth champion Mark Hobson, will be looking on with interest as he hopes to pick up a career defining fight against one of the victors.
Before Macarrinelli can hope to compete for the WBO title, however, he must first get by Jesper Kristiansen tonight in Newport, Wales. The Dane, 25-4-1 (9), is used to traveling, having fought his last two bouts in Poland and Italy, respectively, and shouldn't be affected by Macarrinelli's rabid Welsh fan base.  A former WBO Intercontinental and IBA Continental beltholder, Kristiansen's career high water mark came in May of last year as he took champion Pietro Aurino for the twelve round distance in a failed European title bid.
"Kristiansen is a good boxer who likes to counter punch but I've done the training and I've done the sparring so I'm ready for his style," said Macarrinelli. "I like this fight a lot. I'm a good body puncher but at six foot four, it's hard for me to catch some of the shorter opponents with quality body hots.This guy is basically my height and he tends to bring his arms and elbows up,
exposing his stomach area." 
As Macarrinelli's trainer, Charlie Pearson is looking to this matchup against Kristiansen to provide his fighter with a glimpse toward the future. "I think this fight suits Enzo down to the ground," he said. "The opponent is tall and fights off the backfoot, something like Johnny Nelson, so it'll give Enzo something of an insight. Kristiansen has been sparring Rudiger May, so May's people must think the Dane's style compares to Nelson's because May was preparing for Johnny."
In his most recent outing, Macarrinelli completely dominated his most accomplished opponent to date, Ismail Abdoul. The Belgian cruiserweight had shared the ring with top shelf European competition but had no answers to the hammer fisted Welshman. "I had studied tapes of Abdoul and knew he was a come forward fighter that had given Vincenzo Cantatore loads of trouble and had boxed Rudiger May, losing a controversial split decision," said Enzo. "I had seen all these tapes of Abdoul the come forward fighter but once we got in the ring and the bell rang, I cracked him in the first round and that was it (laughs), he wouldn't come near me the rest of the fight. He wouldn't even throw punches. He had noticed how fast my hands were and every time he threw a shot I would hit him back with two, so he stopped attempting anything. I couldn't rely on my power in that fight so I had the opportunity to show a bit of my boxing ability and I won every round against a good boy."
Trainer Pearson feels that his fighter can build upon the Abdoul win with a dominant performance against Kristiansen and has ensured Macarrinelli is not only prepared for the Dane but for a hoped for WBO title shot as well. "We've had good sparring for this one," he said. "Garry Delaney, who Enzo fought and beat this past February, came down from London and helped us out. Garry has fought Kristiansen before and I've seen all the tapes of the guy, so we have the lowdown on him going into this fight. We're hoping that Johnny Nelson beats Rudiger May in Germany on Saturday night but we also have to get through this one on Friday before we even think about stepping in with Johnny. Frank Warren has told us that if everything goes right, Enzo could be facing Johnny in December, so all we can do is win this bout and see what happens."
If shared opponents are anything to go by, Macarrinelli compares favorably to Jesper Kristiansen. Both have fought Earl Morais and Garry Delaney, but Maccarinelli destroyed the South African Morais in a single round while Kristiansen took eight to do the same. The Welshman also bested Kristiansen against Delaney, stopping the Englishman two rounds earlier. Interestingly, both Maccarinelli and Kristiansen themselves have only been stopped once and each of those occasions occurred within the first three rounds of a fight. While their chins may have produced similar results, Macarrinelli certainly has a higher knockout percentage and can be expected to try and send a message to his rivals with an early stoppage.
At twenty four years of age, Enzo Macarrinelli is approaching the prime of his career. Armed with what could be the greatest one punch power in Britain today, the native of Swansea, Wales looks forward to stepping up to true world class and isn't about to let anything distract him from his goals. "I can't let a prospective fight down the road with Johnny Nelson cause me to lose focus," he said. "Just look at Bernard Hopkins in his most recent fight. He was expected to destroy Robert Allen but he didn't have the type of performance everyone thought he'd have and that's due to what he has coming up against Oscar De La Hoya.  I think Hopkins will walk right through Oscar but he would have never gotten the opportunity either way if he had lost against Allen. Obviously my situation is on a much smaller scale than what Hopkins is looking at but a fight against Nelson would be the biggest of my career."
"I'm really looking forward to this fight on Friday. I showed people how well I can box in my last one but I've gotten back to the nasty side of things. I was concerned about showing just how well I could box last time because I had been labeled as a puncher, but for this one I've gotten back to my old style. Even in training I've been doing things with a bit of venom, a bit of nastiness and I'm ready to just explode on Friday."
Boxingtalk.com would like to thank Enzo Macarrinelli, Charlie Pearson and Richard Maynard for making this article possible.
Send questions and comments to: thomaspointrd@aol.com