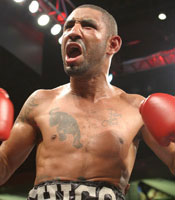 WBO lightweight champion Diego "Chico" Corrales contacted Boxingtalk moments ago to get a few things of his chest. In this informative must read exclusive interview, Corrales states that he has now retained his own attorney, Mark Risman, who is probably reviewing Corrales contracts as this goes to print. Corrales also expressed tremendous disgust over WBC lightweight champion Jose Luis Castillo remaining on Showtime's March 5 telecast, despite his promoter (whom he's far from thrilled with) Gary Shaw having a great relationship with the network.
"First off, let me tell you this much. This is utterly ridiculous that between three dang promoters they couldn't get this deal done. Then I get the bout agreement and it says I have to indemnify Gary Shaw. This is the promoters fight, and they're not making it work. I went to Connecticut to help promote the show, because you know, Castillo's non English speaking butt can't promote nothing on American TV.
"He's still fighting and I'm the one getting the shaft. It's ridiculous."
GL: Diego, how do you feel about this situation? You took the fight for less money than you were getting for Freitas. Then as this problem between your co-promoters went on, The Mandalay Bay recently cut its site fee in half from $400,000 down to $200,000. That means you were going to have to take the fight for about $100,000 less than your were initially displeased with, making your final purse around $600,000. Now, you're off the show, the promoters are still at odds and Jose Luis Castillo is still fighting on Showtime on March 5.
Diego Corrales: "I'm ticked, more like infuriated. How should I feel about it? Everybody knows Gary has a great relationship with Showtime Castillo's fighting and I'm not. That doesn't sound right to me. They're not doing their jobs. It's Gary Shaw's and Artie Pelullo's job to promote the show and work this out. This is nothing but a silly way of Gary getting his way, and basically saying, 'if you don't do it this way, I'll show you what I do.'
"Keeping Castillo on the show is a kick in the you know where's. It's ridiculous. How they sit back and let that happen to me? I wasn't happy with the deal, I wasn't happy with the money, but I took it because I'm here to prove I'm the best. 
"It's a shame that I'm not fighting when all I did was accept the fight. And some ignorant media people out there who say I should have taken it this in December so some of the blame should come my way are fools because Gary and Artie would have been having the same problems they're having now in December.
GL: If Pelullo and Shaw were on the same page you'd probably be fighting. Do you place the blame solely on Gary Shaw?
DC: "No, it's on all of them. It's on every one of them. It's their job to make sure the business side is cool, it's my job to fight. I didn't think the money was right, but I still took the fight, but none of them are taking care of the business the way they expect me to in the ring and that's a shame."
GL: On Showtime they said you probably wouldn't be in a meaningful fight until September or October. How do you feel about that?
DC: "Well, I got my own attorney now and Mark (Risman) is looking over everything. The indemnification Gary wanted, I don't know what he's going to dig up, but I know he's looking over all the contracts and he's going to receive all of my contracts to look over. People are going to have to sit back and start singing a different tune. I'm going to sit back and let my attorney jump on these guys. Jeff (Fried) is a good guy, but I need my own attorney because there's too much mickey mouse bullcrap going on."
GL: After we spoke yesterday, I called Gary to ask him about the indemnification clause. He said he would not have placed that in your bout agreement, but he already waived his promoters fee so he didn't want to get sued over a situation he wasn't making a penny on.
DC: "Like I said, I got my own attorney now and he's going to look over everything. If he's not making a penny we're going to find out. Trust me on that one.
GL: I understand that ESPN's PPV on April 23 is up in the air. There's no guarantee Cintron will return off of an injury to face Margarito. It looks like Main Events took my advice so Juan Diaz Vs. Ebo Elder is happening on the undercard but that won't be enugh to drive any PPV by itself. If the opportunity presented itself for you to defend your title on that card, would that be something you're interested in?
DC: "It's funny because I was hearing a couple of things like that about that show yesterday. As far as me fighting on that card, of course I'd love to be added to the show. I want to fight as soon as possible and that would be a great chance to stay active and defend my title. And you know what? After I win my fight, I'll shower in the back, get suited up and commentate on the other fights with Teddy Atlas and Joe Tessitore from ringside."
GL: Is there anything you'd like to add in closing?
DC: "I don't expect the behind the scenes stuff to get any prettier, but I'm confident that my new attorney will get to the bottom of this. I want all my fans to know that I'm going to continue to work hard and I'll be ready for any opportunities that present themself. I'm one of the few guys in boxing who REALLY wants to fight the best, and that's something that will never change."   
IT'S GREAT TO BE A MEMBER BUT THIS ONE IS FREE
Send questions and comments to: gleon@Boxingtalk.net