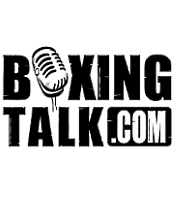 PRESS RELEASE:
Steven Luevano, 29-0 and world-rated in the featherweight division, says he is in top form and is all set for Top Rank's big Thanksgiving holiday show at the Santa Ana Star Casino in New Mexico on Friday, Nov. 25. Luevano will take on Martin Honorio, 19-3-1, of Mexico City in the main event which will be televised nationally by Solo Boxeo de Miller on Telefutura. Luevano, 24, of LaPuente, Calif., has been training in Las Vegas. "My trainer, Don House, is a big believer in conditioning," said Luevano. "I have been running sprints in Las Vegas the last five weeks. On Monday's we do six 800-yard sprints --  each one is two times around the quarter-mile track where I run. We also sprint on Wednesday's and Friday's. I even run on the off days."
In the gym Luevano says he has been working primarily on defensive and head-movement drills.
"Don is not big on sparring a lot of rounds," said Luevano. "But he does get you well-condititioned and prepared perfectly for a main event.
"All of this is important because Top Rank  tells me 2006 will be my breakout year," Luevano said. "I'm getting ready for really big fights."
Also appearing at the Santa Ana Star Casino will be Top Rank flywweight Giovanni Segura, 10-0-1, of Los Angeles. He will box six rounds. Brandon Rios, a 7-0 super featherweight from Oxnard, Calif., will also be in a six round bout.
Luevano vs. Honorio is promoted by Top Rank in association with McKinn Boxing and the Santa Ana Star Casino in New Mexico.
OUR MOST SINCERE CONDOLENCES - Leti Ayala's father, Raymond Barrera, passed away this week. Services were today in Ft. Worth, Texas.  Sincere condolences to the family of Paulie Ayala, one of Top Rank's great champions. Paulie has an active web page: paulieayala.com