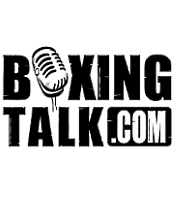 Both Fighter and Promoter Speak
Even though junior welterweight contender Lovemore N'dou knocked out the previously undefeated Joey de Ricardo last July in The Black Panther's backyard Down Under, N'dou has not had a fight under his  promotion team of Goossen-Tutor for almost a year, when he fought a tough battle against the rugged Junior Witter on the Hopkins-Eastman undercard in February.  N'dou feels that this is a breech of contract by Goossen-Tutor, and spoke with BoxingTalk about his frustration in lack of action that he has recently been seeing.  Goossen-Tutor's matchmaker Tom Brown also gives his two cents on the matter regarding Lovemore N'dou.  This is one interview you do NOT want to miss!!!
BoxingTalk:  Lovemore, what's the latest with you?
Lovemore N'dou:  It's the time of year when I'm getting my final examinations at school finished up.
BoxingTalk:  Recently, one of your former opponents Jun Gorres died from stab wounds.  What do you remember about him?
Lovemore N'dou:  He's the kid I fought in Hawaii.  That's really sad what happened.  My condolences go out to his family.  He was quite nice to me when I met him in Hawaii.  He wasn't an arrogant fighter.  I'm surprised something like that happened to him.
BoxingTalk:  Last time we spoke you were finishing up on production for a documentary on Vic Darchinyan…
Lovemore N'dou:  Yeah, on Vic Darchinya.  It got on television here in Australia and I also produced a fight night.  I filmed the entire fight night, and it was shown on Sky Channel in early November.  We're also trying to get sales from it from overseas.  So that's what I've been doing lately, working with my production company, and it's keeping me very busy. 
BoxingTalk:  Hopefully not too busy for your own boxing career.
Lovemore N'dou:  No, but I don't know what happened to my fight with Steve Forbes.  We were going to bring him here to fight, but it fell threw.  Then, the Goossen's said they would do the fight in America, but next thing I know Steve Forbes is fighting on the undercard of Mayweather-Mitchell against someone else, rather than me.  I was under the belief that I was to fight Forbes for the IBF #2 position.  The Goossen's sent a letter to the IBF, and I was told that they were working on a date, and it went from fighting sometime in October to the 22nd of November to the 26th of November, and next thing I know they don't have an exact date.  Then all of a sudden Steve Forbes is fighting Julio Cesar Sanchez, so I don't know what the hell is going on.
BoxingTalk:  The last time you fought was in July, about five months ago…
Lovemore N'dou:  It's been five months now, and I've been training the entire time, hoping to be fighting soon, but nothing is happening.
BoxingTalk:  You're ready to be called into action.
Lovemore N'dou: Darren, you know me.  If I had to fight tomorrow I'd jump in the ring tomorrow.  I'm super fit.  All this time I've been waiting, the Goossen's have been telling me that they are working on a date for me, but it's been five months now, and nothing has happened. 
BoxingTalk:  Are you still contracted with Goossen-Tutor Promotions?
Lovemore N'dou:  My contract runs out in February.  At this stage I would not regard myself as a free agent, but in the same token what I think they are doing is repudiating our contract, because we had a deal that they would arrange a fight with me every 3 months.  Now, the last fight that they arranged for me was with Junior Witter on the undercard of Hopkins-Eastman.  That was last February, and since then I have not had a fight under Goossen-Tutor.  How long has that been?
BoxingTalk:  We're talking close to 10 months ago.
Lovemore N'dou:  So, they have repudiated our contract, but that is not how I want to end things with them.  Now, my contract is flexible which allows me to arrange my own fights here in Australia without the Goossen's, but anything outside of Australia has to be with the Goossen's.  The deal was, every fight I have with them, within 3 months they have to arrange another fight with me, and they haven't done it.
BoxingTalk:  Any reason why you think they haven't given you a fight yet?
Lovemore N'dou:  All they have done so far is make me out like a sitting duck, hoping something falls through so can give it to Lovemore N'dou.  That's what happened when I fought Sharmba Mitchell, it was a last minute thing.  Same with my fight against Miguel Cotto and Junior Witter.  I only got the fight because other people pulled out, and they needed a last-minute opponent. These are my promoters but they make me feel like I'm somebody's insurance. People take out insurance 'in case shit happens' So, in case somebody pulls out of a major fight, Lovemore Ndou is there to fill in the spot. As my promoters, they are supposed to give me more fights in America, expose me more in America, and keep me busy, but they're not doing that.  I'm just sitting for someone's fight to fall through so they can give me a call.
BoxingTalk:  All this must be very frustrating for you.
Lovemore N'dou:  I believe I still have a lot to give to boxing, and I believe with the proper promotion and the right time to prepare for the fight, then I can beat most of the junior welterweights out there.
BoxingTalk:  With a month left in 2005, it seems like we won't see you fight again until 2006?
Lovemore N'dou:  The way things are going, they aren't giving me a proper day, so it doesn't seem like I'll be fighting anymore in 2005.  If they know they aren't going to give me a fight they should just release me.  This is my career, this is my future, this is how I make a living.  It's no use holding me back like this.  If they want to give me a fight, then give me a fight.  I've left Tom Brown (of Goossen-Tutor Promotions) several messages, but he doesn't return my phone calls, and he doesn't return my emails.  So I don't know what is going on.  If they feel that I don't have what it takes or I'm not the right fighter for their promotions company, then just release me.  Let me go.  Now, I'm just wasting my time. In fact, I'm just about to send them a deed of release.
BoxingTalk:  What are the members of your team, like Jeff Fenech and Billy Hussein advising you to do in this situation.
Lovemore N'dou:  Jeff has been trying to reach the Goossen's as well, and the last he heard was that Dan Goossen would get back to him, but that was several weeks ago.  It's sad, because I've been training all this time, and this is holding me back.  If it wasn't for the film business that I'm in and my wife's hair salon business, I couldn't make a living.  I'd be begging in the streets. These guys only gave me one fight this year (against Junior Witter). I'm not getting paid millions per fight. So I can't afford to lay back and fight once a year. Even world champions don't fight once a year. I honestly believe with the right promotion, and the time to train I can beat the likes of Ricky Hatton and Floyd Mayweather.
BoxingTalk spoke with Tom Brown of Goossen-Tutor after speaking with Lovemore, who informed us that he did try to get an IBF elimination bout for Lovemore, but that it fell through.  A lack of dates for meaningful shows is also part to blame for Lovemore's layoff since, as Brown put it, "Dates don't just fall off trees, you know.  Look at what Don King is doing in Germany."  Brown also commented that even though Lovemore has had good showings in the big fights he has been in, the combination of coming up on the wrong end of these fights, and not yet having a meaningful opponent for Lovemore that the major networks are willing to throw him on the air with, puts Goossen-Tutor in a tough situation with their fighter.  When asked if Brown feels Lovemore's fight schedule will be similar in 2006 as it was in 2005 with Lovemore taking on last minute opponents, Brown responded by saying that he can't predict the future, but they know Lovemore is more than ready to fight, and that they will go back to the drawing board to do their best for their fighter.  "It's also a matter of good business too," continued Brown.  Referring to the expense it takes to bring Lovemore out from Australia for a fight, especially if it is just a tune-up bout.  Brown concludes by saying that the good news for his fighter is that Lovemore is in a hot division, which allows him to take on a long list of talent as his next possible opponent.
Send questions and comments to: dnick@boxingtalk.com