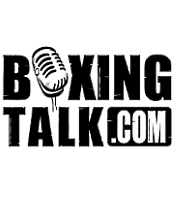 Last night, in his nineteeth pro bout, undefeated junior welterweight Dmitriy Salita finally got a chance to play the role of homecoming king in front of his adoring fans (many of whom wore yarmulkes, black hats and wooly beards) at Brighton Beach's Atlantic Oceana.  The Lou DiBella-promoted card was billed "Home Cooking" but none was needed for the baby-faced orthodox Jew.  The undefeated Salita (19-0, 11 KOs) won a unanimous decision, dominating all eight rounds against durable but limited Ruben Galvan (now 20-6-2, 9 KOs) of Hammond, Indiana.
It was a first for even the most ardent fight fan, as Klezmer (Jewish folk music) announced Salita's ring entrance.  Wearing shiny gold and blue-trimmed Everlast jacket and shorts, the 20-year-old looked like a specially-wrapped gift…not a badass forged in the fires of Brooklyn's Starrette City Boxing Club, a place that is the stuff of gangsta rap lyrics. 
In the opening round, Salita quickly established a head-snapping jab that set up rapid-fire combinations upstairs and downstairs; when a punch came his way, he slipped or parried it with fluidity and grace.  Although a native of Odessa, Ukraine, Salita possesses a smooth style that is more "black urban" than it is Eastern European, which may be characterized as upright and robotic.  With Salita's control of the ring firmly established midway through the round, his fans began chanting "Dima!  Dima!  Dima!" which means Dmitriy in Hebrew. 
Between rounds 1 and 2, one noticed a strange omission, and another first for the ardent fight fan: no ring card girl!  It is fair to assume the promoter and featured fighter decided it would be offensive, or even sacrilegious, to have a Scores employee with a prominent dental floss wedgie strutting around the canvas in front of the largely pious crowd.  (There were ring card girls during the undercard but they were, relatively speaking, modestly dressed; Arabian belly dancer would best describe their wardrobe.) 
Round 2 saw much of the same, as Salita popped a consistent jab in Galvan's face, followed by straight rights and hooks to the body and head.  When Galvan mounted an attack of his own, he was too slow, plodding and unimaginative to catch Salita with anything meaningful.  An angry swelling formed around Galvan's right eye during the 3rd round, but he wagged his head after taking shots, suggesting to Salita and everyone else in the house that his punches were soft.  Bring it on, he gestured with his mitts.  Usually when a fighter does this, it means the opposite of what he wishes to convey—the punches are in fact causing pain.  Yet Galvan truly seemed not to mind, and he was never wobbled or dazed.  He rolled with punches and generally kept his hands high, catching many shots on his gloves and arms.  His only hope for victory, it seemed, was to catch an overconfident or frustrated Salita loading up his punches or coming in recklessly.  Salita refused to take the bait, and opted to peck away.
In rounds 4 through 6, I was impressed with Salita's restraint and discipline.  He wasn't spooked by the hometown crowd, as so many young fighters would be.  He always fought within himself.  He is well-schooled, mature and demonstrates impressive ring generalship.  However, Salita seemed unable to hurt Galvan.  Even as he was totally outclassed, Galvan showed no respect for Salita's punching power.  Now, Galvan is a tough-as-nails Mexican journeyman who has never been stopped or dropped.  He might have a great set of whiskers.  He's the type of opponent that can go the distance with name fighters (his last opponent was Paul Spadafora), and prove that while he can't beat them, he can at least take whatever they dish out.  But if Salita is to become a major player in the bottomless division that is jr. welterweight, he should be able to destroy a Galvan-level opponent.  What would a Miguel Cotto have done to Galvan?  It wouldn't have gone two rounds.  How about the lighter-fisted pressure-fighter Ricky Hatton?   He would have overwhelmed Galvan and paralyzed him with digging body shots in short order.  A contender in this division doesn't have to be a KO artist, but he does need to demolish the soft touches—if not with a single punch, at least accumulatively.    
In round 7, things got more interesting.  Galvan began to find a home for his left hook high on Salita's head.  Salita was rocked several times, and even reeled against the ropes in an attempt to collect himself.  Just before the bell sounded to end the round, they began to trade hard shots.  Salita was not badly hurt but in danger due to fatigue.  It was the first and only time where Salita's mettle was really tested.  The 8th and final round was a gutsy round for both participants.  Galvan continued with thudding left hooks, most of which landed on Salita's gloves—but shouldn't have made contact to begin with.  A depleted Salita tried his best to close the show, landing jabs, straight and overhand rights, uppercuts and hooks.  The snap was gone.  And Galvan was still there in the end, never really close to going down.  Had Galvan had any kind of punch, Salita might have been in big trouble as he was exhausted and nearly punched out by the end.
All three judges scored the bout 80-72 for Salita and Boxingtalk agreed.
Among the several boxing luminaries on hand was trainer/boxing analyst Teddy Atlas.  After the fight, I spoke to him briefly about his impressions of Salita.  Known for being direct and honest when it comes to his opinions, Atlas was somewhat reticent.  This was because he was not impressed with Salita the fighter…but Salita the person is something you have to like.  He's the kind of guy a girl wants to bring home to meet the parents; decent, humble and hard working.  After some prodding, Atlas did shared his thoughts.  "The kid has a long way to go," Atlas said of Salita.  "He NEEDS to develop before taking the next step up…he has to take a guy like this (Galvan) out—and he didn't.  Plus, he got hit with shots that he shouldn't have.  Salita will need to be matched carefully."  I commented that if Salita had a bigger punch, it would resolve a lot of issues, since he's a good boxer.  Can the power be developed, I asked Atlas?  He shrugged and shook his head, as if to say, Don't bet on it.
The Undercard
Welterweight and two-time Golden Gloves champion Ray Biggs won (TKO 1) his pro debut against Batyr Zaktov.  Zaktov's corner threw in the towel between the first and second round.
Also making his pro debut was Irish heavyweight John Timlin of Mayo County, Ireland.  He was starched 49 seconds into round 1 by Jose Luis Gomez, whose record now stands 1-3.
In a 4-rounder, light heavyweight Jason Quick won a unanimous decision over Henry Dukes. The judges scored it 40-36 and 39-37 twice.  Quick is now 4-0 (3 KOs) and Dukes is winless at 0-2.
Heavyweight Declan Timlin (3-0, 2 KOs), the older brother of the previously mentioned John, was lucky to receive a unanimous decision over James Steele (0-2).  For 4 ugly rounds Timlin seemed to confuse the boxing ring for a sumo circle.  When he wasn't smothering his own punches, he was bulldozing the anemic Steele through the ropes…abandoning punching altogether.  When Steele summoned the nerve to throw a straight right hand and the end of the first, he dropped Timlin.  A severely wobbled Timlin got up at the count of 5 and was saved by the bell.  In the 3rd round the ref took a point away from Steele for holding, but in truth they were both embracing each other in what resembled a boring slow dance.  Timlin pushed Steele through the ropes in the 4th and final round, and the ref wrongly ruled it a knockdown; at the count of 5 Steele extricated his tangled legs from the ropes and crawled back into the ring.  Timlin was later deducted a point for holding.  The judges scored it 38-35, 38-36 and 37-35.
The lead-in to the main event was a 6-round bout between lightweights Terrence Thomas of Newburgh, New York and Luis Lopez of North Bergen, New Jersey.   The rangy Thomas (2-1) controlled the fight, with good hand speed and stinging left-rights and hooks to the body, when they fought in the center of the ring.  But he wasn't busy enough. A game Lopez (1-7, 1 KO) did his best work when he had Thomas trapped on the ropes, but he wasn't able to get him there with enough frequency to steal the fight.  The judges scored it a majority draw: 58-57, 57-57 twice.