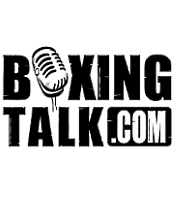 The offspring of Thomas Hearns may have been fighting on the undercard of the 12 round main event between Nate Campbell and Tiger Martinez in an IBF #2 position eliminator, but it was Queens, NY resident Jaidon Codrington who stole the show prior to Campbell's fourth-round disqualification July 30 win over Martinez.
Ronald Hearns boxed well en route to a four-round decision win over William "B.J." Johnson, but his father, a living legend, got more cheers than he did. Codrington, on the other hand, won the crowd over with a two-round destruction of seven-fight veteran James North.


One fan in attendance was International Boxing Hall of Fame inductee and former world champion Emile Griffith. Griffith sometimes visits the Starrett City Boxing Club in Brooklyn to watch Codrington spar.


"He likes the fact I can box and be the aggressor," said Codrington.


Though Codrington may only have two victories on his professional record, he's far from a novice in the fight game. A two-time New England Golden Gloves champion, he won a national Golden Gloves title in 2002, which led to a boxing scholarship at Northern Michigan University, where former Olympic coach Al Mitchell trains the boxing team.


This past April, Codrington won the Daily News Golden Gloves in the 178-pound weight class.


The July 30 stoppage of North marks the second time in as many fights that Codrington has fought on a card promoted by former HBO executive Lou DiBella.


In June, at New York's Manhattan Center, he knocked out Kadir Kadri, a former USKBA kickboxing champ, in three rounds.


"I'm interested in signing him," said DiBella. Shortly after Codrington's stoppage of North, DiBella walked by press row at Mohegan Sun Casino and blurted out something about how impressive Codrington looks, considering he's only had two pro fights. He's also only two months removed from his teen years.


Codrington, who spent most of his amateur career in Bridgeport, CT under the tutelage of Joe Goss, displayed solid power while tearing apart North with vicious combinations to the body. However, he knows it will be a gradual process before he's taking on guys with title belts. He may take his time before signing a contract with a promoter as well.


"I'll be worth more if I wait to sign a contract when I'm 6-0 or 8-0 instead of right now," said Codrington, who has Chris Gotti, brother of Irv Gotti, CEO of The Inc, the record company formerly known as Murder Inc., advising him. The Inc is responsible for the success of artists like Ja Rule and Ashanti.


While Codrington has yet to sign with a promoter, DiBella told the Connecticut Post, "His management and I have an arrangement where I have the right of first refusal on his future fights."


According to most boxing observers, signing with DiBella would be a smart move for Codrington. DiBella has a reputation as one of boxing's truly nice guys, as well as connections to HBO. Oh yeah, he also has one of Codrington's favorite active fighters under contract- Jermain Taylor.


What does Codrington like about Taylor?


"You see him improving every fight," he said. "He's not the most naturally gifted athlete in the world, like me, but he works hard and you see the results of hard work when you see him fight."


Codrington, like Taylor, wants to constantly improve. Even though both of his pro victories have been knockouts, Codrington feels he let his opponents stay in with him too long.


"They should have been a lot easier," he said. "I should have gone for the kill a lot sooner."


"I'm giving them too much time to hurt me back."


What can fans look forward to in future fights?


"Excellence," said Codrington. "Superior boxing. Skills. And a vicious mental killer instinct. As soon as I smell the kill coming, it will be over. There's no reason for these guys to be standing that long."


CLICK HERE FOR THE FULL EXCLUSIVE INTERVIEW
Send questions and comments to: kirklang@yahoo.com