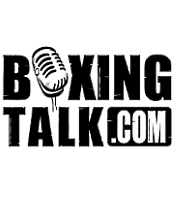 By Scott Shaffer @ ringside
For the first time in his pro career, Giovanni Lorenzo showed some of the skills that got him to the 2000 Olympic Games as a member of the Dominican Republic team.
After winning 14 bouts against undistinguished competition, Lorenzo stepped up to face Dennis Sharpe in a battle of undefeated middleweights.
  Of the two combatants, Lorenzo is the one promoted by Main Events, but the vocal Sharpe fans made it seem like their man was the house fighter.
Their enthusiasm was short-lived as the brief bout was all Lorenzo.
  The Dominican's hands were far too fast for
Sharpe, and in the first round Lorenzo pounded Sharpe against the ropes until the referee called for a standing eight count. The pause didn't help Sharpe, who soon found himself on the canvas for the second knockdown of the round.  When Lorenzo backed Sharpe up against the ropes yet again and rained a barrage of fast punches in on Sharpe, the towel came flying in from Sharpe's corner. Sharpe may have thought his corner's was premature , but Lorenzo had such a hand speed advantage, it wouldn't have made a difference. Lorenzo improves to 15-0, while Sharpe drops to 17-1-2.  
Meanwhile, another amateur from the class of 2000, Malik Scott remained undefeated by beating his toughest opponent to date, David Bostice, over eight rounds.  Scott, now 21-0, won the heavyweight bout by scores of 79-73 (twice) and 78-74.  However, Scott did nothing to excite the crowd or demonstrate he is ready for top competition yet.  Bostice, 33-9-1, had won six of his previous seven bouts coming in but Scott's win, although deserved, was nothing to get excited about.


David Pareja, who last year appeared on Fox's boxing reality show The Next Great Champ, won a four-round decision against Gino Ranquillo, 1-1.  Pareja, now fighting as a cruiserweight, improves to 3-1… Henry Crawford remained undefeated, winning a four-round welterweight bout against Phillip McCants, 2-1-1. Crawford, a welterweight, is now 4-0… In the first bout of the evening, lightweight Danny McDermott made a pro debut a successful one, decisioning Jason Chacon, 0-5, over four rounds.