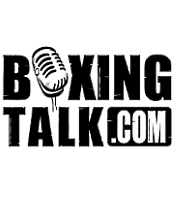 Leavander Johnson was laid to rest this weekend in Atlantic City, New Jersey. Leavander, who perished five days after sustaining a brain injury in a boxing match against Jesus Chavez, received a send-off worthy of the champion that he was. He came from a poor neighborhood that the boxing world usually rushes through on its way to million-dollar fights in the nearby casinos. On Saturday, the destination was the Shiloh Baptist Church on Atlantic Avenue instead of the Convention Center on the Boardwalk as hundreds gathered to honor the fallen IBF lightweight champion. In a three-plus hour funeral that was both heartbreaking and inspiring, Johnson was remembered as both a boxing champion and an inspiration to the Atlantic City community. Contingents from DiBella Entertainment, Golden Boy Promotions, the local Police Athletic League boxing program and the IBF were in attendance, as were Johnson's longtime advisor Sampson Lewkowicz and New Jersey boxing commissioner Larry Hazzard. 
Losing a child or sibling is one of the toughest things in life. Losing that person suddenly and at a young age is even worse, and losing that person on what could have been the greatest day of his life, his first world championship defense is incomprehensible. Yet the close-knit Johnson family handled the situation with grace and class that had to be seen to be fully appreciated. Not many families would be able to set aside such fresh wounds and let their pride in Leavander's accomplishments drown out any bitterness, blame or anger they might be feeling. But the Johnsons, supported by a crowd too large to fit into the church, somehow managed the near-impossible. The service was a procession of one unbelievably touching moment after another. Atlantic City mayor Lorenzo Langford, who knew Leavander for many years, promised to erect a statue in Leavander's honor.  Leavander's sister, Susan Johnson, performed a moving gospel number, breaking down in tears between verses but pulling herself together to finish the song, just as Leavander would have done in the boxing ring. Chavez himself attended, a visibly shaken man among a sea of unfamiliar faces.  Showing up at Leavander's funeral when he had no idea how he would be received certainly took more guts than any boxing match ever required, but when Lou DiBella announced his presence to the crowd, Chavez nervously stood up, and with Bernard Hopkins at his side for support, Chavez received a standing ovation, tangible proof that none of the mourners  blamed him for Leavander's death. 
The most poignant moment of all came when Leavander's brother Cade addressed the congregation. As his brother Craig embraced him, Cade addressed Leavander's father William, who worked Leavander's corner on September 17th, and considered stopping the fight, only to be told by his son not to.  Looking directly into his father's eyes, Cade said the most comforting words that could have been said to a man about to bury his son. "I speak for Leavander and my brothers when I say this. If we had it to do it all over again, we wouldn't change anything." 
Leavander's stubborn refusal to give up his quest of becoming a champion is what allowed him to fulfill his dream after three failed attempts, but that very same trait also contributed to his untimely demise. Leavander Johnson, just thirty five years old, leaves behind four children, a fiancee, a large, loving family and a legacy of the glory and horror that goes hand in hand in the sport of boxing. Rest in peace, Champ.
Send questions and comments to: boxingratings@yahoo.com