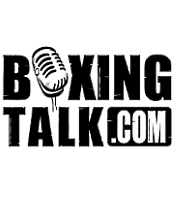 PRESS RELEASE:
Unbeaten middleweight prospect Jason LeHoullier puts his perfect 15-0 record on the line Friday night (May 20) in the eight-round main event on "Friday Night Fights," Knockout Boxing's inaugural professional show, at the National Guard Armory in Dorchester (MA). LeHoullier (15-0, 7 KOs), fighting out of Portland (ME), squares off against Cleveland veteran Rashaan Blackburn. Jason was the 1999 National Golden Gloves silver medalist, losing in the final to recently crowned WBA welterweight champion Luis Collazo.
Making their much-anticipated pro debuts in four-round bouts are Waltham heavyweight Matt Coppola and former U.S. Marines Boxing Team member, middleweight Gerry Grealish, of Quincy. Coppola faces Mike Needling, of Philadelphia, while Grealish is matched against Donnel Humphrey, of Cincinnati.
Also on the card is 2003 Pan-Am Games silver medallist, Guatemalan
featherweight Castulo "El Pubeioso" Gonzalez (3-0, 1 KO), now fighting out of Wilmington (MA), versus Rashand Bland, of Cincinnati.
Worcester middleweight Bobby McAndrews fights Dorchester veteran Hollister Elliott in a six-round bout. Another four-round match will be added. All bouts and fighters are subject to change.
All tickets are priced at $25.00 (general admission).  Call 617.740.8407 for ticket information and will be sold at the door on fight night. Doors open at 7 PM with the first bout scheduled for 8 PM.