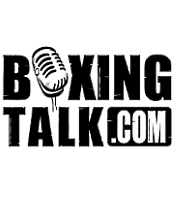 Cruiserweight KO artist David Haye, 10-0 (10), is currently locked down in training camp ahead of his fascinating title tilt against IBO cruiserweight champion Carl Thompson at Wembley Arena on September 10.
Haye's trainer and manager Adam Booth took time out to provide an update on the Londoner's preparations while Haye enjoyed an evening nap.
ON TRAINING CAMP IN BOURNEMOUTH:
"We're training on the seafront. We've set up a boxing gym at a hotel. Not done anything to this extent before. It's all behind closed doors. We will return before the week of the fight."
ON HAYE'S IMPROVEMENT:
"He's looking better than when he prepared for the Arthur Williams fight. He's doing more rounds, at a higher intensity. He's pretty much close to his fighting weight already. We're looking to perfect new things, always adding new things, you have to be or you're going nowhere."
ON A TYPICAL DAY:
"Get up go for a run. Could be long or could be sprints. Eat, go for a walk, sleep. Lunchtime. Sparring, eight rounds at the moment, gym. Food, sleep and then conditioning, abs, neck etc."
ON SPARRING:
"He's sparring Vaughn Bean (former WBA/IBF heavyweight title challenger who fought Evander Holyfield and Michael Moorer) as well as (former British and Commonwealth champion) Michael Sprott and (undefeated prospect) Roman Greenberg. All heavyweights. They have to be strong enough to make him work. Cruiserweights can end up getting hurt or just want to survive. The guys here are having to work!"
ON THOMPSON'S CLAIM HE WILL "START FAST":
"The faster Carl starts. The faster David lets the bombs go. We will prepare David as best as we can. We can?t control what Carl does and how he reacts when he's hit. The big turning point in the fight will be when Carl hits David and doesn't get the result he was banking on. Too much has been made of the knockdown David suffered early in his career."