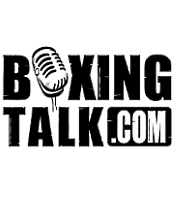 Jose Aguirre: Boxingtalk.com, at the Southgate Hotel, across the street from Madison Square Garden where Tito Trinidad just stopped Mayorga in eight rounds. And with me I have HBO's own Jim Lampley. What did you think about the fight tonight sir?
Jim Lampley:"Well, it was a sensational show for spectators. It was a sensational performance by a guy who has been away for two and a half years. In fact, the most over-used word in the sport is incredible but it was incredible to me that Tito can come in and be technically better. Better both as a boxer and as a puncher than three years ago. After I spent months thinking he was crazy to come back to a big fight without some kind of a tune-up, I was wrong. What an amazing offensive show. He wound up landing two thirds of his punches in the fight. I don't think I've ever seen a power puncher do that. It was quite remarkable."
JA: What do you think about Mayorga, saying he would drop his hands, and in fact doing it in the first round?
JL:"Well what Mayorga does, which is, I think, alot of mind game trying to intimidate his opponents into fighting his fight. It's sort of like ok, here are my juevos (balls), how big are yours? It's very difficult to resist that and stay in your envelope and fight your fight and I think that's what he wants people to do. And at 147lbs where I think he's a dominant puncher then it's always going to mean something for him to be able to take the other guys punch and shake his head and laugh about it and stuff like that because it's very intimidating when you can bring what he brings behind it. But i think what became clear over the course of all those rounds tonight is that he's not a 160lb fighter . He didn't hurt Felix when he landed big shots on him except in the first round. So I think if Mayorga is going to continue to fight that particular all or nothing style, and I don't see him changing, he better go back o fight at 147 or 154 where he can get something done with it because I don't think he's going to intimidate many people at 160."
JA: Trinidad, takes two years off. Comes back. His punches are sharp. Still punches hard. Looking the best he's ever looked. Bernard Hopkins?
JL:"Well yea. That was the best foot movement Felix has ever shown. That was the best side to side he's ever shown. He jabbed well when he wanted to. His right hand and left hand were both powerful and effective. I thought that it would be smart if he won this fight to take the money and fight Oscar De la hoya, after watching what I watched tonight I'm thinking why bother with De la hoya. Money he's got. Go fight Hopkins and try to get all those belts. The Felix Trinidad I saw tonighthas a much better chance of beating Bernard Hopkins than the guy who fought him three years ago."
JA: Speaking of De la hoya, give us your thoughts on Bernard Hopkins'  one punch body shot stoppage in the ninth round.
JL:"Well I think that was inevitability basically. I mean Oscar was figthing a bigger, stronger guy. His punches didn't hurt Hopkins. Hopkins' punches were hurting him. This thing about whether he could have gotten up from the body shot, I give everybody that steps between the rope the benefit of the doubt. Lots of fighters have told me that if you get caught perfectly on the liver it takes your legs. Looked to me like he had no legs. But the bottom line is, so what if he got up. It wasn't as if he was going to turn the fight around in the last three rounds. That was a fight that Bernard was going to win one way or the other."
JA: Lets speak about a guy whose fights you've work. A guy that you worked side by side with, Roy Jones Jr. Do you think after his stoppage loss to Glen Johnson that he should continue to fight?
JL:"No. He's been knocked out two times in a row and in both instances he was unconcious before he hit the canvas. When you get knocked cold twice and the second time by a guy who doesn't have a reputation as a big puncher, you're crazy if you go in and fight again. I think Roy's always been crazy in alot of ways but if he goes in and fights again, I don't care against whom...If he fought me it would be crazy at this point because if you can't take a punch to the head you don't belong in the ring and right now I'm not sure that he could take any punch to the head."
JA: Speaking of being in the ring, larry Donald will be fighting Evander Holyfield on a Don King card on Nov 13th at Madison Square Garden. Do you think Holyfield should continue to fight?
JL:"I think it doesn't matter that he's fighting someone like Larry Donald. That to me is a meaningless fight in the heavyweight division. It's like a filler for one of Don's big sandwiches of cards but I think what Evander did against James Toney is all you need to know about what chance he has left to do anything significant in the heavyweight division and Larry Donald has always been a one note tune."
JA: Last question, do you miss working with george Foreman?
JL:"NO!"