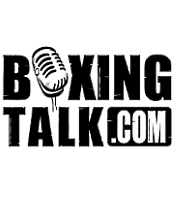 Manager Presents Lamon Brewster with Championship Ring
Every year there is always big pomp and circumstance whenever the World Series winners and the Super Bowl victors receive their championship rings. That is usually not the case when a fighter wins his sports most coveted prize. There is always a plethora of celebration in the ring, but the party, at least what is seen by the public, usually ends there. Sam Simon, Lamon Brewster's manager changed all that when, on Thursday, he presented his fighter with a championship ring for defeating former WBO king Wladimir Klitschko last April. Up until the presentation in front of the boxing media, Brewster was unaware of the gift his manger was about to bestow upon him, and BoxingTalk was there at Broadway Gym in Los Angeles to capture the champ's delight when he was honored by Simon with a beautiful symbol of recognition.
BoxingTalk Goes Toe-to-Toe with the Heavyweight Champ

Lamon Brewster is about two weeks away from defending his WBO Heavyweight Title for the first time since capturing the belt from Wladimir Klitschko last April. Brewster will be facing Kali Meehan on September 4th at the Mandalay Bay Resort and Casino in Las Vegas, and even though Meehan is mostly unknown to the boxing world, Brewster is fully aware that no fight is to be taken for granted, especially in the heavyweight division, and he is preparing himself to be in better shape then he was when he defeated the Ukrainian giant just a few months ago. BoxingTalk's own Darren Nichols spoke with Brewster to find out how he is looking at this fight with Meehan compared to when he fought Klitschko, how he will fight Meehan differently, and what he will do to ensure that his victory last April was no fluke, but instead a step towards heavyweight superstardom. Brewster Punishes Sparring Partner and Speed Bag, Then Dishes It Out To BoxingTalk
BoxingTalk had our reels reeling when WBO Heavyweight Champ Lamon Brewster laced up the leather to show what he has been working on in the gym in preparation for his September 4th bout with Kali Meehan. Brewster displayed superb defensive and offensive skill, as well as speed and agility during his workout on Thursday at the Broadway Gym in Los Angeles. Afterwards, BoxingTalk's own Darren Nichols spoke with the champ to get his thoughts on how he feels his training is going for his first title defense, how the victory against Wladimir Klitschko last April has improved him as a boxer, and who he wants next to show that he has truly made it as a professional fighter.