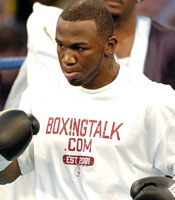 A pair of potentially explosive match-ups will be shown during SHOWTIME?s Free Preview Weekend when two-time time World Boxing Council (WBC) Champion Jose Luis Castillo (51-6-1, 45 KOs) takes on former International Boxing Federation (IBF) titleholder Julio 'The Kidd' Diaz (30-2, 22 KOs) and undefeated Jeff Lacy (18-0, 14 KOs) risks his IBF super middleweight crown against once-beaten Rubin 'Mr. Hollywood' Williams (26-1, 15 KOs) on SHOWTIME CHAMPIONSHIP BOXING Saturday, March 5. The world championship doubleheader, which will be co-promoted by Top-Rank, Inc., and Gary Shaw Productions, LLC, will take place at Mandalay Bay Resort & Casino in Las Vegas and start at 10:30 p.m. ET/PT (delayed on the West Coast).
Immediately preceding the scheduled 12-round world title fights on March 5 will be ONE NIGHT ONE STAR USHER LIVE. The multi-award-winning recording artist and superstar, Usher will burn up the stage with the concert event of the year from San Juan?s Coliseo de Puerto Rico. From Friday, March 4, through Monday, March 7, SHOWTIME will offer a free preview weekend for viewers nationwide.
Lacy: I am happy to be here, getting the opportunity. It is something I have worked for my whole life and I am just looking forward to taking advantage of it. This will be a great fight.
Question: Rubin, you and Jeff are not total strangers. What are your thoughts about fighting for your first world championship against Lacy?
Williams: I know I have to box. I am looking forward to getting in there and doing what I do best.
Question: Jeff, you are fighting every two or three months. Is this the kind of schedule you like and enjoy?
Lacy: I love to stay in the public?s eye and I continue to work on my skill and learn as much as I can. Being that I hold a world title with 18 professional fights, a lot of the guys that I enter the ring against have more pro fights and experience than I do. So I try to cut that in half and do the best I can to stay off the injured list. I want to fight this year three or four times.
Question: Rubin, how have you prepared mentally for this fight?
Williams: I have just been doing what I always have been doing. I have to take advantage of this opportunity and I am working blood, sweat and tears. I am ready to rumble.
Question: Have you followed Rubin?s pro career and do you think this is a tough bout for you?
Lacy: We have some background in the amateurs. But the two wins I have over him and the win that he is supposed to have had over me do not even count as far as dealing with a pro staff. I am just going to go out and do what I do best and press the issue and look for something to open up.
Question: Jeff, what is your recollection of the three fights you had with Rubin?
Lacy: I remember him, but I do not remember the fights. I was a puncher and Rubin is a skilled boxer. I am sure the fights were close.
Question: Rubin, what do you remember about the three fights?
Williams: He is a good puncher and I am a good boxer and I was boxing very well.
Question: Why did you get the nickname ?Mr. Hollywood??
Williams: Because I make my opponents see the stars.
Question: Are you looking to use that five inches you have on Lacy to your advantage? Do you have an inside game also?
Williams: Oh, yes, definitely. It is a fight.
Question: Are you looking more to be box, or bang?
Williams: I am going to do a little bit of both. I want to use my height and my reach advantage, but we are in a square circle and there are not too many places you can go.
Question: Jeff, do you have the other 168-pound world champions in your sights?
Lacy: Right now my focus is on Williams. But yes, I am looking to be the undisputed champion in the weight class. I want to fight any of those guys.
Question: What are some new learning experiences that you are expecting in this fight?
Lacy: I am getting in the ring with guys who have way more fights and way more experience than I do. They are all coming to fight because they are fighting for a world title. That is why I train so hard to be prepared for that, to do what I want to do when I am ready to do it.
Question: Rubin, do you think Lacy?s lengthy amateur experience could play a role?
Williams: No. To have a good amateur career is good, but that does not have anything to do with what is going to happen March 5.
Question: Jeff, you stated your willingness to meet WBO champion Joe Calzaghe, meeting him halfway. Would you fight him for even money if he showed up at a neutral location?
Lacy: If my people and I thought it was fair, I would have no problem going over to England to fight him and he should not have a problem coming over here. But I am not fighting for nothing when I worked so hard to get this belt around my waist to become undisputed.
Question: Rubin, your good friend, Rydell Booker, fought last year for a world title against James Toney and came up a lot short. What have you have done differently and what will you do differently in the ring against Lacy?
Williams: Rydell did not take chances. He did not do any of the things he normally does or what he knows how to do. He was in good shape, but he did not fight his fight. I will fight my fight.
Question: Jeff, when do you think you will beat Rubin and what round and why?
Lacy: If I see the shots open up, I am going to land them. It is all about if his chin can take what I dish out. If not, then there is going to be a beating for 12 rounds.
Question: Is there anybody that you have fought in your career that you can compare to Rubin?
Lacy: One thing I tend to do in my fights is keep coming on. Pressure breaks pipes and by me putting the pressure on Rubin, I think it will make him gamble a little bit more than he wants to. That is what is going to make the fight.
Question: Rubin, what is the key for you in this fight?
Williams: Box, box, box and just stick to my game plan.
Question: You are fighting at 168. Is this your best weight?
Williams: Yes.
Question: Jeff, do you want a shot at Bernard Hopkins and do you think he is beatable?
Lacy: I want to fight the best and if Hopkins is willing and ready to fight me, I would love to take that fight. I do think Hopkins is very beatable, but people are just going out and doing the wrong things to beat him.
Question: What are they doing wrong?
Lacy: One, with Bernard Hopkins, it is not boxing that Bernard can do. It is mathematics with the way that he fights. The first couple rounds, he is just moving. The second half of the fight is when he comes to fight. And that is when people are already beat by him moving around. They are already frustrated. What you need to do is throw a couple of hard shots and hurt him, and then back off and then take a couple more rounds in the later rounds. You have to put a lot of pressure on Hopkins early, make him fight, make him move around. Even if he does not want to fight the first couple rounds, make him move around a little bit more. Fight your fight, not his. Put the pressure on him and that is when he is going to start feeling his 40 (years of age).
Question: Is Hopkins is the guy out there to beat to prove you are the best in the world?
Lacy: Yes.
Question: Rubin, how has your attitude changed since the loss to Mendoza?
Williams: Going into the fight, I was trying to make a weight I could not make. It was definitely a learning experience.
Question: Rubin, that fight was so disastrous; do you just try to forget it totally?
Williams: Yes, I just totally try to forget it. That was not me. I make no excuses though. What happened is what happened. I move on.
Question: Jeff, what is the plan for the future?
Lacy: I am looking to get by Rubin first and then I want to go after the rest of the title holders in the weight class. I want to become the undisputed super middleweight champion.
Question: Jeff, being that most of the other champs are pretty much stuck overseas, are you prepared to unify the titles by any means necessary or is the plan for you to build up enough of a name where they will have to come up here?
Lacy: If the agreements are for me to go over there or for them to fight over here is good and even, I have no problem with doing that. I just want to conquer a goal that I have for myself.
Question: Rubin, a lot of people on this conference call seem to be suggesting that Jeff will have an easy night next week. What is your response?
Williams: I am going to knock him out.
End of Press Questions. Closing Comments.
Lacy: I am just coming to do business. That is all I have to say.
Williams: The new champ of the world, Mr. Hollywood.