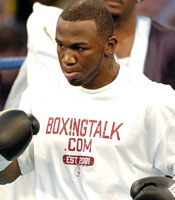 PRESS RELEASE:
With a world title unification showdown looming against World Boxing Organization (WBO) 168-pound titleholder Joe Calzaghe later this year, International Boxing Federation (IBF) Super Middleweight Champion Jeff Lacy will first have to defend his crown against former world champion and current International Boxing Organization (IBO) super middleweight kingpin, Robin Reid, on SHOWTIME CHAMPIONSHIP BOXING
Saturday, Aug. 6, 2005, at 9 p.m. ET/PT (delayed on the west coast).  Lacy, who has battled opponents in nine different states, as well as England and Wales, will fight in front
of his hometown fans for the first time as a pro. 
JEFF "LEFT HOOK'' LACY (19-0, 15 KOs) 
"I am just a fighter who is ready to fight. This has been a long time coming and I really appreciate the work of everyone on my team for making this fight happen in my hometown. The support I have received here has been amazing. I want to thank SHOWTIME for their support throughout my career. This is my 13th appearance on SHOWTIME. 
"But I am exhausted from all the talk. I am set to go. I have trained almost 2½ months. I am going to go out and do my thing. 
"Reid is coming to win. I respect him as a fighter. But I have a job to do – and that is to win.'' 
ROBIN "THE GRIM REAPER'' REID (38-4-1, 27 KOs) 
"They say they respect me, and then they (promoter Gary Shaw) spoil everything by handing me a T-shirt that says something like I came to America and got knocked out by Jeff Lacy, or whatever it said. 
"All that does is tell me that they do not respect me. Maybe they did it to get under my skin, I do not know. But I have been down this road before and know enough not to take it personally. Joe Calzaghe was saying he was going to knock me out in three rounds, and we all know what happened in that fight. This kind of stuff only makes me want to fight harder than I had already planned. 
"I am in great shape. I am really excited about Saturday and am anxious to do what I was born to do.''