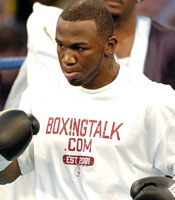 Glove is a many splendored thing.  Especially when it is wrapped around the fist of undefeated IBF/IBO super middleweight champion JEFF "Left Hook" Lacy!  Lacy is in his final weeks of training before he meets undefeated WBO super middleweight titlist Joe Calzaghe in their March 4 title unification showdown at the MEN Arena in Manchester, England.  Promoted by Gary Shaw Productions, LLC and Frank Warren's Sports Network, the Lacy-Calzaghe world super middleweight championship fight will be televised live on SHOWTIME at 9 PM ET/PT (delayed on the west coast.) "I'm going to be giving Joe a bunch of Forget Me Knots on March 4," said Lacy.  "He's going to have Forget Me Knots all over his head, his ribs, and both jaws.  If he thinks I'm crossing the pond to whisper sweet nothings to him, he is sorely -- and I mean SOREly -- mistaken. You can engrave this Valentine message on Joe's WBO belt -- 'Be Mine!'"            
Lacy's promoter, Gary Shaw, added, "They will be renaming the MEN Arena the 'Heartbreak Hotel' after Lacy serves up Joe his first loss.  Jeff Lacy will also be leaving that fight with a new name -- undisputed champ!"             
Lacy's trainer, Dan Birmingham, who was just named Trainer of the Year by The Ring magazine, (the Boxing Writers Association of America voted him the 2004 Trainer of the Year and he has been nominated for the 2005 award) revealed a few training secrets himself.            
"Jeff will be entering the ring armed with a secret weapon we've developed -- 'Arsenic and Old Lacy!' -- a combination of the old and the new Lacy, that will put Joe out of his misery very quickly," said Birmingham. "Trust me, Jeff will be no shrinking violet in this fight.  He's going to break Joe's heart early in the fight."                
With a combined professional record of 61-0 (48 KOs), and a victory by knockout percentage of 78.6%, Lacy, 21-0 (17 KOs), from St. Petersburg, FL, and Calzaghe, 40-0 (31 KOs), from Newbridge, Wales, are headed to the division's biggest showdown since Roy Jones, Jr. and James Toney rumbled in 1994.