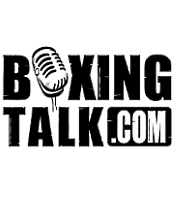 CESAR BAZAN RETURNS TO CHICAGO IN SOLO BOXEO HEADLINER
Dominic Pesoli's 8 Count Productions and Bob Arum's Top Rank Incorporated along with Miller Lite team up again on October 15th for Chicagoland's best professional boxing show of the year as Telefutura's SOLO BOXEO Friday night professional boxing series returns for the second straight month to the Hawthorne Race Course.
The Hawthorne Race Course is located at 35th and Laramie, just minutes from both the Stevenson and Eisenhower expressways. Doors for this internationally televised event open at 6pm, with the first bell at 7pm. Tickets, starting at $25 are available now by calling 312-226-5800. For this event, the very spacious second floor ballroom at the Hawthorne Race Course will be used to allow for the expected large audience.
Headlining the action packed card is a ten round welterweight bout between former WBC Lightweight Champion, Cesar Bazan, 43-6-1 (29KO's) of Mexico City, Mexico and rugged veteran Francisco Campos, 17-1-1 (9KO's) of Cartago, Costa Rica. Bazan returns to Chicago following his appearance in February of this year, a fight shortened by his opponent Roberto Ortega's continual low blows resulting in a second round disqualification win for Bazan in front of
3,500 fight fans at the sold out De Paul Athletic Center.
Said Dominic Pesoli, President of 8 Count Productions, "the last time Cesar was here, we had some fans who were left out to due us reaching capacity at De Paul. I'd advise fans to contact me as early as possible for tickets to assure entry on the 15th. We're moving this event to the upstairs ballroom at Hawthorne which should enable us to handle the huge crowds which are expected. This past event was terrific but we need more room for this show. About Bazan, Pesoli added, "he was very disappointed the last Chicago fight was stopped early and he told me he's looking to put on a great show for his large Chicago following."
The televised co-main event features the quick return to the ring of Chicagoland fan favorite, Illinois State Middleweight Champion, "Macho" Miguel Hernandez, 13-1 (8KO's) in a scheduled eight rounder.
Speaking about the co-main event featuring Chicago favorite Hernandez, Dominic went on "its a great opportunity for Miguel and he's very excited about it. He looked great getting an early stoppage this past Friday, he's worked hard and been successful this whole year and is looking for a quick comeback, this gets him that plus a chance for the whole country to see him fight."
Also on the huge card is the return of welterweight Luciano "El Gallo Bravo" Perez, 9-1 (8KO's) in a six round bout as he goes back into battle following his war two months ago with Juan Buendia at Hawthorne. In a six round middleweight Chicagoland cross-town showdown, David "The Weezel" Estrada, 6-1 (4KO's) takes on Michael "The Midnight Stalker" Walker, 4-0 (4KO's)
Said Dominic of these two bouts, "Luciano's last bout against Buendia was terrific, maybe the best off TV fight we've had in a long time. He showed a lot of heart in a very close fought battle and that's what our fans expect. Estrada knocked out a very tough kid in Shay Mobley on our ESPN card three months back and he's taking on Walker who I just saw last Friday night in Merrillville, IN when he stopped Nathan Martin, the kid Miguel beat for the title in June. He really took it to Martin right from the opening bell before stopping him in three.
Newcomers Francisco Tafoya, 1-0 (1KO), "Mighty" Ivan Rodriguez, 1-0 and Don "Da Bomb" George, 1-0 (1KO) also return to the 8 Count Productions ring. Stated Dominic, "these new kids all looked terrific on our last couple of cards, they've had great amateur careers and are the future of Chicagoland professional boxing. The fans are in for a real treat watching them start out with their professional careers and 8 Count Productions is very happy to be a part of it. Ivan in particular, was in a war in his first bout in August and showed a lot of guts for a pro debut. George is only 19, but you can tell just watching him that he knows his way around the ring and has a lot of skills. Same thing with Tafoya, I think he's going to be a very solid pro.
Featherweight Tafoya, takes on Omar Reyes who is making his pro debut. More information on bouts involving super middleweight George, and bantamweight Rodriguez will be announced shortly.
Making his Chicagoland debut is hard swinging junior welterweight Hector Alejandro, Jr., 9-1 (6KO's) of Buffalo,
New York in a scheduled six rounder. Rounding out the huge card is the pro debut of female brawler, junior welterweight Rita Figueroa. 
More information on this huge card will be announced shortly as 8 Count Productions continues to bring Chicagoland the finest in professional boxing. Also forthcoming in the very near future is information on Al "SPEEDY" Gonzales and the return of "Classy" Freddie Cuevas.