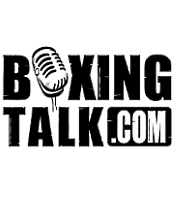 Hamburg/Levallois – Ukrainian jr. welterweight contender Andreas Kotelnik of the Universum boxing stable will fight Frenchman Souleymane M'baye on Thursday, Oct. 21, in the Palais de Sports in Levallois, France. The fight is billed as a WBA world title eliminator. The winner will get a title shot at the 140 lb. champion of the World Boxing Association.
To reach this goal 26-year-old Kotelnik, 23-0 (11), a slight betting underdog for this fight, must beat a local favorite on foreign ground when he faces M'baye who won 29 of his 30 contests, 14 by knockout. The Paris based M'baye suffered his single loss on July 12, 2003, when he dropped a unanimous decision to reigning WBA champion Vivian Harris.
"M'baye is not a typical French boxer", Kotelnik coach Michael Timm explained speaking from Levallois, an elevated suburb ten minutes western from the center of Paris. "Usually French boxers try to dictate the pace and want to trade punches. But M'baye is a good technician who can box from a long distance. He has a very variable left hand when he throws jabs or hooks to the head. He also fights well at close range."
Despite giving a lot of credit to the opponent of his charge Timm is certain that he has the right game plan and attitude to return from France victorious.
"André will attempt to get through his own style. He will put pressure on M'baye to shatter the concept of his opponent", Timm said. It won't be the first time Universum coach Michael Timm will send a fighter into the ring on foreign ground. Last time he traveled with his undefeated light heavyweight contender Stipe Drews all the way to Australia in August to face local favorite Paul Briggs.
"We know the situation when facing a local favorite. When you enter the arena they will boo you and they will celebrate their own man. We don't expect that they will welcome us in France with open arms. But this may not shock André", Tim said about the WBA intercontinental champion Kotelnik who was awarded boxer of the month July by the European subsidiary of the World Boxing Association.
"He was a very experienced amateur and as a professional he fought in foreign countries many times, among others in Venezuela. As former European amateur vize champion André is used to fight in different countries."
Kotelnik is currently ranked WBA #5. M'baye is WBA #10. The reigning WBA jr. welterweight champion is Vivian Harris from Guyana. He will defend his title this Saturday in Berlin against German-Turk Oktay Urkal. Either the old or the new champion will face the winner of the Kotelnik-M'baye clash.