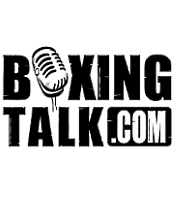 CN8 to air Russell Peltz/Joe Hand show Sunday at 9pm
After a couple of cancelled shows this summer, Peltz and Hand got this show in the ring at the New Alhambra in South Philadelphia.  The main event had several twists and turns, in the ring and in Peltz' stomach.  Jr. Middleweight, Aslanbek Kodzoev, boxing for the first time since May 1st, played it cool in the opening round against Julio de la Cruz in this scheduled for 10 round main-event.
Kodzoev scored with an overhand right early in the second round and a nice left hook later in the round.   Seemed like he was in control of things until Cruz turned over a right hand onto Kodzoev's ear in the third heat.  Kodzoev dropped to the canvas and didn't move until the count of 4.  He jumped up and survived the continuing attack from de la Cruz.   It turned out to be the first of several twists.  As Cruz pushed the action, Kodzoev got on his bicycle but ran into the busy Cruz right hand.  However it was a Cruz left hook that knocked Kodzoev down again in the fifth round as the visitor took a commanding lead from the Philadelphia-based Russian fighter.  Cruz left the fifth round with a cut along side of his left eye and another twist was born.    Kodzoev began the sixth with new life and a new target, but he was stunned again and put down by a right.  He opened with a large right hand.  The Russian had the harder punches in the seventh and launched more punches with less movement but Cruz was peppering quick jabs.   Kodzoev (154 lbs) had a good 8th round, punctuated by a scoring jab-right-left hook resulting in more blood from Cruz's left eye.  The Cruz corner was unable to stem the crimson tide that pumped from Cruz's countenance.  Early in the ninth round Kodzoev landed a right and they fell into a clinch.  When they broke, blood was running down Kodzoev's back as the cut eye of Cruz continued to pump blood. Dr. Paul Steinburg was called into to inspect the cut and advised the fight to be stopped.  It goes into the book as a TKO at 1:06 of the ninth round for Kodzoev, who wins his 14th against one loss and two draws.  Cruz scored three knockdowns and was ahead on all the cards (77-73 twice and 76-73), but loses the bout by TKO and falls to 15-4-1.
Jimmy LeBlanc did alright in the opening round against Chucky "T" Tschorniowski.  In the scheduled 8 round junior welterweight bout, Chucky T was attempting to regain some career momentum, while Boston's LeBlanc hoped to dazzle the famed Philly crowd.  LeBlanc used his height and reach advantage well, but Chucky was more aggressive with body punches as the bout moved into the 2nd round.  LeBlanc was no longer impressing anyone with his overly evasive ring usage. As Chucky launched a right in the 4th the crowd was elated as the Philly fighter knocked down LeBlanc.  Jimmy wasn't the same fighter afterwards.  He ran and held enough to receive a warning and almost lose a point for grappling.  After the 5th round LeBlanc sat in his corner and said no more, saying he wasn't right after the knockdown.  LeBlanc (144½ lbs) reduces to 10-7-4.  Meanwhile, Chucky T gets his momentum back and improves to 25-8-1 by scoring his 14th knockout in front of his home crowd.
Lightweights: Ramazan Paliani (10-0) shut out Isidor Tejedor (16-21-4) in 8 rounds.
Richard Stewart (2-0) opening the night with a KO win at 1:37 in the first round against debuting Jasper Cooper in a heavyweight fight.
Avtandil Khurtsidze was chiseling away a one sided victory against Leo Edwards, when a 5th round knockdown set up a 6th round TKO win for Khurtsidze (4-0-1)
Heavyweight John Poore scored a 1st round knockdown, which became a first round TKO when designated loser Franklin Edmundson was "still dizzy" between rounds and called the ref to stop it.  Poore is 15-0, all by knockout.
Kevin Carmony climbs to 3-1-1 by out speeding and outworking Dave Evans (7-1-1) in a 4-round lightweight match.
CLICK HERE FOR FULL REPORT AND PHOTOS
Send questions and comments to: planetlarry@hotmail.com