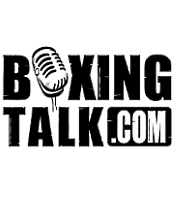 By Kirk Lang
Boxing promoter Don King was honored, or more accurately, humiliated, by the New York Friars Club Friday afternoon at the New York Hilton. A bunch of comics, old-timers, up-and-comers and established perofrmers like Jackie Martling (best known from The Howard Stern Show) and Colin Quinn (of Saturday Night Live fame), all took turns roasting King, who had to sit and take it just like Donald Trump, last year's victim of the Friars Club, did.
Trump was again involved in this year's Friars Club roast, as the roastmaster rather than the guest of honor. While Don King was the butt of jokes Saturday, Trump was also a target by some.
Longtime boxing scribe Bert Sugar loved one of the cleaner lines from Lisa Lampanelli, the only female comedian on the dais: "There's Donald Trump, with his new bride, insert name here."
King entered the pre-roast presss conference and stood on a stage inside the Mercury Ballroom as an endless line of celebrities and other notables came in to pose for photos with him. One of the first to arrive, pre-Don King's arrival, was Jeff Pirrami, AKA The Fat Rat Bastard. A Friar for four years, Saturday was Pirrami's first opportunity to participate in roasting a Friars Club honoree.
"I was wondering why I'm on the dais," said The Fat Rat Bastard, adding, "I guess I'm the only heavyweight Don King hasn't f*cked yet."
King arrived for the press event dressed in a tuxedo and waving two small American flags in front of his face. Members of the paparazzi were pleading with him to lower the flags, as they couldn't get a good shot of his face without flags in the way. King, ever patriotic, said, "I'll never stop waving the flags." The crowd laughed.
 Sugar, who was surprised he was inducted into the International Boxing Hall of Fame earlier this year, joked that he and King, who is also in the Hall, have probably outlived their critics. 
"He just has a stent put in, a heart procedure, and he's still here," said Sugar. "He's the hardest worker I've ever seen."
A partial list of the celebrities and others who attended the roast and press conference included: former New York City Mayor David Dinkins; artist Leroy Neiman; Vincent Pastore ("Big Pussy" from The Sopranos); Colin Quinn; actor Danny Aiello; Gianni Russo, who starred in The Godfather as Don Corleone's wife betaing/double-crossing son-in-law; Abe Vidoga (of Barney Miller fame); Trumps' children, Ivanka and Donald Trump, Jr.; Bob Gaudio, who was inducted into the Rock and Roll Hall of Fame in 1990 as a member of The Four Seasons; old-time comics Freddie Roman, Pat Cooper and Norm Crosby; actor/comedian Gilbert Gottfried; The Amazing Kreskin and boxing promoter Lou DiBella.
Also in attendance were boxing legends Joe Frazier, Michael Spinks and Evander Holyfield. WBO heavyweight champion Lamon Brewster arrived with a gift for King. He presented his promoter with a pair of boxing gloves signed by President George W. Bush. During many boxing press conferences, King has stated his support for Bush.
On Saturday, he tried to link 'Relentless' Lamon Brewster with the president. "Many are called but few are chosen. George Walker Bush said 'we're going in,' relentlessly, just like Lamon Brewster, for a better America, as Lamon is going to be the unified heavyweight champion of the world, undisputed, yes, yes, George Walker Bush," said King.
One woman who attended the three-hour roast left before it was over. Asked how it was going, she said King was going on and on about Bush.
At the pre-roast press conference, King said he was honored to be roasted by the Friars Club.  "I'm enjoying it very much because it's a tribute to me for them to even find time to criticize publicly to my face what people have been doing with greta plethora of facts and figures and mis-facts and mis-figures behind my back, so really it's an exhilarating experience.
 Asked how far his relationship with Trump goes back, King said "a long way" and then went off on a tangent, noting that Trump appeals to the black people. "He's not only a dynamic businessman, he's got the look as well," said King. "In Blackology, he would be a Mack-a-roni, player to the bone, just going from one to another, just making a plethora of mankind. He feeds to our population.
King has been boxing's premier promoter for 30 years. When questioned what the best match he ever promoted was, King answered, without hesitating, that it was The Rumble in the Jungle, which took place in Kinshasa, Zaire.  "I was invisible until 1974, when I put 'The Rumble in The Jungle' together with George Foreman and Muhammad Ali, because up until that time, they thought I was just another black guy, talking trash, but I got a chance to then exemplify myself and the rest is history."
He added, "It's just been a phenomenal career being number one for three decades. It's quite difficult you know, but unless you're the lead dog, the scenery rarely changes."
Send questions and comments to: kirklang@yahoo.com