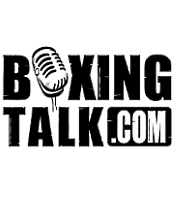 Undefeated Las Vegas based lightweight Almazbek "Kid Diamond" Raiymkulov meets fellow hot prospect Koba Gogoladze tonight in a scheduled ten round contest on an exciting Top Rank promotions card from the Silver Star Hotel and Casino in Choctaw, Mississippi. Also on tap is rising middleweight contender Kelly Pavlik who gets a tough test against Dorian Beaupierre. Showtime will broadcast the fights live in the US on it's Showbox program, starting live at 11pm est. Boxingtalk.com was fortunate enough to speak with Almazbek and his manager Cameron Dunkin as they were counting down the days to this important bout, a crucial step in their plan to continue the march on the lightweight titles. Read on the learn more about Kid Diamond and his brilliant future. 
Almazbek Raiymkulov, 19-0 (11), had a stellar amateur career hailing from the depressed former Soviet Republic of Kyrgyzstan and has used that firm foundation to good effect, achieving success at every stage of his professional career. Most recently the twenty eight year old became the first fighter to stop tough as nails journeyman Lamar Murphy, halting the former world title challenger in a dramatic fifth round performance. Raiymkulov attributes this success and his other victories as a professional to something he feels many in the game unwisely neglect. "Fighters have to be mentally ready and to me that's the most important thing," he said. "Lots of guys, they're really good fighters but their mental state isn't strong. They think too much and they let their opponents get into their mind and take over. I don't let that happen because I go into fights physically and mentally ready as well and I'm ready for this fight against Gogoladze." 
The man that will stand in the opposite corner of the ring from Raiymkulov on Saturday night also comes from a former Soviet Republic, in this case Georgia. He also has a similarly extensive fundamental background, which goes a long way to explaining Kid Diamond's determination to face his opponent as a professional. "Almazbek just knew about Gogoladze in the amateurs, that he was winning every gold medal over there, European championships, this tournament, that tournament but he never got to fight the guy," explained Raiymkulov's manager Cameron Dunkin.  "The few times they were in the same tournaments Almazbek was at fighting 139lbs and the other guy was at 132 and they never faced each other. Almazbek really wants this fight." 
Gogoladze has performed impressively since beginning his career in 1999. The thirty two year old has recorded wins over Lamar Murphy, Carl Johanneson and Roque Cassiani. Dunkin knows that this is a make or break contest for his fighter as a slipup now could spell big trouble for one of the stars of his impressive stable. ""Gogoladze jumps all over the place, falls in and is a just a real awkward kid who's real hard to fight," he said. "That's why I'm scared because it's a real dangerous fight. If my guy gets frustrated and stops punching, then I'm in trouble. But Almazbek is in great shape, he's really mad, really mean and wants to fight this guy. He says he's going to jump on him early. I think it's really a question of does Almazbek just follow him around and get out hustled or does he cut the ring off and knock Gogoladze's head off? I'm counting on him doing the latter.  
"If Almazbek hits this guy, he's going to hit the floor so hard he won't get up for awhile. My kid has fought the best guys in the world as an amateur, he was in the Olympics and he knocked out Raymond Nahr in the first round. With 19 fights, I think he's ready to go with just about anybody. I've put him in real tough lately because we want to roll the dice with Almazbek. It's real dangerous to do that but I've got to believe in my fighter." 
Kid Diamond has his sights firmly set on Gogoladze but also believes in punching through the target. As such the intensely focused native of Kyrgyzstan knows exactly what shape he wants his career to take in the coming months ahead. "I feel ready for a world title fight right now and after this is over, that's what I'm looking for," declared Raiymkulov. "I'll fight anybody in my weight division who has a title. Corrales, Castillo, Juan Diaz, Julio Diaz, it doesn't matter to me, I just want to fight against those kind of people. It's not just about the money for me, I want to make my name in the sport and become a champion. That's what I'm trying to do. I wish my opponent, Koba Gogoladze, good luck but I want to show what I'm capable of in this fight. If I don't knock him out in the first round it will not be much longer because I want to put on a good show to let people know I am here and coming for a real title." 
Boxingtalk.com would like to thank Almazbek Raiymkulov, Cameron Dunkin, Don House and Lee Samuels for making this article possible.
Send questions and comments to: thomaspointrd@aol.com