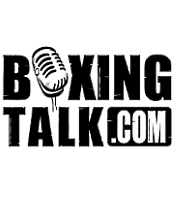 Ray Campbell Jr. has been providing Boxingtalkers with several entertaining interviews with undefeated prospect Dmitriy Salita and once beaten prospect Kendall Holt, engaging in a lot of back and forth trash talking. Thanks to Kendall Holt, we were able to obtain a copy of Holt and Salita going at it in the amateurs.  You've  already heard the trash talk, now find out whose actions spoke louder than words once the fists started flying!
ONLY
on Boxingtalk, It's
GREAT
to be a member! Keep your eyes peeled for much more sparring with some of the biggest names in boxing going at it! You ain't seen nothing yet!
Salita: I'll force Kendall to do the lean back!
Holt to Salita: I already got the ESPN date...
One on one with Dmitriy Salita