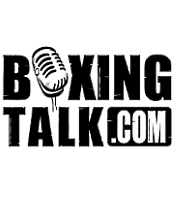 HALTS WILIAMS IN EIGHT
Vitali Klitschko put down challenger Danny Williams four times on his way to stopping Williams in the eighth round to retain his WBC and world recognized Heavyweight championship of the world Saturday night at the Mandalay Bay Casino. At the time of the stoppage Klitschko was way ahead on the score cards 70-60 on tow and 70-59 on the third. Williams displayed the same heart that helped him withstand Mike Tyson's assault in his previous bout, in which he halted Tyson, but he could never mount any type of attack that would hurt Klitscko.
Klitschko dominated Williams early and often as he peppered Williams with his jab then popped him with right hand leads. Williams was unable to get inside the reach of Klitschko, who used every bit of his reach, Klitschko put Williams down with a good left hook, Williams waited till the cont of nine before he got up, he was hurt trying to tie Klitschko up, but Klitschko almost put Williams down again, having wobbled Williams as the bell sounded to end the round, giving Klitschko a 10-8 round.
Williams looked to recover in the second, even managing to put together a few right hands to the head of Klitschko, but Klitschko managed to win the round by popping his jab to the head of Williams. Williams to his credit still looked to try to find a way to get closer to Klitschko but was having little success.
Klitschko looked to be a little winded in the third, but it still didn't hurt him as he dropped Williams for a second time in the fight, this time at the :10 mark with a left hook, Williams was able to be saved by the bell, but he did suffer a cut over his right eye. 
Rounds four and five saw Klitschko dominate with his jab and going to the body of Williams. It looked more like a sparring session; with Klitschko doing whatever he wanted to with Williams, it looked to be a matter of time before Klitschko would end the night.
Williams showed some life in the sixth round, landing a few good left hands to the head of Klitschko, bringing the crowd to its feet every time he landed a meaningful punch. Klitschko just smiled each time and went back to using his jab; Klitschko landed a right hand at the bell that looked to daze Williams as we went to his corner.
Klitschko got credited with a knock down when it look as if he landed a right to the back of Williams at the last minute of round seven, Williams didn't seem to argue the call and got up at the count of eight then finishing out the round on unsteady legs.
Klitschko put an end to Williams challenge in the eighth round, when he landed a hard right hand to the jaw of Williams, Williams was game once again beating the count, but this time referee Jay Nady halted the fight at 1:26, giving Klitschko his second defense as he raised his record to to 35-2, will the game Williams fell to 32-3.
COTTO DISMANTLES BAILEY
WBO Jr. Welterweight champion Miguel Cotto retained his title for the first time, dissecting former world champion Randall Bailey and halting him at 1:39 of the sixth round. Cotto put Bailey down twice in the fight, with a right hand in the second and once again in the third. Bailey did manage to land three powerful right hands in the first round, but after it was evident that he couldn't hurt Cotto, he went into survivor mode, allowing Cotto to put on a masterful display.
Cotto and Bailey both had their moments in the first round, Cotto out-boxing Bailey early but Bailey would land three good power shots in the final minutes that got the crowd excited, but to Cotto's credit he never flinched or took a step back.
Round two was all Cotto's as he put went to work on Bailey, landing left and rights to the body, setting up his power shots that would soon come. In the final: 30 of the round Cotto caught Bailey flush on the jaw, putting Bailey on the seat of his pants and hurt. Bailey was able to beat the count, but was still visibly hurt. Cotto would go on the attack, but as always Cotto is patient finishing the round with a good right-left combination.
Cotto again put Bailey down in the third, also with a right-left-right; the punch caused Bailey combo caused Bailey to take a knee, but also produced a cut on the left eye of Bailey. The ring doctor took a good look at Bailey's cut and allowed the fight to continue.
It was target practice for Cotto in round four, as he popped Bailey most of the round with left hooks to the head and body, Bailey was no longer coming forward, as he was early on, having given respect to Cotto's power from the previous rounds. Cotto was now just taking his time and being patient, looking like it was a matter of time before he finished his masterpiece.
Round five was slow paced round, as Cotto was as aggressive as in the previous rounds, but that would change in the following stanza.
Cotto went on the attack, as Bailey stopped throwing any punches, as he would get countered every time he would mount some type of attack. Cotto would hut Bailey with a left hook to the body and followed that up with punching shots to the head; Bailey would cover up allowing Cotto to unleash more vicious body shots, Bailey turned away to brush his cut eye, from there referee Norm Budden had the ring doctor once again look at Bailey, this time Bailey had the look of a beaten fighter and the fight was halted giving Cotto the win.   
Cotto 22-0 17ko's stated after the fight he his plan for the fight came together perfectly. "I got the right hand going early, plus we wanted to go to the body as well." Stated Cotto, "We figured if we got the body attack going the head would come later and it did."
Bailey gave Cotto his respect after the bout calling him a powerful and accurate puncher. "It's not just that he throws powerful shots, it's the volume that he throws, he is very accurate, plus his defense was better then I thought, he was hard to hit. Said Bailey who fell to 28-5, 27 ko's.
HERNANDEZ EEKS OUT WIN OVER RAMIREZ
Former IBF Jr. Lightweight champion Carlos "Famoso" Hernandez captured a split decision over Juan Carlos "Ranchero" Ramirez, in a fight that was tougher then expected for Hernandez. Ramirez seemed to have the edge in scoring more frequently, with Hernandez landing the harder shots. Hernandez suffered a three inch gash over the right eye in the second. The difference of the fight was a knockdown suffered by Ramirez in round eight. It looked to be the difference in the scorecards. 
Round one started off slow with Ramirez looking to establish his jab, while Hernandez was looking to cut the ring off and get closer to Ramirez, neither was aggressive the last minute of the round, when Hernandez was able to trap Ramirez twice on the ropes, going each time with his right hand to the body, it probably won him the round.
Ramirez had a good second round, landing good left hooks to the head and body of Hernandez, Hernandez tried to bully Ramirez and turn the fight in to a slugfest, but Ramirez would have non of it, countering Hernandez each time Hernandez got close, in the last: 30 of the round both fighters clashed heads causing a gash on the right side of Hernandez eye, Dr. Margaret Goodman took a look at the eye and let the fight continue.
Hernandez came out aggressive in round third, knowing the possibility that the fight could be halted at anytime, with his cut, but Ramirez continued to counter Hernandez with left hooks, defiantly going after Hernandez' wounded eye. Hernandez tried to catch Ramirez, but wasn't effective.
Ramirez was hurt momentarily in the fourth, as Hernandez caught him with a god right uppercut that sent Ramirez stumbling backwards to the corner, where Hernandez was able to land two more power shots to finish the round off.
Ramirez regained his sense' in the fifth and was able to sore well once again with his left hook to the head of Hernandez, causing the cut to bleed more and more as the fight progressed. Hernandez would score with a one hard shot that had the crowd would cheer, but Ramirez would be the one doing the scoring with his punches.
In the sixth and seventh rounds, it was much of the same, with Hernandez landing one power shot for every three-four punch flurries of Ramirez, it goes to how you judge a fight the one power shot or scoring shots.
A big turn of events in the eighth round, with Ramirez once again boxing and Hernandez stalking, Hernandez caught Ramirez with a counter left-hook to the head of Ramirez, sending Ramirez down face first. Ramirez was hurt badly, but was able to beat the count and lasted the final: 10 of the round, giving Hernandez a 10-8 round.
Round nine and ten saw Hernandez coming out strong and looking to end matters in each round, knowing he could be behind on the score cards, on a few occasions Hernandez was able to land hard shots to Ramirez, who was slowing down and looking a little fatigued. These two rounds were Hernandez our cards.
When decision was announced it was Hernandez who got the edge by the a split decision as Judge Chuck Giampa scored the bout 96-93, Judge Robert Hoyle scored it 96-93 for Hernandez, while Judge Paul Smith scored it 96-94 for Ramirez. Boxingtalk.com agreed with Smith's card scoring it 96-94.
After the fight Hernandez stated he felt Ramirez was the dirtiest fighter he has ever faced. "I got had butted all night and I really thought Bayless (referee) would take a point, but he never did." Said Hernandez, "I also had trouble with my left ear as it effected my hearing all night".
Hernandez raised his record to 41-4-1, while Ramirez fell to 34-7.
OTHER RESULTS
In the opening bout of the night, light-heavyweight Kai Kurzawa scored a unanimous decision over tough but out gunned Roberto Coelho, Kurzawa used his long reach and quick right hands to the head of Coelho, keeping the much smaller Coelho from getting inside where he would have to do his damage, only on a few occasions was Coelho able to get inside, but his punches lacked very little pop and was unable to hurt Kurzawa.
The judges were all in favor for Kurzawa, judge Bill Graham had it79-73, Carol Castellano 77-73 and Al Leftkowitz 80-77. Kurzawa remains unbeaten at 18-0, 12 ko's, while Coelho dropped to 32-14.
Mohamad Said captured a split decision over Danilo Haussler in an 8 round Light-heavyweight bout. Said raises his record to 17-3, while Haussler falls to 24-3.