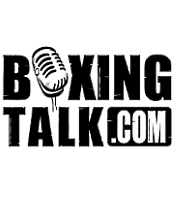 Junior Witter, the latest switch-hitting defensive whiz from Brendan Ingle's Sheffield gym in the north of England, has his eyes on a lucrative fight with Floyd Mayweather, the WBC Jr Welter champ, and more importantly the pound-for-pound no.1 in the world. Witter's Wincobank stable has been home to British greats like 80's middleweight contender Herol Graham, current top cruiserweight Johnny Nelson and, of course, 90's featherweight king Naseem Hamed. Witter carries the gym's tradition of unorthodox fighting styles to a new level with his powerful switch-hitting and mid-round showboating. His hands are perpetually around his waist instead of covering his chin, and his punches whip up from strange angles with lazer precision.
He is, of course, a completely different animal from the cautious, defensive, negative mover who dipped, ducked and dodged his way to a 12 round defeat at the hands of Zab Judah for the IBF belt back in 2000. After that fight, which was only Junior's 18th contest, he found a new lease of life and confidence that saw him scoring clean knockouts in almost every fight. In fact, after dropping that early decision, Witter went 15-0 with 15 knockouts and announcing himself as a legitimate rival for nearby rival Ricky Hatton, now a world champion himself. After re-establishing his credentials, the American fans who saw him conclusively outscore highly ranked Lovemore N'Dou on the Hopkins-Eastman undercard in February can testify to the difference between the old boring Junior Witter and the new explosive version. Razor-sharp uppercuts floored the rock-chinned N'dou in the 2nd round, and after a mid-rounds slump, Witter closed the show strongly to put himself at the top of the WBC's rankings. A follow up points win over world ranked Andreas Kotelnik sealed his rating.
However, it's never easy to earn a fight with a star like Floyd Mayweather Jr. With Floyd now taking on Sharmba Mitchell at welterweight, Witter is left having to mark time with a routine defence of his British, Commonwealth and European belts against decent contender Colin Lynes tomorrow night at the historic York Hall, in Bethnal Green, London. Whilst Lynes is no world beater, he is a solid local-level fighter with a 26-1-0 record and a host of twelve rounders already behind him. His best win to date is probably a split decision over Pablo Sarmiento, an Argentinean who had collected a decent few scalps in previous visits to Britain, such as Billy Schwer and Michael Ayers. The Lynes fight was close and bitterly contested by the Argentinean's camp, but Lynes emerged with a win that redeemed his earlier stoppage loss to African contender Sammy Malinga.
However, Lynes is no big puncher. The 27 year old has only 9 stoppages in his twenty seven fights, which means that to win he has to either outbox or outwork Witter…which is no mean feat considering that Witter is one of the slipperiest movers out there. Lynes patient boxing and upright style will probably play into Witter's hands for the first few rounds, and allow the Bradford-born puncher to display his full repertoire to the knowledgeable London crowd. However, if the Hornchurch, Essex challenger can make it through the first handful of sessions, there lies his big chance, because Witter has been known to switch off and sleepwalk his way through the middle of a fight. This flaw was evident in the N'dou fight, and especially in his last win over Kotelnik. Lynes may not have the punch to end it, but if he can outwork Witter and keep him off balance with an educated jab, he can make it close on the scorecards. Factor in a big finish, and hey presto! Big upset!
However, upsets are called upsets because they rarely happen. With Witter so close to his WBC shot, either against Mayweather or against a co-challenger if the Michigan ace relinquishes, he will be as focused as he's ever been. It will, frankly, be a result for Lynes if he actually does get through Witter's opening assault, which often baffles his opponents before they are suddenly taken out by an unseen corkscrew uppercut or leaping hook. If this attack has floored or stopped notables such as N'dou, Salvatore Battaglia and Krzystof Bienias, then it seems logical that poor Lynes will not be able to merely brush off this attack, especially bearing in mind his upright style.
The Pick: Witter flashy, flamboyant punches will give Lynes fits in the opening couple of rounds. If he gets through the assault, he can perhaps go the distance. However it's more likely that he takes a couple of counts before being stopped around the 4th. And then it's full steam ahead with a title shot for The Hitter…and what price a future all-English show down with Ricky Hatton?