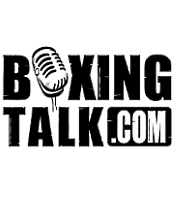 By Raj Sharma
The crowd is light on Saturday morning at the La Habra Boxing Club. Some of the gym regulars appear to have sought cooler pastures, as temperatures have been over ninety degrees in much of Southern California the past few days. The same can't be said for the gym's most prominent boxer. Light heavyweight contender Julio Gonzalez is hard at work in preparation for another shot at glory.
The Huntington Beach resident is no stranger to working in the heat. As a child, he spent many summers working in the farm fields near Fresno with his family "collecting garlic, grapes, onions, etcetera. One hundred and ten degrees with no shade". Now scheduled to challenge Clinton Woods for Woods' IBF light heavyweight title on September 9, 2005, Gonzalez is hoping to recapture a portion of the 175-pound title.  The bout will take place in the champion's hometown of Sheffield, England. 
The lanky pressure fighter, currently rated #5 in the Boxingtalk ratings, previously held the WBO version of the title, defeating Dariusz Michalczewski in October of 2003.  His reign was short lived. Less than three months later, Gonzalez would be outpointed by former Hungarian Olympian Zsolt Erdei in his first title defense. Erdei surprised Gonzalez that night by boxing differently from the tapes Gonzalez had scouted on his opponent. "He threw me off. I couldn't deal with his counterpunching. I was too concentrated with pushing him back with hard punches instead of boxing. I just had one plan and that's not gonna happen next time. You learn from every fight you lose and every fight you win."
Both the title winning effort and the loss to Erdei took place in Germany, so the fighter is not concerned about fighting for a title overseas. "It's not new territory for me to go to someone's backyard. I'm not worried about it. I know what I gotta do."  That presumably will be to outlast Woods in classic Gonzalez style, in which his solid work rate and top notch conditioning wear down his opponents. Gonzalez has been ten rounds or more seven times, and holds late stoppage wins over former contenders like Joseph Kiwanuka, David Telesco and Jesus Ruiz.
But the fight that put Gonzalez on the map though was his February 2001 win over unbeaten knockout artist Julian "Mr. KO" Letterlough on ESPN. In a contender for 2001 fight of the year, Gonzalez rose from three knockdowns to earn a unanimous decision win after twelve rounds of furious give and take action (he knocked down Letterlough twice also). "That fight was tough, it took a lot out of me" Gonzalez laments, "It took a lot of encouragement for me to continue and get up from the three knockdowns that I suffered, especially in the tenth."
The victory over the recently-deceased Letterlough lead to an unsuccessful title shot against Roy Jones, a decision loss that showed Gonzalez that he could compete with the division's top boxers. "Once I went twelve rounds with Roy, I figured I deserved to be in the top ten. I came back and I went to Germany and became a world champion."
The fight with Letterlough also established a bond between the two boxers, and Gonzalez was saddened to hear about "Mr. KO's" recent passing. "After that fight, Julian and I became friends. We kept in contact. He was a great, great person. I couldn't figure out why he had to spend time incarcerated. People make mistakes. Hopefully his family is taken care of."  As for the famed punching power of his former foe, Gonzalez says he was "very heavy handed. Every time he hit me, it hurt."
Training Gonzalez for the Woods fight will be Samuel Gomez and Dub Huntley, who has been with Julio since the Michalczewski fight almost four years ago. It's only fitting that some of the preparation for the bout will take place at La Habra, given the fighter's down-to-earth nature and long association with the gym. "This was my first gym. I came back. I was a kid running around on my bike here in La Habra. They used to have a pool table and foosball games. When it wasn't my turn I used to hit the bags." Longtime gym coach David Martinez would teach Gonzalez the fundamentals of the sweet science and arranged his first amateur bouts. The boxer would eventually move to Huntington Beach, and trained with Mack Kurihara for the rest of his amateur career and much of his professional career before they parted ways after the Jones fight.
Woods is best known among American fight fans for his stoppage loss to Roy Jones and a draw and loss to Glencoffe Johnson, but Gonzalez is not taking him lightly. "He's got a little better. His defense is way better. I know he's a strong fighter." The fighter remains optimistic about regaining a title however. "We're gonna bring the title back. Celebrate. Two-time world champion." With a cool customer like Julio Gonzalez and a never say die battler like Woods, boxing fans should be in for a treat on September 9.
Julio would like to thank his family and friends for supporting him through the good times and bad times, and also his fans all over the world. Boxingtalk would like to thank David Martinez, Joe Miranda, and the La Habra Boxing Club.