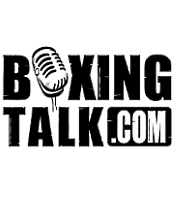 Julio Diaz' Response to Fighting the Best: "I'm willing to do it at any time."
Julio Diaz recently made news on BoxingTalk when it was reported that he could be signing on with Banner Promotions, the promotional company of his next two possible opponents' Acelino Freitas and Diego Corrales.  The IBF Lightweight champ has made it clear through his interviews on BoxingTalk that he is and always has been ready to take on his fellow lightweight title holders anywhere, anytime, but that these same fighters are not exactly knocking down his door to mix it up with him.  However, just this week people are beginning to look in Diaz' favor as he is now slated to fight on the December 11th undercard of Acelino Freitas' bout with the understanding that if both he and Popo are victorious next week, they would be facing each other sometime in March or April.  However, Freitas may have to get in line, as Corrales has made it public that he is eager to mix it up with the IBF champ in a unification bout for Chico's WBO belt.  Things are now going so well for Diaz that he recently turned down a possible match up against the WBA lightweight champ Juan Diaz in order to take on what he says are tougher opponents.  BoxingTalk spoke with Diaz yesterday to get his thoughts on his upcoming fight and what 2005 will look like for him.
BoxingTalk:  We recently reported on BoxingTalk that you might be signing with Banner Promotions.  Can you give us your take on this matter?

Julio Diaz: I signed with them to co-promote my next two fights.  I'm fighting in Brazil on the Acelino Freitas undercard on December 11th, and they would also co-promote a fight between me and Freitas sometime in March or April if we are both successful next week. 
BT: But as of right now you are still with Sycuan Ringside Promotions?
JD: Right, and that's the whole purpose of the card next week.  If I win and Freitas wins, then they will promote our fight sometime in March or April  
BT: You could have chosen to fight on the undercard of Juan Diaz' next fight instead, and have faced him if both of you were to be victorious.  Why did you turn that deal down?
JD: The fight would have happened too soon.  They only gave me two weeks notice.  I could have gone with the Diaz deal where I fought on an undercard there, and then fight in March or April against Diaz but I decided to go with Freitas because he has a name and it will be on HBO.  I think a fight against Freitas will be a much tougher fight, but I'm willing to take the risk.  In the long run, a fight with Freitas will put me in the eyes of HBO and the public, which is what I want. 
BT: Was you decision to take the route to fight Freitas instead of Diaz a matter of dollars since Diaz holds a title and Frietas does not?
JD: Exactly.  These days you can have five titles and not be worth anything.  It's the truth, and that's a sad thing about boxing, but I think now it's all about who you are and who knows you, and the tickets you sell. 
BT: Do you feel Diego Corrales made Freitas old overnight?
JD: If I said no to that Darren, I think I would be lying.  But the truth is I've always wanted that fight with Freitas, but they wouldn't give it to us.  Now they will since he doesn't have a title, but I do.  From his point of view it is a title that he can get, but from my point of view there is no way he can beat me. 
BT: Are you concerned that if you lose to Freitas that people might say that you lost to a diminishing fighter?

JD: No, I think Corrales is a great fighter and a strong fighter.  He fights anybody, he's been down and come backs up, and that's what a real champion does to prove he's a real champion, and I've done that too.  That's what we'll see about Freitas.  We'll see if he can come back after being down. 
BT: Corrales was recently quoted in the Las Vegas Review Journal saying, "Julio Diaz has been out there running his mouth saying that he has his belt but nobody wants to fight him.  I'm here to say that I'm ready to fight him whenever and wherever he wants."  After hearing this why not take on Corrales next?
JD: Those are just words that he's just saying.  That's the first time I heard that he said that.  His team has never contacted my team.  If he calls me right now I will walk away from any fight I have scheduled.  There is no way I would walk away from Corrales.  I'd fight him any day in his home town. 
BT: Would you walk away from your fight with Freitas to take on Corrales?
JD: At this point I wouldn't because the deal is already set up.  I am just saying all this to emphasize my willingness to fight Corrales.  If Diego wants to fight all he has to do is give me a call.  We went with Freitas because that is the only way we had, if Corrales made enough noise, he could have knocked on any of our doors. 
BT: According to you, fighting Corrales after Freitas is likely to happen…
JD: I'm willing to do it at any time. 
BoxingTalk thanks Mr. Diaz for taking the time to speak with us.  We wish him continued success both in and out of the ring.
CLICK HERE FORE MORE OF THIS EXCLUSIVE
Send questions and comments to: Fool4Rush@aol.com