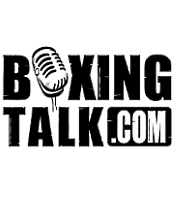 "It's about time I get in the ring with the top fighters and start knocking these guys out."
That's it.  There's no more messing around for the IBF lightweight champion Julio Diaz (rated #6 by Boxingtalk).  If things don't begin to really pick up for "The Kidd" in 2005, then we may have very well seen the last of him.  After numerous title fights and important battles were cancelled just in the past year, Diaz feels that now is the time to lay everything on the table and risk his entire career.  Diaz' risky 2005 could pay off huge dividends, both financially and personally starting on February 11th when he defends his IBF strap for the first time against the tough Levander Johnson on a Sycuan Ringside Promotions' card.  A victory will not only set up a much anticipated battle with the still dangerous Acelino Freitas later this summer, it would also hopefully put Diaz in the on track to unifying his division and taking on the person he wants to knock out most – Jose Luis Castillo.  Boxingtalk recently spoke with Diaz to get the details on what his danger-seeking 2005 entails, and why he wants to put Castillo in a world of hurt before "The Kidd" retires from boxing.
BoxingTalk: Julio, I'll start off with the basic question, how is training going for this fight with Levander Johnson?
Julio Diaz: Great.  Things are going good again.  I'm putting all my hopes into this fight, and I'm really hyped for it. 
BT: Is it hard to get motivated for this fight when every fight you have had scheduled since becoming the IBF lightweight champion has been cancelled?
JD: Yes, but I am a strong-minded person.  It will take a lot more than having cancelled bouts to really break me.  I'm really dedicated, and I'm going to go all the way with this.  I'm not going to think about if this fight will get cancelled, I'm just thinking positive. 
BT: You were supposed to fight on the undercard of Acelino Freitas' last fight, but it too was cancelled.  Could you give us any details to why that fight was scrapped?
JD: Well, about four days before I was suppose to board the plane I still didn't have my tickets -  I had  my passports and everything.  We called the people over in Brazil to ask where our tickets were, and the day before we were supposed to leave they said, "Oh the fight's off…nobody told you?"  I said, "What do you mean it's off?  Who else is going to tell me this but you guys."  They said, "We thought we told you already."   
BT: When you found out that fight was cancelled did you feel that this was just more of "the same old same old," or were really disappointed?
JD: I'm used to it and I wasn't a bit surprised, but they could have told me a long time ago that the fight was cancelled so I didn't have to lose all that weight, and do all the prep that was involved for that fight.   
BT: What do you feel will be your biggest challenge facing Johnson next month?
JD: I actually don't know much about him.  I'll watch some videos of him, but I'm just starting to get in the gym to get ready for this fight.  I do know that this will be a great fight because he is up there for a reason. 
BT: What will your strategy be in facing Johnson?
JD: I believe styles make fights and every fight is different, so I know no matter how much I try to fight a certain way, when that bell rings I'm going to come back to the way that I actually fight.  I think I have enough skill and the right mentality to pull of a win.
 
BT: Does a win against Johnson still set up a fight with Freitas for you?
JD: Yeah, but you know how it is Darren, I don't believe nothing no more. I just take it fight by fight, and right now I'm just training so when that day comes I'm ready to get in the ring. 
BT: Is Freitas the fighter you want most right now?
JD: I wouldn't say he's the one I want most, but he is one of the top names out there.  I think it's about time I get in the ring with the top fighters and start knocking these guys out.  I know I can do it, I guarantee I will, but I just need to get in the ring with them.  I've beaten a lot of fighters – young fighters, undefeated fighters, boxers, you name it, but it seems like I won't get the credit until I beat a name.
BT: What would you like to do most for your career in 2005?
JD: This year I'm really going to risk my whole career.  I want to go all out.  If something is going to happen, it's going to happen now.  If not, I'm going to go my own way and do something else.  I'm going to put it all out on the table and risk everything.  If I need to fight Mike Tyson than I'll fight Mike Tyson, I'll risk it.
BT: Before you walk away from the sport of boxing, is there person you would like to fight?
JD: Yes, Jose Luis Castillo.  That's who I want to knockout before I retire.
BT: Why Castillo?
JD: Because he's the one that made my career stall for a long time.  I was scheduled to fight him a long time ago for a title, which I know I would have got, and he cancelled the week before the fight.  Then the second fight we were supposed to have, he cancelled again saying he was injured.  Castillo lived near me at the time and a week before that fight, when I was at 100%, a lot of my friends saw him at nightclubs partying.  I knew he wasn't going to show up for the fight – he wasn't taking me seriously.  He didn't need me, I was just a young prospect back then, and I really needed that chance, and he didn't give it to me.  All I want is to be in the position where I will be at the top, and he needs me for a fight, and I can tell him, "Nope, I won't give you that chance."  Other than that, I will give anybody an opportunity no matter who it is.  If they have 30 losses I'll give them an opportunity at my title, because I know what it is like not to be given a chance. 
BT: When do you see the Freitas fight happening?
JD: I'm hearing May 5th.
BT: So if you were to fight Castillo, we're talking August or September at the earliest…
JD: Right, later in 2005.  But I still don't feel like I'm in the position to have a say in who I fight.  I have to take whoever is there.  I think I have the right as a lightweight champion to say that I want to fight in a couple months, but instead I'm being forced to fight every ten months.
BT: Well, there is no doubt that you want to prove you worth in the sport of boxing…
JD: That's how I was raised.  My parents raised me to have character and to be honest about things.  If I know I can't make it in this sport anymore, then I'll be the first to say, "I'm done, I'll retire."  I won't be one of those fighters who will be making noise just to draw attention to get a fight.  If I tell you that I'm fighting someone and I'm going to knock him out, it's because I will.
BT: Are you going to knock out Levander Johnson?
JD: I'm going to go in there and fight my way around the ring, and if that's how I win the fight then that's how I'll do it.
BT: What would you want those who have not seen you fight before to know about Julio Diaz?
JD: It's not just about Julio Diaz.  I want people to know that there's a lot of fighters out there who need a chance to really prove themselves.  There's a lot of fighters who are going to retire, but nobody ever knew him because they were not given a chance.  It seems like if you have a past, you're a criminal, you've been in jail, you're all tattooed up, and you dress like a clown then you will make it.
BoxingTalk thanks Mr. Diaz for taking the time to speak with us.  We wish him continued success both in and out of the ring.
CLICK HERE FOR MORE OF THIS EXCLUSIVE
Send questions and comments to: Fool4Rush@aol.com