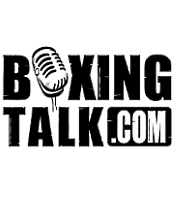 Julio Diaz simply can not lose against WBC title holder Jose Luis Castillo on March 5th.  He has too much on the line, and has worked too hard for his IBF title only to come in second place against Castillo next month.  The Kidd got the nod earlier this week that he would indeed be facing his long time rival, but was then notified days later that the sanctioning body that he and his promoter have fondness for, might strip him of his well-deserved strap.  BoxingTalk spoke with Diaz just moments after he got the word that he would be facing Castillo, to get his thoughts on finally attaining the fight he has been wanting for years, and what it means to him.  Diaz also shares with his fans what type of fight they should expect from him on March 5th, and he also gives his insight to the IBF possibly stripping him of his title.
BoxingTalk: Julio, congratulations on getting the fight with Castillo.  I know this was the fight you have wanted for a long time.
Julio Diaz: Yeah, it's finally done.  I've already got the contract, and everything is good.  I signed it early Tuesday morning, and we faxed it back, so we're good to go.
BT: What is going through your mind now that you know you will be facing Castillo instead of Johnson?
JD: (laughing) Now I'm nervous.  I'm going to have a great time.  If this was not fun for me than I wouldn't be doing it.  I know I'm going to enjoy my training, because it's going to be worth the WBC title.  I'm going to enjoy working hard since I have something to look forward to.
BT: How hard was it to get out of the Levander Johnson fight?
JD: Actually, I have no news about how it went getting out of the Johnson fight because my promoters took care of that.  I don't know how they did it.  I honestly, from the bottom of my heart feel bad for Levander, but I know if he were in the same position, he would put aside in a split second.
BT: BoxingTalk has it on good authority that the IBF will strip you of your title if you face Castillo instead of Johnson.  What have you heard from your people?
JD: I signed the contract today (Tuesday) for the Castillo fight and it said that we're going to unify the titles.  They agreed to let me unify my IBF title, so from what I know everything is good.
BT: Are you satisfied with the money and particulars you are getting to fight Castillo?
JD: Definitely, especially the time and place where we're fighting.  The Mandalay Bay is a beautiful place to make history.  The money was right, but I didn't make this move for the money.  Three years ago I was ready to fight Castillo twice when he was more in his prime for chump change…for about ten percent of what I'm making now.
BT: You were training for Levander Johnson and now you will be training for Castillo.  What changes will you need to make?
JD: We already sent our Levander Johnson sparring partners back, and we'll be getting some Castillo sparring partners by Monday.  This week I'm taking off, I'll work out lightly, but I was already to fight next week for the Johnson fight.  I don't want to get myself burned out, so they gave me the week off, I'll stay at my weight, and starting Monday I leave home for a month to continue my hard training.
BT: Will you come up with a new fight plan for Castillo compared to the one you had for Johnson?
JD: Castillo and Johnson have two different styles of fighting.  In the Johnson fight I was going to be the "Castillo."  Now that I'm fighting Castillo, I'm going to be the "Johnson."  I going to be a very smart boxer the way Gatti handled Leija.  That's the way to fight somebody who is a bull.  I think that will come natural to me.  I'm a natural boxer, but I'm going to train so hard to get ready to go to war.  If it comes down to a war and I have to go toe-to-toe with Castillo then I will be ready for that.
BT: I know a lot of people were not impressed with how Castillo looked against Casamayor last month.  Do you feel you will get that Castillo or will he step up his game to face you?
JD: I think Castillo will step up his game more than he did for Mayweather or anybody else because he's fighting Julio Diaz.  Between me and him, it's not about the title or unification, he just doesn't want me to get away with me beating him.  It's a personal thing between me and him, and I know he wouldn't want me to be able to say, "I told you that I would beat you."  Same thing with me.  I can't lose…there's no way I can lose because I would feel really embarrassed if I wanted this fight for as long as I have, and then I lose against him.  I have to come through.
BT: One thing is for sure, this will definitely be a boxing fan's fight to watch.
JD: It honestly is.  I've seen a lot of fighters who try to hype up a fight to sell tickets.  I'm not here trying to sell more tickets.  I will be in the ring and it will be a hell of a fight, and honestly as a boxing fan, if I was a spectator this is the type of fight I would love to see.  Believe me, I'm in my prime, I'm so strong right now, and I'm hungry.  Castillo is the same way, he's a great fighter, and he's tough.  I have a lot of heart, and I'm going to battle it out whether I'm hurt or not.  It's going to be a very gutsy fight for both of us.  Regardless of who wins, it will be a great fight for anybody to watch.
BT: After this fight is over, will this end the bad personal feelings you and Castillo have towards each other?
JD: Yeah, hopefully everything turns out right in the fight.  If the fight goes the way where there's actually a winner and it was proven, then I think that's pretty much it.  I think it's nothing that he's done to me or that I've done to him.  I've never talked bad about him, I would never disrespect a fighter, it's just we have to get this over with to see what will happen.  He has to get me out of his system, and I have to get him out of my system.  I think everybody needs to see what will happen when Castillo fights Diaz.  I'm going to work very hard, and I'll be there 150% because I don't want any doubt after the fight.  I don't want to be saying after the fight, "I should have done this or that."  I guarantee I will do everything I have to do to win this fight, because it is something that I will have to live with forever.
BoxingTalk thanks Mr. Diaz for taking the time to speak with us.  We wish him continued success both in and out of the ring.
Send questions and comments to: fool4rush@aol.com