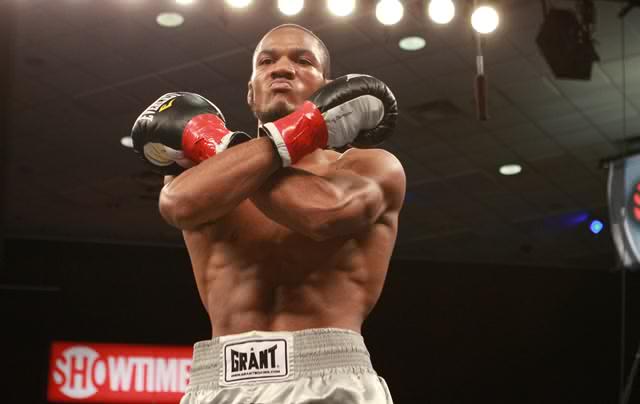 Greg Leon: Congrats on your big win to capture the IBF/WBA and IBO titles. It was a dominant showing against a previously undefeated champion. Can you give us some thoughts on your performance? Julian Williams: "I finally got that monkey off my back. This is something that I've been trying to accomplish my whole life. It just felt real, real good. I don't even know how to explain it, it just feels good." GL: Was there anything about Hurd that surprised you? Julian Williams: "Nothing. He's the same dude. Slow, easy to hit and the same style he fights against everybody. He's got one adjustment and his only adjustement is to make it a dog fight. I just knew what he was going to do and that made it really easy to prepare for him."
GL: From the second round on you made it your business to get into his chest and tear him up on the inside. That was supposed to be his comfort zone. What did you see in him? Or was it more about what you knew about yourself that lead you to believe you'd be able to put in that good work on the inside?
JW: "It was a lot of both. I know that he can't fight going backwards. He can't do no physical harm to you going backwards. He can only do something when he's coming forward and I didn't want him coming forward so I got in his chest worked his body and wore him out. Everybody was saying before the fight can J-Rock box for twelve rounds? Can J-Rock move for twelve rounds? I ain't running from nobody at 154 pounds for twelve rounds. Everybody was saying that dude was the stronger fighter, but he wasn't stronger than me and it showed. He's just a little bit taller than me, he's not a bigger puncher than me as you can see. I hurt him many times and he never hurt me at all."
GL: He looked like he got your attention a few times, but you were never hurt.
JW: "I'm just being honest with you G, he never hurt me. That kid Gallimore was a better puncher than Jarret Hurd."
GL: We've seen him look suspect in the first half of the fight before getting into a beast mode down the stretch. Why were you the stronger fighter last night? How much of that do you attribute to the vada testing?
JW: "All of my strength comes from hard work and dedication. I don't know what he does in his spare time and I'm not going to be going around and accusing people, but we did start testing back in February and it just so happened that he looked a little different. I'm not accusing nobody of anything, he was the monster they said he was and I went in there and I dealt with him, in his hometown, as the B-side with all of the fans and the broadcast against me."
GL: Does that make it sweeter?
JW: "What you think? C'mon G, of course it does, that's why I went there."
GL: Does everybody who gets in the ring with Julian Williams have to undergo VADA testing?
JW: "Absolutely. The ball is in my court now. Everybody got to test, starting 90 days out, three or four months out we're testing or we're not fighting. We're about to find out who's clean and who's not, or who's going to have to get clean if they want to fight me. Shit's changed now."
GL: Yes it has. The king's in Philly now even though the king was on TV crying like a little girl. (laughs) Tell us about the emotion of that moment. Did you expect to cry?
JW: "I was trying to hold it in because I didn't want to be on there looking like an overly emotional person, but it just came out because it was a very big moment for me after all the bullshit I've been through for the last few years. The way people wrote me off...
GL: (cutting in) Word you got no chin, you can't punch and 80% of the viewers thought you were going to lose.
JW: "My girl told me it was 90% and the commentators was biased, but we overcame all of that."
GL: How many rounds do you think Hurd won?
JW: "3 maybe 4."
GL: "No way."
JW: "I'm just trying to be nice G, I've heard some people tell me they thought I won every round, but I'm just glad the judges gave me the win. I hit him with so much clean shit on the inside to his body and head, and then I got to the outside and found the jab to put on him. I completely dominated him, I don't know where they found five rounds to give that man. I'm not going to complain or criticize because at least I got the decision."
GL: Can you still make 154?
JW: "As long as I want to."
GL: Do you see yourself fighting at middleweight?
JW: "Eventually, but right now I'm prime at 154. I'm not too big, I'm not too small, I'm just filling out at 154. I think it's a good weight class for me. If opportunities come up at 160 I'll look at them though because I'm the unified champion right now...damn that sounds crazy."
GL: Earlier you said that you didn't want to accuse Hurd anything, but I've got to ask you this. In your opinion, has your only loss come against a dirty fighter?
JW: "I can't accuse him because he didn't get caught."
GL: It's not accusing him, I'm just asking for your opinion.'
JW: "I don't have no proof, so I can't give an opinion when I've got no proof."
GL: What's your opinion on him and his brother missing tests on the same day even though they've got two different trainers?
JW: "I don't like that and it don't sound right. When VADA jumped on they ass they both looked normal. Both of them got beat that night if you ask me."
GL: So gun to your head was Charlo dirty when you fought him.
JW: "It's going to make me look like a sore loser if I say that because he beat me."
GL: Is your only loss against a dirty fighter?
JW: "I don't even wanna go there. Whatever's in the dark always come to the light eventually."
GL: Is the fight with Harrison-Charlo winner the fight you want the most?
JW: "I like that fight, but right now I"m going to enjoy the win and we'll see what happens."
GL: Closing thoughts?
JW: "I don't really have nothing to say. If people don't want to follow me I don't care, if they do great. I'm the unified champion of the world and I couldn't be happier."
Send questions and comments to: Boxingtalkg@Yahoo.com