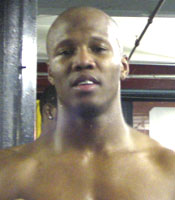 Undisputed welterweight champion Zab Judah wants everybody to know he's not playing when he says he intends to make an example out of challenger Carlos Baldomir on Saturday, January 7, 2006. That fight will be Showtime's opening main event for 2006 (the broadcast will feature the world cruiserweight championship showdown between world champion Jean-Mark Mormeck and IBF title holder O'Neil Bell).  Depending on which Judah shows up, that could be very bad news for the Argentinian Baldomir, who has waited years for this title shot, and says he has spent the last five months away from his family in preparation for the fight.
Since losing to Cory Spinks by unanimous decision in early 2005, Judah has looked impressive in every bout since.  He has fought three times since, defeating Wayne Martell, Spinks in a rematch and Cosme Rivera, and he appears to have put a new foot forward inside the boxing ring.  And given all of his God-given natural talent (likely more than any other fighter in the game today save for rival Floyd Mayweather Jr.), Judah now poses a bigger threat to anyone inside a ring with him than ever before.  Gone are the concentration lapses during fights that seemed to last entire rounds.  Gone are the constant mocking, mimicking, and showboating that cost the brash Brooklynite entire rounds at a time for a simple of fighting.  In his place appears to be a different Judah, one who constantly works during rounds, presses opponents, and outboxes them until the split second opportunity appears for him to explode like a stick of dynamite. 
Make no mistake he still loves his bling (which floweth abundantly, and if you don't believe it, you can check his mouth, which gives new meaning to the phrase 'a million dollar smile'). At times, he is still surrounded by a rather large and intimidating entourage, but Judah seems to leave all that behind him when he walks between the ropes now.  Appearances in rap videos, personal references to his almost un-matched athleticism by hip hop artists, and parties with the crème de la crème of New York's entertainment world still exist, they just don't seem to affect the way Judah fights lately. 
Indeed, for the lightning quick Judah, something seemed amiss when he decided to take an immediate rematch with Spinks, his latest conqueror and the then-reigning world welterweight champion for a mere hundred thousand dollars without so much as hesitating or complaining about the rather small purse size.  If the reported purse size was accurate, Judah was not worried about it and publicly, he expressed his gratefulness to promoter Don King for getting him a second chance.  Judah trained with renewed focus, or perhaps a new focus altogether that he previously lacked in his career.  And walking into a lion's den, the then 8-5 underdog Judah traveled to St. Louis and defeated Spinks in front of a sold out Savvis Center consisting of 20,655 screaming Spinks fans who fell silent when referee Armando Garcia stopped the beating at 2:49 of round nine.  The stoppage came at the sportsman-like urging of Judah himself, who did not want to permanently hurt his friend Spinks.
Judah's rematch with Spinks was entertaining all the way through; from Spinks' elaborate ring walk dance to a rap performed by hometown hip-hop artist Nelly, to Spinks' elaborate in-the-ring dance, to an unplanned Spinks dance in the ninth round caused by Judah's power without hometown hip-hop artist Nelly performing live.  Following that win, the newly crowned undisputed welterweight champ took care of a mandatory defense against Rivera, a fighter who had not been knocked down once in his entire pro career but really was not worthy of being a mandatory.  Eleven seconds into the fight, Judah nailed Rivera and what followed can only be described as a textbook example of a beat down.  Rivera didn't make it out of the third frame, courtesy of a Judah uppercut.
Next up for Judah is now Baldomir, who himself has not lost in his last 19 outings, but who lacks any serious pop, which could be a fatal flaw against this latest reincarnation of Judah.  Provided "Super" Zab, a heavy favorite to successfully defend his titles this January, comes through without any major scratches, he is tentatively scheduled to take on former friend turned foe, Floyd Mayweather Jr. in April.  Judah though, is not about to blow his opportunity to make a showdown with Mayweather by losing to Baldomir: "Our fans are very, very tough on you. So if you do not go in there and do what you got to do, you get no love around here. Carlos Baldomir is coming to my backyard, and believe me, this will not be another Zab Judah-Cory Spinks – trust me". 
During a teleconference call with both fighters last week, it seemed that most writers trusted Judah to take care of business easily against Baldomir, as the majority of questions were about a Mayweather bout.  When asked how he would approach a fight with Mayweather, if he would attempt to box the sport's purest boxer or pressure him as Castillo did, Judah simply said that he intends to bring the heat to Mayweather, and let him know right from round one, who's the boss.  Judah attempted to keep the focus on Baldomir by urging fans to tune into Showtime to see just what kind of heat he is talking about, all at the expense of Baldomir, who has only fought once in 2004 and once in 2005 but earned wins against good opposition each time.
But if Judah and Mayweather can somehow allow their giant egos to reach common ground, fans may get to see the mega fight come off in early April and Baldomir is not likely to prevent it.  Judah believes his willingness to roll the dice and take short money for a fight most people felt he'd lose (the Spinks' rematch) has entitled him to the opportunity to make a career high purse in a fight against Mayweather.  This scribe hopes Judah realizes that no fight will ever take place without Mayweather getting the bigger purse.  But if Judah, who would likely again be an underdog against Mayweather, wins their showdown, he would probably never have to worry about purse negotiations again.
So it is, with all this talk about Mayweather and contract negotiations, Judah must still prepare to defend his titles against a very hungry challenger this January.  If Judah can do that in impressive fashion as he plans, his defense will become an example of Judah's ability to keep focus amidst other distractions.  Understanding people will be looking at Judah's focus for this upcoming fight is something not lost on the welterweight champion, who's been in training since September. 
Judah said he respects Baldomir as a fighter but that Baldomir has just "ran into a brick wall having to fight me.  I understand he wants to be the champion, but he's going to have to go another route, this road's closed, sorry it's under construction." Picking up on Zab's construction analogy, it seems like he is building himself into a fighter that has the potential to tower over the 147-pound weight division, and if he can defeat Mayweather later on in 2006, he will tower over the sport like a skyscraper.
Send questions and comments to: michaeltyoussef@msn.com