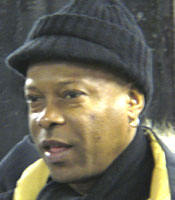 "We are going to put them lights out"
Boxingtalk.com recently spoke to Yoel Judah; Father/Trainer of former two time world champion Zab "Super" Judah as they are currently preparation for his highly anticipated rematch against undisputed Welterweight champion Cory "The Next Generation" Spinks. Despite dropping the Welterweight King in the 12th round back on April 10th 2004, Judah lost a unanimous decision to the slick St. Louis born southpaw, but left many asking themselves had their been more time left in the final round, or perhaps a 13th round, "Would the flashy Brooklynite be sitting on top of the welterweight division?" On February 5th live on ShowTime on a Don King Productions promoted card dubbed "Spink vs. Judah II: Arch Rivals... Meet Me in St. Louis" the two will do it again. In this one on one exclusive, Judah boldly predicts to us "We are getting ready to turn them lights out", and informed us "Everybody that he has sparred with so far we have had to send them home. We already sent six guys home, from broken jaws, broken noses, broken ribs and from being knocked out cold" Let's not get it twisted, Judah makes it clear that they are very greatful for the rematch, but adds "The worse thing they could have ever did was give Zab another shot"
RC: What's going on Mr. Judah?
YJ: Everything is good, we are getting ready. We are getting ready to turn them lights out.
RC: Out?
YJ: That's right, I am letting them know, and we are not playing. Everybody knows how this fight is going. They know we are brining it. The worse thing they could have done is put that fight in his hometown; I think that was real bad.
RC: Why do you say that?
YJ: Because when you got guys that are road warriors, that don't fear and go in anybodies backyard and fight, you got problems. You got guys that are shaky and scared, but yo he (Zab) loves it.  I mean that is the best thing that he could have done for us is put it in his (Spinks) backyard.
RC: Other than when he faced Junior Witter in Scotland, all of Zab's fights have been on his or neutral territory, how do you think it is going to affect Zab mentally going in?
YJ: Zab is a trooper, Zab loves it, they had three locations to choose from and when they told us it was in St Louis, Zab jumped up into the air. He loves it; I mean do they think because they put us in his backyard, it is going to be safe? Or what you think you are going to get an extra boost or something? Nah man, it aint nothing happening, I mean it all comes down to who is in that ring. I know they are going to have a lot of people there but you know we are going to have people there too.
It is going to be on; I mean the heat is coming man. There is going to be a lot of heat coming boy, they are going to need a lot of fire trucks around there. It is going to be heat!
RC: It sounds like you already have your eyes set on those three belts...
YJ: (Cutting in) Man listen, the three belts and the pound for pound, all of them, all of them are coming back. I am not taking anything away from Cory, he is a good fighter he got the first match, but this is a different type of war here, it is a different type of fight. What we are coming to the table with….. it is different when you go into a fight with strategy and touching guys, jabbing, bobbing, weaving and dancing around out there, there isn't going to be any of that. Aint none of that, when the bell rings, it's on.
RC: Mr. Judah, you are talking as if we are going to have another Wayne Martell on our hands...
YJ: (Starts to laugh) A, Listen man, when the bell rings, you hear what I am telling you? When the bell rings it is on.
RC: What have you guys been doing differently this time around in training camp?
YJ: We are just taking our time; we are doing it right this time. We are correcting all of the mistakes; I mean I am not one to give away the game plan. But we are definitely doing our homework, believe me.
RC: As Zab's father and lifelong trainer from day one, have you noticed anything different in Zab as he is preparing for this fight?
YJ: Ahh man, he is a monster man, I am trying to tell you. Everybody that he has sparred with so far we have had to send them home. We already sent six guys home, from broken jaws, broken noses, broken ribs and from being knocked out cold. Now we have two more coming in this week.
RC: Who do you have coming in this week?
YJ: Jose Celaya and Carl Daniels coming in.
RC: Where are you guys training for this fight?
YJ: In Florida, it isn't just a boxing gym; they have all kinds of things like kickboxing and everything else you can think of.
RC: Speaking of kick boxing, I spoke to Johnny Bos the other day and he was telling me that back in your day you were a "Sensational" kick boxer.
YJ: Yeah, Johnny Bos knows. I knocked everything out that was in front of me man. And Zab is the same way, they are going to see, I mean look everybody knows that last fight was suppose to be a draw. It should have been a draw, but they gave him the edge because he was the champ.
RC: We all know you guys probably feel you have to go in there and take him out, but by being overly aggressive, can that work against you in that sense that Zab can get caught with something out of the blue even though Corey isn't known to be a big puncher?
YJ: Everybody can get hit with a punch and get hurt, anybody. I mean Zab can get hit with a punch and get hurt, but you when you don't think about it and you go to execute, it is not going to happen, you have to be confident in what you do. You can't think about what somebody is going to do to you, you got to think about what you want to do to him. You have to impose your will on him, your spirit and everything. He will know, he will know from the first round, I guarantee you. He is going to get hit in the first round and say "Damn, I got eleven more of this shit to go through." You'll see, he is going to be fighting the baddest boy in boxing, he is going to be fighting a dog and he doesn't even know.
The worse thing they could have ever did was give Zab another shot. Now you know if it was up to Corey (Spinks) and Kevin (Cunningham) it wouldn't have happened, you know Don (King) pushed it, you know Don made it happen. Corey wanted the extra money and he stepped up to the plate, and now we have to do our thing.
If Cory beat Zab, I will tip my hat and give him all of the props in the world, I will say he is the man for sure, but I don't think that is going to happen.
RC: Sounds like you guys are planning an early night this time around, how long will you say this fight is going to last?
YJ:  I have been saying this from day one, whoever the judges are they can just stay home. I don't think we are going to need judges for this fight. We are not trying to let it go to the judges. But I will tell you something it is going to be a candidate for fight of the year. I could promise you that I promise you that.
CLICK HERE FOR MORE OF THIS EXCLUSIVE
Send questions and comments to: rayocampbelljr@hotmail.com