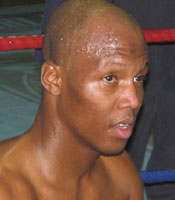 The Homecoming Of Zab Super Judah
RC: What's going on Super? How is training coming along?
ZJ: Training is going excellent, I am already 150% in shape, I am ready. I am ready to come in there and just rock my New York crowd that's it.
RC: (Start to laugh) we will talk about the New York crowd later, but first things first, what can you tell us about your opponent Wayne Martell 24-2(15)?
ZJ: Wayne Martell is a veteran up there, he got a lot of good knockouts, he is a southpaw and a fighter with two hands so I can't go in there underestimating him. And I am just looking for him to show what he got to get me out of there, and present a good challenge.
RC: No disrespect to Martel, but why such a no name opponent?
ZJ: Well you know at this point and time, a lot of people say that they want to fight me but they are having a hard time signing contracts, you know what I am saying? They talk about it but they don't want to sign that contract. When it comes down to signing the contract they get the Ali syndrome in them and get to shaking. No disrespect to Muhammad Ali but sometimes they get to shaking. They be acting like they are in Vegas at the crap tables and for some reason they just never seem to sign straight on the dotted line. I am going to tell you the real deal behind the scenes stuff, niggas talk that crazy shit but they aint trying to sign that contract. Believe that!
RC: Any names in particular?
ZJ: I don't want to put anybody on the spot right now and make anybody look stupid because I don't want to look like the trouble maker anymore. I am already considered a trouble maker in the boxing game already so I am trying to clean my image and be a role model for the kids, I love the kids.
RC: (I started chuckling)
ZJ: Anybody that so called want to say something about me, believe me I got enough dirt on any boxer out there, and let them know that when it comes down to signing that contract with my name on it I know they just cant do it. They talk about it but they are not in a hurry to sign it.
RC: Do you think that a fight like this will hurt your image in anyway, or your credibility coming back home to your hometown to take on an opponent that no one knows?
ZJ: Nah, My true Zab Judah fans they are happy with me regardless, all they want me to so see me get focused again and just put guys sleep.
RC: So you plan on putting Martell to sleep?
ZJ: Definitely! You are not going to know what class he is in, he is going to go to sleep so fast you are not going to get a chance to know anything about him.
RC: Sounds like you plan on having a very short night then off to the 40/40 (Jay Z's sports bar and lounge) cl...
ZJ: (Cutting) Yup! I am going to put him to sleep and everybody's going to go put their fly gear on, you are going to have to put your button ups on and lets go do it. I am just going to go in their and take care of business right quick.
RC: From the looks of things this guy has been fighting at Jr. Middleweight which probably more than likely means he is naturally bigger than you, might that cause a problem for you?
ZJ: I have been told that he is a big guy and that he is coming down from Jr. Middleweight, I mean I wish the best to him, I feel sorry for his body and his chin that has to try and withstand this dynamite that I am going to let loose on October 2nd.
RC: From the sounds on things it seems as if your days at Jr. Welterweight are over and now you are...
ZJ: Well I mean I can never say that Jr. Welterweight is a wrap for me because at any point and time if a fight presents and it sounds good on paper and the money is great, I mean I am back at 140lbs at the drop of a dime. So to all Jr. Welterweights out there, I want to let you know that if you get slick with your mouth and put the paper up I will come back and get you. Just let them know it's nothing to it; you know what I am saying.
I want to be a welterweight right now and conquer the division like I did at 140lbs, but if a fight presents itself and look good, I will be back down there to take it.
RC: After walking around at a much higher weight and your last two fights taking place at 147lbs, how hard will it be for you to make 140lbs?
ZJ: It wouldn't be hard at all I got to do is get to camp and give me enough time to do what I do best which is work hard, I will make the weight.
RC: The last time you fought at Madison Square Garden it was in your second pro…
ZJ: (Cutting in) and I rocked the house too.
RC: What is it going to feel like coming back to fight in your hometown after not fighting here since your second professional fight?
ZJ: I feel like it is more prestige coming back to the Garden at this level that I am at right now. Rather than coming back earlier. I feel that I am at a high level in my life and at this point of where I am at in the boxing game, it is going to be an honor to go out there and give my fans what they want to see…..The Dominant Zab Judah.
RC: Coming back to your hometown especially with the type of following you have in New York. It is probably going to be a bit distracting and a bit stressful for you with everyone wanting tickets and the usual that fighters go through in there hometown. Can that be a problem for you going into this fight being that you have a hungry guy in Wayne Martell that probably doesn't have the nice things you do and want to come in and upset you in your hometown?
ZJ: I have just been staying a way from everybody and that is why I am away at training camp preparing myself mentally and physically to make sure I go into the Garden and have a spectacular night. Another thing that I am doing to prevent some of those things is I am coming into New York City kind of late, I will arrive in New York around Thursday night, Friday will be the weigh in and Saturday is the fight. So I am looking to come up there late and go in there and do what I do best.
RC: Is there anything you would like to say to your fans in closing that aren't quite sure if they can come to Madison Square Garden on October 2nd to check you out?
ZJ: I would just like to say to all of my fans that I hope that they can be there to be a part of history to watch a great fight between Ricardo Mayorga and Felix Trinidad and watch the homecoming of Zab Judah.
RC: Now we know it's not good to look past anyone, but they have been reports that you signed a bout agreement to fight Corey Spinks again, how accurate is that?
ZJ: It's official, the fight has been signed already. Zab Judah and Corey Spinks is signed already, all we are doing is waiting for a good site and the right amount of money to be presented to the table ad we are going to get it on.
RC: Initially he said he wanted to fight Kostya Tszyu, now he is...
ZJ: (Cutting in) You got to go where it makes sense. A fight like Kostya Tszyu right now is a down the lien fight. Right now we all know he has a fight coming up in November, and after you know Tszyu isn't fighting anytime soon after that. The next time he fights will probably be February or March. He is the type to fight and then take four months off. And Corey knows a fight like Zab Judah is right here now. So once I am done with this fight and I will be ready to go in December or January, and there is no way in the world Kostya Tszyu will be ready in that kind of time frame. So I guess what we would do is fight soon, and the winner will fight the winner of Mitchell-Tszyu, well not really Mitchell because I don't see him coming up, and whether he (Tszyu) win or loose he is going to fight me. When I win the titles from Spinks he can get a shot right away, if he gets knocked out cold in the first round he can still get a title shot from me.
RC: You're talking about Kostya Tszyu?
ZJ: That's right! Because I owe him something, just let that be known. So let that be known when I beat Corey Spinks and I get the undisputed championship of the world, Kostya Tszyu is welcome at 147lbs no matter what happens between him and Mitchell, no matter what. He is always welcome another shot from me because I still have unfinished business with him.
RC: How bad does that bother you, as far as the way you lost (via 2nd round TKO) your title to Kostya Tszyu?
ZJ: It hurts man, knowing that you got bitch ass niggas out here in the world. You know what I mean? I done ditched that, I done put that past me. I went ahead and won another world title. You know what I am saying? I am aight with myself right now; I am pretty good with myself so I am not really stressing it. Like I said the opportunity is going to come back around again and I want to take full advantage of it. I am going to rock him.
Send questions and comments to: rayocampbelljr@hotmail.com