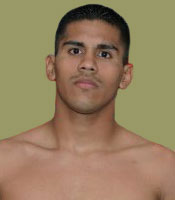 JJ:  We're here at the University of Houston - Downtown where we caught up with the WBA 135lb champion of the world Juan "The Baby Bull" Diaz.  Juan what's good?
JD:  Nothing much, Josh.  Just glad to be back on the spotlight, and getting ready for this upcoming fight. 
JJ:  In your upcoming fight with Lakva Sim.. Are you training right now?
JD:  Yeah, I haven't stopped training since my last fight.  I haven't stopped training since July because you never know what will come up.   
JJ: Well you are scheduled to defend your title against Lakva Sim.  He recently defeated Ebo Elder to redeem himself after you defeated him for the title.  Are there any new weaknesses that you see in him that you will be able to capitalize on?

JD:  The only weakness I see in him, now, is that he's two years older since the last time we fought.  I am also two years older since then, and I have gotten older, stronger, and faster.  I have a little more power in my punch since then.  I think that is going to be another advantage that I'm going to have over him. 
JJ:  Weeks ago there was a purse bid held for your title defense against Lakva Sim, and there weren't any promoters there to bid on the fight.  Being that you have a crowd pleasing style, and look to give 100% percent every time out, is it surprising to you that promoters weren't jumping at the chance to promote your fight?
JD:  Uh, well one of the reasons for that is that promoters were given the announcement on three days notice, so they didn't have time to prepare for that.  It didn't make me feel bad or anything because I'm a fighter.  My managers and promoters take care of that side of the boxing business, and I just worry about fighting. 
JJ:  Alot of people haven't seen you and are starting to believe that you are sitting on your title waiting for the division to clear out.  In order to prove these people wrong are there any fighters out there who you would like to fight after your defense against Lakva Sim?

JD:  Well, right now, my main focus is defeating Lakva Sim.  But, I would love to fight any of these fighters.  There has been lots of fights falling through like Jesus Chavez vs Antonio Barrera, I tried to jump in with that opportunity and have Jesus Chavez fight me, but that didn't come through.  Castillo vs Corrales fell through and I was willing to get that opportunity to fight Castillo, but they put somebody else in there.  So, I'm just waiting for those guys to stop thinking I'm a baby and give me the opportunity to fight them. 
JJ:  On the undercard of Roy Jones vs Antonio Tarver, the rubbermatch on PPV, Nate Campbell defeated highly touted Almazbek "Kid Diamond" Raiymkulov.  After that fight, Team Nate Campbell went public, on Boxingtalk, stating that they want an opportunity to fight you for your WBA title.  What are your thoughts of possibly mixing it up with Nate Campbell after his dominating performance?
JD:  That was one of things I looked at during that time.  You know, after he beat Kid Diamond I was ready to fight anybody.  But also, at the time he didn't have a solid promoter to put on the fight.  My promoter didn't want to put me in the fight at that time.  But, I'm willing to fight anybody, including Nate Campbell.  I just want to defend my title. 
JJ:  Juan, how's school going?
JD:  It's going pretty good, right now.  I'm taking three classes instead of taking one or two, so it's a little bit stressful.  You know, but I'm still young so I'm going to keep going strong in boxing and in school. 
JJ:  Juan, it's always a pleasure speaking with you.  Is there anything you'd like to say to your fans around the world?
JD:  Yeah, I'd like to tell them that I appreciate the support they've given me over the years.  And that pretty soon they will get a chance to see the Baby Bull in action.
Send questions and comments to: josh_thejab@yahoo.com