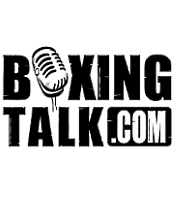 Press release:
Professional boxing's youngest world champion, Juan Diaz, will defend his WBA lightweight crown on ESPN2 Friday Night Fights Main Events Special January 21 AT 9 p.m. ET when he meets WBA #10 ranked contender Billy Irwin at Reliant Center in Houston, Texas.  Diaz is rated #4 in the Boxingtalk ratings.
WBO lightweight champ Diego Corrales (Boxingtalk #1) will be studio host Brian Kenny's guest analyst, commenting on the state of the lightweight division, including his upcoming title defense against Jose Luis Castillo (Boxingtalk #2), as well as the Diaz-Irwin battle.
ESPN2 Friday Night Fights Main Events Special coverage will open with a co-feature pitting undefeated 2000 U.S. Olympian Calvin Brock against Clifford "The Black Rhino" Etienne in a ten-round heavyweight bout. Joe Tessitore and Teddy Atlas will be ringside to describe all the action along with reporter Jeremy Schaap..
Special production elements will include Superslomo on a ringside camera to improve analysis and the viewer experience, unmanned Trainer Cams in each corner focusing on the corner men, and roving cameras for Jeremy Schaap's live interviews.
At only 21 years old, Diaz (26-0, 12 KO's) became the youngest world lightweight champion in more than 30 years on July 17, 2004, when he took a unanimous decision from defending champ Lakva Sim. Irwin (42-5, 30 KO's), who lost a bid for the IBF lightweight crown December 16, 2000 against Paul Spadafora, has won his past eight fights and is ranked #10 by the WBA and #14 by the WBC.
Brock (23-0, 19 KO's) represented the 2000 U.S. Olympic Boxing Team in the super heavyweight division, while Etienne (29-2-2, 20 KO's) has won five of his last six bouts and has faught some of the division's biggest names including Mike Tyson, Francois Botha, Fres Oquendo and Lawrence Clay-Bey. Etienne appears at #38 in Boxingtalk's heavyweight ratings.
This ESPN2 Friday Night Fights Main Events Special features four boxers who have attended at least two years of college: 
Diaz: a junior at the University of Houston Downtown where he is majoring in Political Science in preparation for law school.  Last semester he received an A in American History and a B in Biology. 
Irwin: graduated from Niagara University with an Associates Degree in Law and Security. 
Brock:  is a graduate of the University of North Carolina at Charlotte, receiving his four-year degree in Business Administration while majoring in Finance. 
Etienne:  attended Southern University for more than two years, making the Dean's List in each of his five semesters. He majored in Business Administration and plans to return to school to finish off his degree.