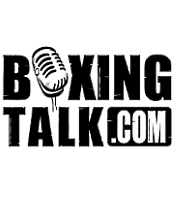 Last night in Corona, California during the main event of Thompson Boxing Promotions' Path to Glory, Juan Carlos Rubio entered the ring for the first time since dropping the decision to Francisco "Panchito" Bojado in their rematch battle last November. Looking to work his way back into welterweight contention, Rubio took on the rugged Raul Franco in a scheduled twelve-round scrap for the IBA strap. The spirited Franco, who is trained by the legendary Freddie Roach, stood his ground and traded leather with the hard hitting and experienced Rubio for most of the fight, but half way through their ordeal, it was Rubio who showed that he was the superior warrior landing his power more consistently onto his opponent. Relentless not to give up, Franco fought back hard and truly gave it his all until his tank had been completely depleted. (Click here to read last night's full fight report. You do not miss out on how this fight, as well as the rest of Path to Glory's fights ended…Can you say KNOCKOUT!!!)
Rubio Dominates Franco Through Ten
Trained by the infamous Freddie Roach, Raul Franco came out of his corner dictating the pace of action, but was unable to land any significant punches against Juan Carlos Rubio for the first two minutes of the opening round. A sharp left hook that landed flush on Rubio's head was the first fist to land with any real meaning behind it, however, when Franco tried to capitalize on his nicely landed leather, Rubio fought back by attacking his opponent's body and peppering his chin with short stiff jabs for the remainder of the round.
When round two got underway, the two danced around for the first half of frame, fighting close, and taking their turns landing shots at each other's head. Throughout the remaining minutes of the round, it was Rubio who placed the cleaner more effective punches, especially when he countered his opponent's attack with smashing hooks to the side of Franco's face.
In round three, Franco was still using his punches to push Rubio back, which forced the "Panchito-beater" to continuously fight on the retreat. This did not seem to both Rubio as he excelled at fighting backwards, landing his left hook successfully whenever he saw Franco coming in for an offensive attack. With Franco being peppered by Rubio's unrelenting jabs, his face quickly became as red as his opponent's leather that was causing the damage. However, Franco fought back, and after ducking some of Rubio's ammo, came up to land several left hooks of his own, knocking Rubio off balance half way through round three. The two fought the last ten seconds in a phone booth and when the bell sounded, instead of returning to their corners, they stood upright looking deep into each other's eyes relaying the message that no ground would be given up easily on this night by either fighter.
By round four, Rubio had developed a cut across the bridge of his nose by his opponent's counter strikes and was fighting with more urgency than he had in the previous rounds. The two waged war in the center of the ring in the last half of the frame, standing toe to toe, foregoing any body attacks, but instead exchanging hooks and crosses effectively upstairs.
The fifth inning started off the same way the previous round had ended; in the center of the ring with both combatants wailing away at each other. Rubio got the better of the exchanges by landing several combinations of the classic "one-two" to his opponent's head, but in the middle of all the excitement Rubio did not seem to notice that with he blow he was delivering, he was also forcing Franco's head down with his left forearm as he went to town on his opponent's face with rights. After a stern talking to from referee Vince Delgado, Rubio finished off the round landing his money shot in the form of a lead left jab followed by a crushing right cross upstairs.
Both fighters took a break for the first minute of round six to recoup from their 15 minutes of hard fought intense action, but once the war resumed, Rubio went on the offensive with multiple combinations of right and lefts in every form of a punch to the head of his opponent. Franco had not gathered up enough strength to defend himself yet, and was forced to duck far below his opponent's waistline or hold on to him to avoid Rubio's attack.
Rubio clearly showed he was the superior fighter as he landed his arsenal of punches from the beginning moments of round seven. He simply could not miss with his hard stiff jabs, and when he changed up his flurry to land with his hooks, Franco's tank seemed to become even more depleted than it had in the past couple rounds. A quick combination of smashing hooks upstairs put Franco off balance and onto the canvas, but Delgado ruled it a slip even though the timekeeper began the knockdown count. Once the fight resumed, Rubio continued his punishment of lead jabs with power punches upstairs until Franco was finally saved by the bell to bring the round to a close.
Even though he was not fighting as though a mild breeze would put his opponent down for the night, Rubio stalked Franco across the ring during round eight looking for an opening that did not come as Franco dodged Rubio's offensive attacks and advancements.
Within the first minutes of round nine, Rubio had Franco trapped in the corner ready to be pounced on like a fierce lion would on it's wounded prey, but Rubio unexplainably let Franco loose only to chase Franco around and dish out more punishment in the forms of crushing left hooks and smashing right crosses to Franco's already sore red head.
In the opening moments of the tenth frame, the two warriors met in the center of the ring and exchanged jabs upstairs. Rubio found his opponent's head first, but Franco retaliated with his hardest punch of the fight: a right hook flush on Rubio's left cheek. However, Rubio came back with a flurry of hooks and crosses to Franco's head that put the already hurt and tired fighter upright against the corner. Instead of coming in to finish the job, Rubio once again allowed Franco out of his snare and back into the center of the ring for more exchangeable action. With Franco not firing back, Rubio landed a combination of hooks upstairs that was followed by a right uppercut flush on Franco's chin to put the now exhausted fighter down to one knee on the mat. Instead of postponing the inevitable, Delgado forewent any count and waved off the fight, saving Franco from any further punishment had he decided to rise up from the canvas. The official time of stoppage was 2:32 of round ten giving Rubio the IBA Continental Welterweight Title, and a record of 30-7-2 (11). With this defeat Franco drops his second consecutive fight and his record to 22-6 (15).
Lopez Overwhelms Borquez Within the First Frame
Borquez Josesito Lopez
Josesito Lopez had his opponent covering up from the opening bell with quick combinations of left and right hooks upstairs in rapid-fire succession. Mauricio Borquez attempted a counterstrike, but was unable to penetrate Lopez' continuous barrage of punishment. Lopez used his aggression to put Borquez into the corner, and then began an even faster flurry of hooks and crosses that did not miss Borquez' head. With the trapped fighter unable to fire back against Lopez' flailing arms, referee David Denkin stepped in at 1:46 in round one to bring the punishment to an end. Lopez impressively improves to 10-1 (6), as Borquez drops to 11-13-4 (10).
"The Nightmare" Literally Scared Mosley into a Defeat
Chris "The Nightmare" Arreola did not need more than a minute to end his fight with Eddie James Mosley. In fact, the fight was pretty much over when the first bell sounded. As "The Nightmare" stalked Mosley across the four corners of the ring, patiently taking his time, he finally found the opening he had been looking for, and landed a straight crushing left to the side of Mosley's face. Mosley quickly rose from the canvas in order to save face, but still fought scared for a few more frightening seconds, running around the ring trying to avoid his "Nightmare." With Arreola still landing his smashing hooks and uppercuts to Mosley's head, the fight was over when, in his attempt to flee from danger, Mosley ran into and held onto referee Lou Moret for dear life. Shaking his head in disgust, Moret waved off the fight, giving "The Nightmare" his seventh career win. Arreola improves to 7-0 (6), while Mosley drops to 3-7 (2).
The Bear Simply Too Much for "Trigger" Smith
When you are 0-6 coming into your seventh professional fight, understandably so there are not too many high expectations for you. Coming into his fight last night in Corona, California, "Trigger" Terry Smith looked more game than his record showed, dancing around and jabbing Danny "The Bear" Garcia for the first half of their scheduled four round fight. However, it was Garcia who quickly proved that even as a rookie he was the one to be reckoned with by landing his leather first with more authority. In the first two rounds, the flatfooted Garcia was able to land effectively both upstairs and down below, but was still unable to hurt Smith. The third round was fought mostly in a phone with the two fighters exchanging inside with short hard hooks to their heads. Garcia stole the round when he changed up his arsenal by landing a combination of uppercuts directly on Smith's chin. By the fourth and final round, Garcia was finally fighting on his toes, forcing Smith to chase him around the ring as Garcia landed his stiff jabs flush on the side of Smith's face. Trigger had a brief stint of success with an offensive body attack, but soon needed to defend his head as Garcia found an open target there. As Smith egged Garcia on with taunts to "Hit me," the rookie lacked the power to finish off the seven fight veteran. However, he did have the stamina and all three judges gave The Bear a shutout win over Smith with scores of 40-36. Garcia wins his first and now has a record of 1-0, as Trigger should seriously reconsider his career with a record of 0-7.
Bradley Jr. Knocks Out Martinez in Boxers' Pro Debut
After loosening up and out-jabbing his opponent in their first frame, Timothy Ray Bradley Jr. landed enough of his crushing right and left hooks to Francisco Martinez' head to force referee Lou Moret to step in at 1:17 in round two. Being that this was both fighters' initial outing, Bradley Jr. enters the pros with a record of 1-0 (1), while Martinez goes 0-1.
CLICK HERE TO READ LAST NIGHT'S FULL FIGHT REPORT
Send questions and comments to: Fool4Rush@aol.com