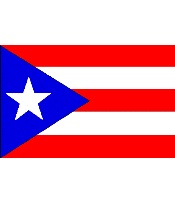 Ivan Montiel: I'm here to give you the opportunity to tell our readers about your recent fight against WBO super featherweight champion Jamel Herring. [Oquendo was disqualified in the eighth round for head butting].
Jonathan Oquendo: Thanks. Everyone knows that I am the type of fighter that fights going forward. Yes, maybe I use my head while staying low but that's my style. Herring is much taller than me, which is why I felt that I had to go for the knockout. I knew that my only chance was to win by knockout; I knew that I was behind on the scorecards. I want to thank God that we both came out of the ring safely [Herring was cut, and x-rays revealed a pre-existing facial fracture from prior to this fight]. I want to let everyone know that my head butts weren't intentional. That's just boxing, if you want to box, you must be prepared for cuts. If a fighter suffers a cut from an elbow or head butt, he must be prepared for it! If your corner thinks that you can continue, then you must continue to fight on because that's what we are here for! We must fight on to give spectaclur shows to those who pay to see us, we are gladiators! Don't tell me that because of a small cut you quit! I give credit to Herring for becoming a world champ but I know that I won that fight! I should be world champ right now. I can't give Herring credit for quitting from a fight! I have suffered bigger cuts, like the time against Eden Sonsona. I was losing that fight but I got big balls and that's why I ended up stopping Sonsona later on in that fight! I didn't want that fight stopped against Sonsona. I continued on and won that fight!
IM: So let's be clear, you think Herring quit?
JO: Yes of course! I noticed that Herring was hurt in the last couple of rounds. I could feel him breathing heavily, I felt that he was hurt. I knew I was landing both upstairs and downstairs to his body. Once I stopped holding onto him in the early rounds I then began to let my hands go! As I began to let my hands go, Herring then began to hold onto me but the referee didn't seem to warn him about holding. I noticed that once I began to fight Herring just couldn't deal with me especially late in the fight. I knew that if the fight continued I was eventually going to knock out Herring. Once the fight ended, I thought I was WBO world champion. I won because Herring quit! How can he have won when he quit?
IM: What were your immediate thoughts following the DQ?
JO: I was shocked. Don't get me wrong Top Rank put on an amazing event; I give credit to Top Rank but they failed me with that bad decision. I was supposed to become world champion. I should be world champion right now. I deserved that win; I walked back to my locker room in tears.
IM: You think if the fight would've continued, you could've stopped Herring?
JO: Yes! I would've knocked out Herring! I was looking for the knockout because the only way I knew that I had a chance was to knock out Herring! Everyone knows that a decision wasn't going to go my way! It's too bad that this fight didn'thave a crowd because I know that my Puerto Ricans and also my American and Mexican fans would've supported me throughout this fight! Especially my Mexican fans who know that I am a gladiator!
IM: Your thoughts on referee Tony Weeks?
JO: I am not sure what exactly Tony Weeks talked about with Herring's corner but there's video footage
IM: Tony Weeks did warn you for head butts prior to the disqualification but he didn't say much about the low blow which Herring gave you.
JO: Exactly! Herring also hit me behind my neck plenty of times including my back. Yes I am an awkward type of fighter. I am the type of fighter who goes in that ring to give you a tough fight. I don't give intentional head butts, I won't elbow you and I certainly won't hit you on the back if your head. Herring did hit me with intentional illegal blows. Herring hit me on my neck and back. I hardly said a word about his dirty tactics except for the late rounds when I told Weeks about Herring hitting my back. Herring however kept calling for help throughout the entire fight! Herring kept telling Weeks get Oquendo off me! I was pretty much quiet throughout the entire fight. I was hit low yet I didn't take five minutes to recover I just wanted to continue fighting. I knew that Herring was hurt at that particular moment so I didn't want him to catch his breath. Herring needed time to catch his breath but I was not having it!
IM: What about the scorecard once the fight ended?
JO: In the end I was bruised up and I had a swollen eye but I always think about the fans, who deserve good fights. I want boxing fans to say it's worth watching Jonathon Oquendo fight! Puerto Rico was watching this fight! I am 37 years old. It is my dream to become world champion. I've been with my team since day one and wanted to win that world title for my team!
IM: I find it odd that Herring didn't continue. When Vitali Klitschko suffered a bigger cut, one of the worse cuts I've ever seen, versus Lennox Lewis, he still wanted to continue fighting.
JO: That cut which I suffered against Sonsona was as big as Klitschko's cut and I didn't quit. I continued fighting until I knocked out Sonsona. When a fighter wants to win, he can win no matter what!
IM: What did Herring say to you after the fight?
JO: I am not sure since I don't speak English, all I know is that he kissed my hand. I honestly thought that I was going to win. Once a fighter walks out of a fight that right there should be a loss!
IM: Have you discussed a possible rematch against Herring?
JO: Well, I've talked about it with my team. If Herring wants to give me a rematch I am always willing to do it again! Miguel Cotto Promotions will do what's best for me whether it's a rematch or not. At this point in time, I cannot say much more other than that. I just know I will continue to train hard. I will continue to work hard to become world champ. God works in mysterious ways, and I believe in God. God knows exactly what happened. I see and hear what people say throughout social media. I do not use my head. Herring is simply too damn tall for me. A southpaw versus an orthodox fighter will always cause clashes of heads! I am not a slick boxer I simply come to fight! I always put the pressure and always fight going forward in order to win! I told my corner don't worry about our plan, I got Herring hurt. I knew that I had hurt him to the body! I never imagined such a long reach advantage on his part. God bless Herring and his family. I want to thank both Top Rank and Herring for giving me this big opportunity but in the end, I was robbed from becoming world champion.
IM: Looks like you had Herring frustrated.
JO: Yes of course. My style is like street fighting. I am from the hood; I used to fight all over the streets of Puerto Rico. Thanks to boxing, it saved my life. Without it, who knows what could've happened to me. I could've been shot. Boxing is my life. I want to continue working with the youth! I want to open up my boxing gym.
IM: Do you think you hurt Herring to his body?
JO: Yes without a doubt! We worked for that! I know if this fight continued, I would've broken him down and out! Herring's a crafty southpaw and yes he dropped me but I wasn't not hurt. I got up with no hesitation; he simply caught me off guard. Once it was my turn to put the hurt on him, the fight gets stopped. It was supposed to be a twelve-round title fight!
IM: I take it that Miguel Cotto Promotions will continue to promote you?
JO: Yes I am thankful for Miguel Cotto and Golden Boy Promotions, and even Top Rank whom gave me this big opportunity. I want to apologize for what occurred in the end. But it would've been better if Herring would've continued on. I feel like have to apologize because without you being a boxing reporter interviewing me and the boxing fans out there watching this fight, no fights would take place. Yes I know at times there's negative comments but there's more positive comments, which is why I am here talking to you. I always want to clarify everything. As a fighter I wouldn't be anywhere without guys like you and those boxing fans who sit at home watching my fights.
IM: Thanks I appreciate that now before I let you go in closing what final thought would you like to say to Herring himself?
JO: I bless Herring and his family. I just don't understand why he did what he did. I am just glad that he's in good health. I apologize for the head butts, it wasn't intentional. I am the type of fighter who loves to put the pressure on. I won't cry about it. I bless you and thank you for taking the time to talk to me as always. I want to bless all the boxing fans out there.
IM: Any closing thoughts?
JO: Yes, one last thing. I want to let everyone know that my army outfit, which I wore that night, was to give thanks to guys like Herring for putting his life on the line as a United States Marine. I wanted to give Herring an honor for what he's done serving and protecting us. And, thanks as always to you Ivan for your time.
Send questions and comments to: latinoporvida2010@gmail.com