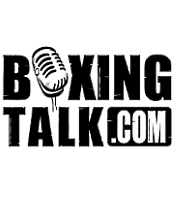 Last Saturday night, undisputed welterweight champion of the world,
Cory "The Next Generation" Spinks
dawned the now notorious Boxingtalk.com T-Shirt into the ring for his bout versus Miguel Angel Gonzalez. Well, now the tenth person to sign up for a one year membership is going to walk away the ringworn shirt, autographed by Spinks in his suite after the fight.
In addition to the ringworn shirt signed "Cory Spinks, The Jinx", you will receive hand-wraps autographed by Cory during his open workout on Tuesday August 31 as well as a (DVD or VHS) copy of the our post fight video where the champ signs the shirt. Consider the DVD your personal certificate of authenticity. Whatcha Waiting For? Sign Up Now, The Best Interviews Bar None, The Most Breaking News, the hottest training footage on the web, two chat's a week with the world's best and ringworn memorabilia giveaway's, only on Boxingtalk.com!