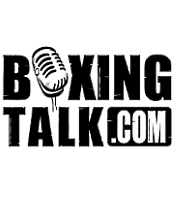 Two-time world champion Stevie "Lil' But Bad" Johnston (37-3-1, 17 KOs) fights former NABF and WBC Fecarbox lightweight title-holder Steve "The Mongoose" Quinonez (31-9-1, 11 KOs) in "Collision Course, A Night of Champions," featuring three world championship matches and two other title fights, January 27 at the Tropicana Casino and Resort in Atlantic City, New Jersey.
In addition to defending his NABC light welterweight title, which he won December 3 with a unanimous 10-round decision against Vladimir Khodokovski, Johnston also faces Quinonez for the vacant IBO belt in one of five 12-round championship matches in "Collision Course, A Night of Champions."
Johnston-Quinonez plus a minimum of three other fights will be shown on the pay-per-view card promoted by Star Boxing, in association with Silverhawk Boxing and Guilty Boxing, and sponsored by Xyience. The special pay-per-view event is offered in the United States, Canada, France, Russia, Indonesia and Greece at a suggested retail price of only $24.95.
Johnston is a crafty boxer who captured the WBC lightweight championship twice between 1997 and 2000, including seven successful defenses.
At the age of 33, he's reaching for the brass ring one more time. The Denver native has won two in a row, seven of his last eight, and an impressive triumph against Quinonez may set the stage for a "Lil' But Bad" showdown later this year against one of the light welterweights stars such as Floyd Mayweather, Ricky Hatton, or Miquel Cotto.
"Every fight I have is the biggest fight for me," Johnston said. "I have to get past this one to get to my next big fight. I'll fight any of the 140-pound champs - Hatton, Floyd or Cotto. Everything at training camp has been perfect  - sparring, running, even jumping rope."
In 2000, Johnston lost the WBC belt to Jose Luis Castillo and three months later they fought to a draw in which Johnston originally was declared the winner by majority decision, but a scoring error was revealed resulting in the draw. Stevie's list of victims includes Jean Baptiste Mendy, Saul Duran, Cesar Bazan and Angel Manfredy.
Battle-tested veteran Quinonez' most significant victory was against Lovemore N'dou. Steve also went the distance against Jose Luis Castillo, Diego Corrales Steve Forbes and Michael Clark. Quinonez is coming off a 10-round decision against previously undefeated James Armah (14-0) last May. 
Johnston was inactive for more than two years due to injuries suffered in a 2003 car accident. "I'm lucky to be alive, never mind fighting," Stevie explained. "I went through the windshield, woke up in the hospital, and ended-up with more than 100-stitches in my face."
Now fighting out of Vero Beach (FL), Johnston is part of famed trainer Buddy McGirt's stable of warriors that also includes Antonio Tarver and Arturo Gatti. "Buddy has made me box more," Stevie noted. "He's turned me into more of a boxer-puncher. I'm training hard, listening to Buddy, and doing all of the right things in training camp."   
Johnston is promoted by Silverhawk Boxing and managed by Rider Boxing.
A total of three-world title and five regional championships will be on the line in "Collision Course, A Night of Champions." Also appearing on the guaranteed minimum four-fight PPV card is former three-time world champion Virgil "Quicksilver" Hill (49-5, 23 KOs) -- Silverhawk Boxing has a marketing agreement with him - versus unbeaten Russian challenger Valery Brudov (20-0, 23 KOs) for the vacant WBA cruiserweight belt in the 12-round main event; IBF minimumweight title-holder Muhammad "The Rock Breaker" Rachman (50-7-7-4, 22 KOs) defends his title against No. 1 contender Omar "Lobito" Soto (14-2-1, 10 KOs), while "Mighty" Mike Aranoutis (14-0-2, 6 KOs) fights for the NABO/USBA super lightweight crowns versus TBA.
Johnston's Silverhawk Boxing stablemate, Prince "The Boxing Prince" Badi (24-2-1, 13 KOs), WBC No. 11 rated light heavyweight, defends one of his four title belts - WBC Continental Americans light heavyweight - in the 12-round PPV "swing bout."
Tickets, priced at $200, $150, $100, $75, $50 and $35, may be purchased at the Tropicana box office (800.526.2935, 609.340.4020) or by calling Ticketmaster (800.736.1420).
For more information about Silverhawk Boxing visit its web site at
www.silverhawkboxing.com
.