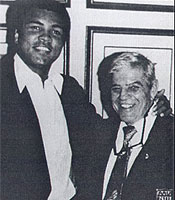 Johnny Duke, who trained former WBA and WBC welterweight champion Marlon Starling as an amateur and as a professional, passed away around 2:30 p.m. Saturday. He was 81. Although Duke is best known for his work with Starling, more important perhaps is the fact that Duke's Bellevue Square Boys Club in Hartford offered an alternative to the street life for hundreds, if not thousands, of inner-city youth, for decades.
Last December, Duke was among the first class of inductees into the Connecticut Boxing Hall of Fame. The inaugural event took place at the Mohegan Sun Hotel Casino and attracted more than 400 people. The other living inductees were Starling and boxing legend Willie Pep. Pep and Duke both grew up in Hartford and used to shine shoes together.
As a trainer, Duke produced a number of amateur champions out of Hartford's Bellevue Square Boys Club in Hartford, which he ran for roughly forty years. Former light heavyweight world title challenger John Scully said of Duke: "He has always been a real straight-shooting type of old school Italian guy. The type of guy that could swear more in one hour than most sailors could in a month.  The type of guy who could have walked through the city during the race riots of the 1960s and get from one end to the other without anyone even so much as raising their voice to him. The type of guy that would pull his truck over on a busy street and stop traffic so he could get out and pick up a discarded winter coat off the street and bring it back to the [boys club] so he could give it to someone that didn't have one."
Long before Duke was inducted into the Connecticut Boxing Hall of Fame, he was a member of the National Golden Gloves Hall of Fame.
Send questions and comments to: kirklang@yahoo.com