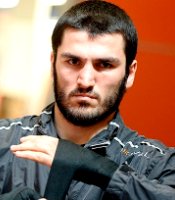 Ivan Montiel: We have an exciting bout taking place October 18th-- light h eavyweight unification with Artur Beterebiev (IBF champion) vs. Oleksandr Gvozdyk (WBC champion). Are you in camp with Beterbiev (pictured) at the current moment? John Scully: No not at the present moment but I should be with Artur in the next couple of days.
IM: There lots of people buzzing about this match-up. What's your take on this exciting fight?
JS: It's a huge fight! People in boxing know how big of a fight this is. Artur knows it's the biggest fight of his career. This type of fight is what he's been waiting for. This is the type of fight that he's been asking for. Artur is an amazing guy and would have fought this type of opposition when he had eight pro fights! There was no hesitation. Artur wanted this fight and well, now he's got it!
IM: I just heard that both guys fought each other in the amateurs is that correct?
JS: Yeah. Artur stopped Gvozdyk in the amateurs by TKO
IM: Wow... Then again what happens in the amateurs, wll many people tend to say aren't the same when fighting as professionals. Is that true in your opinion?
JS: Right, I mean in one end it doesn't matter, it's a different fight. Then again, when you fight in a pro fight it doesn't mean anything really when you fight the next time. Every fight is different but mentally Gvozdyk knows he lost to Artur by stoppage. I mean ideally if you were to ask Gvozdyk "are you glad you got stopped by Beterbiev?" or do you wish you were going into this fight not being stopped by Artur? Gvozdyk would respond saying he wished Beterbiev had not stopped him. I mean there's an edge; it may not mean anything but there is an edge going into this fight.
IM: So do you think Gvozdyk is somewhat worried that because he got stopped, perhaps he will be afraid of Beterbiev's power?
JS: I don't know Gvozdyk personally, I don't know his mentality. I would say at this level, he won't be afraid but as a human being he will certainly be cautious of it. Artur has knocked out everybody he's faced as a pro (14-0, 14 KOs) so that's got to be on his mind. Gvozdyk knows the power of Beterbiev is not a fluke and Gvozdyk is going to have to deal with it whether he likes it or not.
IM: From what I am hearing so far most boxing fans are leaning towards Beterbiev
JS: I have seen that. Then again I have seen a few people picking Gvozdyk, which is good. We want a fight that people are split on. As a fighter it's not appealing nor exciting going into a fight that everyone thinks you are going to win. You want to go into a fight where everyone says I don't know man; I don't know if you can beat this guy. That's an extra push for you to get ready. That's what I call a real fight. Anybody that talks to me and hears me label a fight a real fight... well some fights aren't that kind of fight but this fight is! This is a real fight! This is a legitimate world title fight. Both guys bring a lot to the table and there's a lot-- not just in boxing-- but culture-wise. These guys are from that part of the world where this fight means a lot to them. [Beterbiev is from Russia, Gvozdyk from The Ukraine, two countries with a lot of political tension].
IM: What makes this fight even more exciting is that both are undefeated as pros-- Someone's 0 has got to go!
JS: A lot of people might not be familiar with Beterbiev and Gvozdyk yet since they have not got that Floyd Mayweather level exposure. This is a huge fight, it's going to be very exciting, and the action will be there! Both guys are very good fighters and they are both undefeated. This is the most anticipated fight of the year in my mind. I am not saying this because I am involved with Artur but just look at it from the outside! I have friends on social media which as soon as they heard about it said this is fight of the year candidate. It's unbelievable but some people don't know who Beterbiev and Gvozdyk are. But for people who know what they are looking at, this is a huge fight.
IM: It certainly is a huge fight. If Beterbiev were to win I am sure he will get even bigger fights coming his way!
JS: There's [WBO light heavyweightchampion Sergey] Kovalev... Artur also beat Sergey in the amateurs as well. There are a lot of back-stories with these guys. Once the media picks up on it, this will be something big.
IM: There's also [former world champion] Jean Pascal.
JS: I respect Jean Pascal but he doesn't have a [current world] title. There's no way that I will ever accept that Jean Pascal is a world champion. Pascal has the WBA interim title when in fact Dmitriy Bivol is that world champion. I don't care what anybody on this planet says, I don't care what any announcer says, I don't care what the WBA says... t's not possible for there to be an interim champion when the real champion is active. Jean Pascal is a top fighter I command him on a huge upset, a huge win [over Marcus Browne], but he's not a world champion.
IM: Does that mean if Jean Pascal wants the winner between Beterbiev vs Gvozdyk he isn't getting that opportunity?
JS: Pascal might get that opportunity but he won't go into that fight as a world champion. I mean Bivol, it's insulting to boxing fans, the sport of boxing and insulting to Bivol for the WBA to insanely call this guy a champion. It's so stupid and absurd. If I were to not know what was happening and someone just told me about it, I would never in a million years believe them. I would never in a million years think that the WBA would allow this.
IM: How about Meng Fanlong who is the IBF mandatory for Beterbiev? He is saying he wants the winner between Beterbiev vs Gvozdyk.
JS: Right... well, whomever is next is next. There's no way to look past this fight. This fight is big, it's a real fight, and it's a dangerous fight. We are going to take care of this fight first.
IM: My final question is how do you see this fight ending?
JS: I have to believe all things considered and picturing how the fight is going to go, mentally picturing both guys I think Artur is going to end up stopping Gvozdyk. I envision by the middle rounds. Artur stops Gvozdyk somewhere between 5-8 rounds. This will be Artur's biggest fight but he will take Gvozdyk out. Artur hitting guys flush... that's a big problem, it really is. I have spoken to all of Artur's sparring partners and each and every one of them has said he's the hardest puncher they have sparred.
IM: I am excited about this fight. I am hoping there will be more media coverage of this fight. This is the type of fight boxing fans cannot miss.
JS: You're doing your job, your covering it like you should.
IM: Yes sir! I'll be watching it for sure.