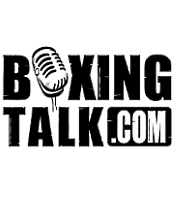 "I'm the best heavyweight in the world!"
PRESS RELEASE:
WBA
heavyweight champion John "The Quietman" Ruiz, scheduled to go to purse bids for a bout with James Toney, believes he is the most dominant heavyweight in the world today and challenges any of the other major world champions to put their belts on the line against him. "I am the top guy in the heavyweight division," Boxingtalk's #3 heavyweight  said. "I must be because I'm the only heavyweight the other champions don't want to fight. They may say they want to fight me, but they don't really mean it. I'm the only one calling for a heavyweight tournament because I want to be the undisputed champ. Don't embarrass me with fighters who haven't done anything. I want title belts."
"The toe-tag opponents I've been thrown have done nothing for my career. I want the toughest fighters out there, guys who've won titles and want to fight the best – me! If boxing was like a marathon, we'd be at the halfway point and I'd have a five-mile lead on everybody else. I'm leading the field and nobody can catch me. I'm tired of hearing all the negative stuff said and written about me. If I'm that bad why can't they beat me? It doesn't make any sense. If they're the best, it should be easy, just fight me."
Ruiz (41-5-1, 28 KOs), the first and only world heavyweight champion of Latino heritage, has beaten tougher opposition, fought more world title rounds, and been a world champion longer than any of the other reigning world heavyweight champions.
"The Quietman" has defeated three former world champions – Evander Holyfield, Hasim Rahman and Tony Tucker – and top 10 contenders such as Andrew Golota, Fres Oquendo and Kirk Johnson. Ruiz has fought 93 world title rounds and has worn the WBA crown three years, seven months in his two stints as champion.
"I look forward to fulfilling my mandatory obligation to the WBA, against James Toney or anybody else the WBA mandates, but it's not going to advance my career," Ruiz continued. "I want to become the undisputed champion and they don't have a belt. Truthfully, it will be a fight for money, not anything that gets me closer to being the undisputed champ."
Ruiz (5-2-1) has more world title fight victories than 34 other past and present world heavyweight champions. He has more world title fight wins (WBA, WBC & IBF) than any other contemporary heavyweights, past and present, such as Chris Byd (3-1), Vitali Klitschko (3-1) and Hasim Rahman (1-2).
"The other champions have fights scheduled because it's easier getting fights for guys who haven't looked good in their last few fights. HBO has the power and they want Klitschko to be the undisputed champion. Why won't he fight me? Because he knows he can't beat me. The public wants one heavyweight champion. I want one heavyweight champion. Everybody in boxing knows we need one heavyweight champion. Let's do it. I'm the best heavyweight in the world and I want to prove it. The other heavyweight champs don't want a heavyweight tournament because they know I'm going to win it. I want to be the undisputed heavyweight champion of the world. I should be the undisputed champion because I've beaten all of the top heavyweights other than the three other champions who don't want to fight me."