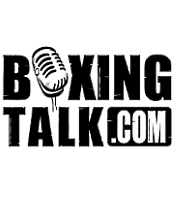 Fighting in front of his hometown fans at the Rhode Island Convention Center in downtown Providence, Joey "KO Kid" Spina would not disappoint. He ended matters early when Anwar Oshana was unable to come out for the fourth round due to a broken jaw. According to ringside physician James Denier, Oshana officially had what's called "malocclusion," which is defined as faulty contact between the upper and lower teeth when the jaw is closed.
Promoter Jimmy Burchfield, Sr., was very impressed by Spina's performance and feels "Joey is the hardest puncher in boxing."
A member of Burchfield's staff said Oshana told someone after the fight that Spina hits harder than IBF super middleweight champion Jeff Lacy. Oshana fought Lacy back in May 2003 and suffered a second-round TKO.
Spina has been training under former light heavyweight world champion Eddie Mustafa Muhammad for roughly a year-and-a-half and is starting to use his jab more than in previous fights. He used his jab to good effect to set up a number of power punches. 
A Spina left hook, preceded by a jab, sent Oshana, 168, reeling back into the ropes halfway through the second round. Since the ropes held Oshana up, referee Dick Flaherty issued a standing eight-count. Spina, 168, finished the round in impressive fashion with a big left uppercut and a few other punches thrown in for good measure.
Oshana, despite having fought guys like Lacy and former world title challengers Thomas Tate and Omar Sheika, was not very impressive against Spina before the bout ended. He was more defensive than offensive and often appeared visibly stunned from Spina's shots. He took a big straight right-left hook combination near the end of the third round and Spina kept up a vicious attack as the stanza came to an end.
Oshana, 23-5 (13), would never come out for the fourth. With the win, Spina made the first successful defense of something called the USNBC             super middleweight championship, a minor belt created by the World Boxing Council. Despite only having a regional strap, Spina's belt had the words "WBC World Champion" on it. A check of the WBC's Web site does not provide any information on the USNBC, and a word search on the site found "no documents found for 'USNBC.' "
While the belt is a minor one, Spina, sported the colors of Italy's flag on his trunks, had major support from his hometown fans. The crowd didn't care what belt he was fighting for as he raised his record to 17-0 (12).
In the co-feature of the evening, Matt "Too Smooth" Godfrey, of Providence, RI, also had the hometown crowd on his side after an ugly fight with Willie Herring, of Oviedo, FL. Herring was the one who made it ugly, with an assortment of roughhouse tactics, some of which included hitting behind the head, and in some rounds, doing more grappling than punching. Throughout the bout, Herring rushed at Godfrey like a bull whenever Godfrey attempted a punch. This style was rather successful for Herring, as Godfrey wasn't able to stick and move as much as he would have liked. Godfrey often tried to fight from long range but Herring crowded him and threw wild shots when in close, often with Godfrey against the ropes.
Godfrey, clearly the better boxer, was still able to get off enough good clean shots throughout the 10-round contest to win by scores of 99-91, 98-92, 98-93.
Jaime "Hurricane" Clampitt is once again a world champion. She scored a TKO victory over Shelby "Girl" Walker, of Fort Lauderdale, FL, to regain the IWBF lightweight championship. Clampitt lost the title to England's Jane Couch back in June 2004 and when she tried to win the vacant strap this past December, her fight against Eliza Olson, granddaughter of former middleweight champion Carl "Bobo" Olson, was ruled a draw.
Though not a Providence fighter, Clampitt had the Providence crowd on her side in her quest to regain the title. She hails from Narragansett, RI, which is only 40 minutes away. In the first couple of rounds, Walker looked like she might give Clampitt a competitive fight, but Clampitt stepped up her attack in the third and fourth rounds, busted up Walker's left eye and opening a cut over her right eye. The bout came to an end between the 4th and 5th rounds shortly after a ringside doctor recommended the fight be stopped because of the seriousness of the cut.
Clampitt raised her record to 16-3-1 (7), while Walker, a United States Army veteran, dropped to 7-5-1 (6).
Despite landing a number of big shots, 2004 Olympian Jason "Big Six" Estrada, of Providence, RI, had to settle for a decision victory over Earl Ladson by scores of 60-51 on all three scorecards. Estrada, 4-0 (1), scored two knockdowns in the second round and landed a left hook-overhand right combination in the fourth stanza that stunned Ladson, who grabbed the top ring rope to stay on his feet. Referee Dick Flaherty issued Ladson, 10-7 (7), a standing eight-count.
When the count was over, there was still time left in the round, but Estrada stayed patient and didn't go in for the kill. However, some of his buddies in the crowd and were yelling for him to try for a knockout. There were a few boos in the fifth when Estrada, on two occasions, wound up his right hand but threw a left jab instead. Apparently, the crowd didn't want to see him showboating in the closing rounds of the six-round bout. It wanted to see him try for a knockout.
Estrada, 246, closed out the final round with nice multi-punch combinations, but Ladson, 258, was still standing at the end.
In a battle of undefeated fighters, Matt "Sharp Shooter" Remillard, of Manchester, CT, kept his perfect record intact after tangling with Ricky Alexander, 3-1 (2), of Stillwater, OK.
Alexander came out strong in the first round but Remillard, who is managed by Jackie Kallen, the former manager of James Toney, got down to business in the second stanza. Former light heavyweight title challenger John Scully gave Remillard a pep talk between rounds one and two and told Remillard he didn't have enough time in a four-round bout to take his time and pick his shots. Getting the message that he needed to get out there and let his hands go, Remillard did just that.
Remillard landed a counter left hook in the second round that sent Alexander crashing to the canvas. He never beat the referee's count. Remillard was announced the winner by knockout at the 1:18 mark. It was his second victory within the month of August alone. Remillard is now 5-0 with 4 KOs.
Eric "Fast Hands" Burke apparently isn't as fast as he thinks he is. Burke failed to notch a win for the 10TH straight time as he lost a four-round decision to Eddie Soto, of Pawtucket, RI. Despite Burke's inability to win a fight, he helped make the first couple of rounds entertaining. Both men bombed away with wild punches, engaging in the kind of slugfest that audience members with beers in their hands can appreciate, although Soto, 2-0 (1), landed the far better shots throughout the bout. All three judges awarded Soto the fight by scores of 40-36.
CN8, The Comcast Network, is scheduled to air the bouts on August 28, 9 p.m. – 11 PM/ET. Former two-time world champion Vinny Paz served as color analyst for the broadcast. In addition to Paz, other celebrities and boxing notables in attendance at Friday's fights included 1976 Olympic gold medallist Howard Davis, Jr. and Peter Manfredo, Jr., who starred in NBC's "The Contender."
Send questions and comments to: kirklang@yahoo.com